« ATF Tries to Revoke "Montana Made" State Sovereignty Laws | Main | Shocker! Ron Paul Wins CPAC10 Straw Poll »
February 21, 2010
Rest In Peace Army General Alexander Meigs Haig, Jr.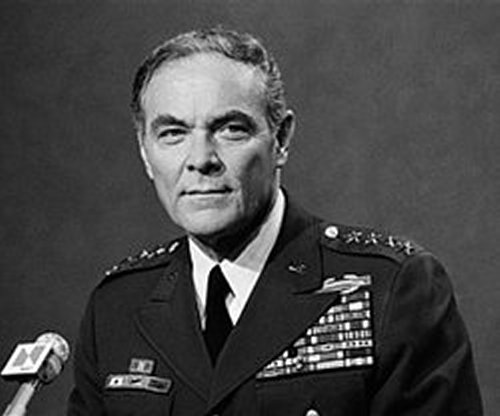 Korea. Two Silver Stars. Bronze Star with Valor device. Seven campaigns in the coldest war. Vietnam. DSC and Purple Heart.
General Haig participaated in seven Korean War campaigns including the Battle of Inchon, the Battle of Chosin Reservoir and Evacuation of Hungnam. Alexander Meigs Haig, Jr. (December 2, 1924 – February 20, 2010) was a retired United States Army general who served as the United States Secretary of State under President Ronald Reagan and White House Chief of Staff under Presidents Richard Nixon and Gerald Ford.[1] In 1973 Haig served as Vice Chief of Staff of the Army, the number-two ranking officer in the Army.[2] Haig served as the Supreme Allied Commander Europe, commanding all U.S. and NATO forces in Europe.
When two of his companies were engaged by a large hostile force, Colonel Haig landed amid a hail of fire, personally took charge of the units, called for artillery and air fire support and succeeded in soundly defeating the insurgent force...the next day a barrage of 400 rounds was fired by the Viet Cong, but it was ineffective because of the warning and preparations by Colonel Haig. As the barrage subsided, a force three times larger than his began a series of human wave assaults on the camp. Heedless of the danger himself, Colonel Haig repeatedly braved intense hostile fire to survey the battlefield. His personal courage and determination, and his skillful employment of every defense and support tactic possible, inspired his men to fight with previously unimagined power. Although his force was outnumbered three to one, Colonel Haig succeeded in inflicting 592 casualties on the Viet Cong... (HQ US Army, Vietnam, General Orders No. 2318 (May 22, 1967)
.

Wild Thing's comment.......

R.I.P. Condolences to his family.
He loved America and served as Nixon's Chief of Staff (Whitehouse) and Reagans's Secretary of State. Those jobs are currently held by Rahm "Dead fish" Emanuel and Hillary Clinton. No wonder our country is in the state it is.
Posted by Wild Thing at February 21, 2010 04:50 AM
---
Comments
Alexander Haig served America well. His military time was undisputable. He proved himself in Korea and Vietnam. He was a take charge kind of man.
I also think he did well as Sec. of State under Reagan. Haig helped push forward Reagan's concepts of a strong America that was friendly to the world but ready to defend herself in a minute. Haig had a lot to do with Reagan's rebuilding of America's armed forces after the disaster that was Jimmy Carter.
Alexander Haig served America well and deserves a hero's rememberance.
Posted by: TomR at February 21, 2010 12:22 PM
---
You have said it well Tom, I concur. We know he'll be trashed by the media and the left but he was an indisputable leader.
Posted by: Jack at February 21, 2010 12:55 PM
---
We need more men like this one
Posted by: David Dutra at February 24, 2010 07:30 PM
---