« Shocker! Ron Paul Wins CPAC10 Straw Poll | Main | Toyota: Dems 'not industry friendly' »
February 22, 2010
McConnell: 'Not clear' If GOP Can Block Majority-vote Tactic On Healthcare
Republican Senate Leader Mitch McConnell told Chris Wallace today on FOX News Sunday that he was not certain if the GOP would be able to block the democrat's latest attempt to take over the health care industry.
McConnell: 'Not clear' if GOP can block majority-vote tactic on healthcare
It's "not clear" whether enough Democrats will defect on a majority-vote procedure on health legislation to stop it, the Senate's top Republican said Sunday.
Senate Minority Leader Mitch McConnell (R-Ky.) said that opposition to using a maneuver to bypass filibuster rules would be bipartisan, but hedged as to whether it would be strong enough to block such a tactic.
"There'll be a lot of Democrats who will vote against it," McConnell said during an appearance on "Fox News Sunday" about the controversial budget reconciliation process. "Whether there will be 11 Democrats who will vote against it is not clear."
At issue is the the process Senate Democratic leaders have indicated they will use to finish healthcare reform legislation. That process, called budget reconciliation, would allow senators to pass final changes to the original health bill they'd passed in December using only a simple majority of votes, instead of the 60 normally needed to end a filibuster.
The Senate's top Republican promised Sunday morning that he and his members will attend President Obama's health care summit on Thursday "ready to participate" but said the Democrats are being "arrogant" by refusing to scrap their legislation and start over.
"You know, they are saying, "Ignore the wishes of the American people. We know more about this than you do. And we're going to jam it down your throats no matter what," Senate Minority Leader Mitch McConnell (R-Ky.) said on Fox News Sunday.
"The only thing bipartisan about it would be the opposition to this, because a number of Democrats have said don't do this, this is not the way to go," McConnell said.
McConnell and Reid, along with other House and Senate leaders from both parties, will also head to the White House on Thursday for a bipartisan, televised summit on healthcare.
But the Republican leader castigated the White House and congressional Democrats for appearing to go ahead with crafting their own bill ahead of the summit, giving the appearance that any real, bipartisan input may be foreclosed at the meeting.
"If they're going to lay out the plan they want to pass four days in advance, then what are we doing there on Thursday?" McConnell asked.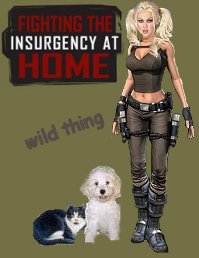 Wild Thing's comment........
They have GOT to stop this thing......somehow!!!
Our Constitution requires that the legislative branch write our laws, not the President.
Republicans need to use this opportunity to talk to the American people and point out the dreadful provisions, not to mention the cost, of Obamacare the Dems want to shove down the throats of the American people, despite the strong opposition.
Posted by Wild Thing at February 22, 2010 05:45 AM
---
Comments
This healthcare plan is obama's baby and he will do all he can to ram it down our throats. He and Reid and Pelosi want this plan to pass so they have even more control over the average American. It appears that their Cap and Trade scheme is dead, so the need this health plan to succeed in their effort for eventual total control. I imagine the next step in their plan will be massive tax increases after the Bush tax cuts expire this year.
Posted by: TomR at February 22, 2010 11:44 AM
---
Chortle on Mitch, if you'd had a pair maybe the Dims wouldn't have gotten this far, go look in the mirror at a RINO, your ass is grass and we the people are going to whack it in November.
Posted by: Jack at February 22, 2010 12:27 PM
---
I agree Jack, McConnell needs to buy a pair of balls at Horace's Pawn Shop and stand up to the left like he really owns them. The repubs will be in big trouble if they don't make some changes and I mean yesterday.
BTW, if you're out in SoCal this weekend, there is a big Tea Party planned on Saturday at the main beach in left wing artsy fartsy Laguna Beach, CA. (1-3 PM PST) I'll have my Gadsden Flag so come by and say hi.
Posted by: Eddie (Enemy of the State) at February 22, 2010 01:03 PM
---
GOPhers, eh? RINO$ too?? God bless the TEA PARTY
2010-2012!!! DON'T TREAD ON ME...
Posted by: darthcrUSAderworldtour07 at February 22, 2010 06:40 PM
---
Thank you everyone so much. This thing and the Cap and Trade really freak me out.
Posted by: Wild Thing at February 22, 2010 07:48 PM
---
Posted by: Wild Thing at February 26, 2010 08:56 AM
---