« Harry Reid Unapologetic for Linking Unemployment to Violence Against Women | Main | NAACP to Honor Van Jones as 'American Treasure' »
February 24, 2010
Around Afghanistan by Michael Yon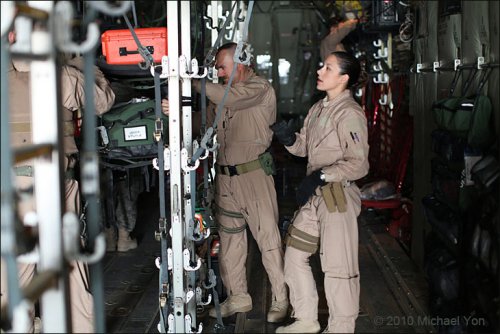 Flight Medics prepare the aircraft to receive patients.
Around Afghanistan
22 February 2010

"Johnny Boy" Captain John Holland was walking out to the aircraft just as I arrived at the flight line.
Captain Holland asked, "Are you ready?"
"Yes Sir."
The Marjah offensive—billed as the biggest US/NATO/Afghan assault on the Taliban ever—had begun. With it, the attention of nearly all the reporters covering Afghanistan is focused on Marjah. Yet fighting continues across the country, in provinces with names unfamiliar to most people. Men and women are wounded. Some die. Some are saved by dedicated medical crews, and by the pilots who fly into combat to ferry wounded to some of the best trauma facilities in the world, right here in Afghanistan.

.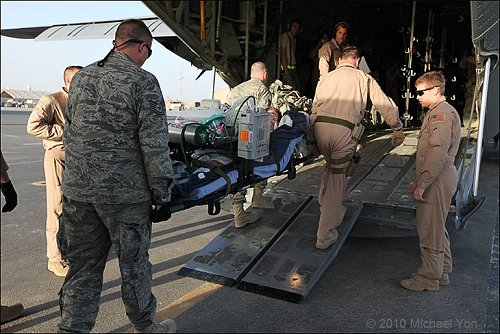 Specialists of various sorts were loading all kinds of gear, most of which was so foreign to me that it might as well have been space gear. TSGT Matt Blonde said the gear weighs about 800 pounds and has the capabilities of a hospital intensive care unit.
An ambulatory patient strapped on his seatbelt and a sedated Canadian soldier was loaded.After detailed preparations, checks and rechecks, they were ready to receive a critical care patient. Medical staff explained that this Canadian soldier had been wounded during training by a Claymore mine. In total, four Canadians were wounded when another Canadian soldier, Corporal Joshua Caleb Bake, was killed near Kandahar.
.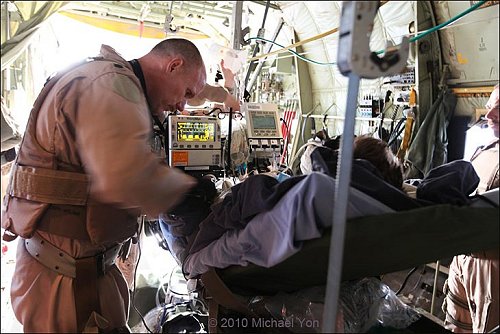 Doctor Chris Ryan works with the wounded Canadian soldier. During flight from Kandahar to Bastion to Bagram, the team was at his side constantly checking this or that.The CCATT (Critical Care Air Transport Team) consisted of Tech Sergeant Matt Blonde (respiratory therapist); Major Debbie Lehker (nurse); and Lieutenant Colonel Chris Ryan (doctor). I asked Doctor Ryan what precautions troops should take to reduce the wounds he is seeing. Some of the advice was obvious. NCOs push soldiers to wear their ballistic glasses, for instance. Burns were a constant, serious problem in Iraq, but less so in Afghanistan, due to the nature of the bombs.
Dr. Ryan mentioned that Special Operations folks often take the worst injuries because their body armor offers less coverage, and so they often take from 1-3 amputations. He gave considerable credit to special operations medics. "They are studs," he said. High praise indeed, coming from someone with his experience.
Strykers are great vehicles, but none of our vehicles is ideally suited for combat here. Stryker vehicles typically have about three soldiers standing up in hatches, sometimes on MRE boxes. Dr. Ryan said that when the bombs detonate under the vehicles, soldiers often suffer 5-7 fractures in each leg. Other fractures include feet, pelvis, back, ribs, arms, and neck.
Doctor Ryan stressed repeatedly the value of wearing seatbelts. The bombs smash you into the vehicle. Dr. Ryan served with Dustoffs during the worst times in Iraq. He's seen many more wounds than most soldiers will ever see. So I listened to him. But often when soldiers see me putting on a seatbelt in a Stryker, they warn me to take it off. "Wear it if you like," they say, but they warn that if we get launched and are upside down, I'll be stuck in a possibly burning vehicle. This has happened plenty of times. So we all carry seatbelt cutters that can also be used to strip off boots and uniforms of wounded soldiers. But the soldiers are adamant that wearing seatbelts worsens your odds. I do not know who is correct. You get thrown hard without them, and stuck with them.
So, I asked Command Sergeant Major Jeff Mellinger, who served almost three straight years in Iraq. We drove thousands of miles around the country, visiting units everywhere. CSM Mellinger also visited Combat Support Hospitals twice per week. He read every single casualty report—thousands—and was the CSM for General Casey then General Petraeus. In short, CSM Mellinger knows the combat side, and the statistical side. Today he is the CSM for AMC—Army Materiel Command—with responsibility for every bean, bullet, bandage, helicopter, tank and seatbelt in the Army inventory. He talks bluntly and I take his word as the final statement.
.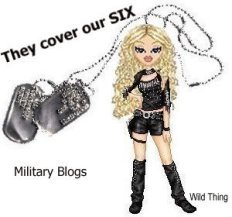 Wild Thing's comment.......
Michael Yon's website has a whole page of photos and his write up . It is well worth going over to it and reading his page and seeing the photos he has posted there.
http://bigjournalism.com/myon/2010/02/22/whispers/

.... Thank you Jim for sending this to me.


Posted by Wild Thing at February 24, 2010 02:47 AM
---