« Massachusetts Miracle ~ Awesome Video | Main | Lt. Col. Ralph Peters Calls Pentagon Report On The Fort Hood Shooting A "whitewash" »
January 17, 2010
Operation Pierre Pan May Start at Miami Hospitals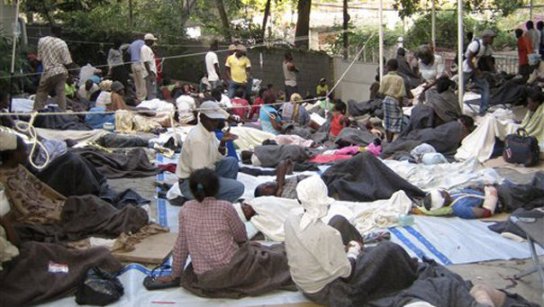 Operation Pierre Pan May Start at Miami Hospitals
Miami advocates are pushing to relocate Haitian children to the U.S.

Some of Haiti's most fragile - its children - have arrived at Miami area hospitals and for a few, Miami may become their new home.
So far, 23 patients from the earthquake have been treated at Jackson Memorial Hospital, with countless more likely to be airlifted from the island for treatment. Florida Sen. Bill Nelson has contacted all the children's hospitals in Florida and requested that they receive critically injured Haitian children in the aftermath of the earthquake.
Nelson on Friday said he also plans to introduce a "major Haitian relief bill."
But the injured won't likely be the only children coming to Florida.

"Operation Pierre Pan," as its being called, is an effort to relocate the thousands of children likely orphaned by the natural disaster in Port-au-Prince. Many of the children could already have relatives in Miami and around the U.S.
A similar effort occurred decades ago when "Operation Pedro Pan" was launched to help the children of Cuba during the political upheaval in that island neighbor. Some 14,000 children were relocated to the United States, many of them settling in South Florida.
While advocates mobilize for a push to help find the children new families if not reunite them with stateside relatives, there are several hurdles that need to be overcome.
The movement would need the approval of the U.S. government to at the very least grant the orphans temporary status in the country.
Still, agencies in Miami-Dade and Broward are gearing up for the possible influx of children in need of a home, according to the Sun-Sentinel.
We've already begun to make preparations and are willing to do our part," said Mark Riordan, Broward County spokesman for the state's Department of Children and Families.

.

Haitians in country illegally can stay
The Obama administration says it will allow Haitians already in the U.S. illegally to remain because of this week's catastrophic earthquake.
Homeland Security Secretary Janet Napolitano granted the temporary protected status on Friday.
The protection is only available to Haitians already in the country as of last Tuesday.
On Wednesday, Napolitano temporarily halted deportations of Haitians, even those already in detention.
Temporary protected status is granted to foreigners who may not be able to return safely to their country because of a natural disaster, armed conflict or other reasons.
.

Wild Thing's comment........

Here is a link to a news video about the 45,000 coming to Florida. It states they will be brought to Miami, Orlando and Tampa.
http://www.wftv.com/video/22242604/index.html
I am stil ticked off how it took Obama three days to respond to the Christmas Day Fruit of Kaboom Bomber, three days. And when he came out after those three days, he was clearly irritated that he had to do it. He didn't want to do it. He comes out here in less than 24 hours to speak about Haiti.

....Thank you Mark for sending this to me.


Mark
3rd Mar.Div. 1st Battalion 9th Marine Regiment
1/9 Marines aka The Walking Dead
VN 66-67


Posted by Wild Thing at January 17, 2010 05:45 AM
---
Comments
Another political maneuver, when has obama ever deported anybody. Aunt Zeltuni is still here illegally and the whole damn country knows that. In fact didn't he put a moratorium on INS raids on Illegals, regardless whether they are Haitian or Mexican? So now we have the INS sitting around playing with their nip and making paper airplanes.
This is the height of arrogance they can't follow the existing laws, half of obama's staff are Tax cheats, the rest are liars, congress is full of the same and can't even spell Health Reform but they think they can ruin...er... run that too.
Posted by: Mark at January 17, 2010 10:25 AM
---
Never let a crisis go to waste!!! Communist bastards!
Posted by: Jack at January 17, 2010 12:11 PM
---
We flew in and out of Haiti for the Clinton administration in the 90s after he pulled the plug in Mogadishu Somalia... The US was accused of being CAPITALIST NATION BUILDERS by the left, remember?
Posted by: darthcrUSAderworldtour07 at January 17, 2010 08:21 PM
---
Mark, I agree, Obama is making this whole Hatti
disaster a political thing for himself. GRRRRRR
Jack,yes, I sure am learnig a fast lesson how
the dems use a crisis to push what they want.
I can't stand them.

Darth, thank you so much for sharing your
experience with Hatti. Yes I do remember,big
thank you Darth for pointing that out too abot
what we were accused of as a country.
Posted by: Wild Thing at January 18, 2010 12:32 AM
---