« "The Day ObamaCare Died" | Main | Pelosi Tells Reporters...Not Enough Votes To Pass (Socialized Medicine) Bill »
January 22, 2010
Obama's First Year: By the Numbers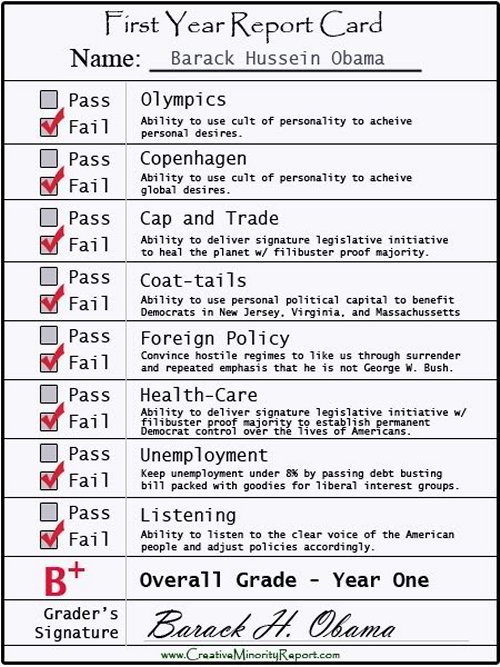 Obama's First Year: By the Numbers
Nothing special," said White House spokesman Robert Gibbs when asked what President Obama is doing today to mark the end of his 1st year in office and the start of his 2nd.
To hear Gibbs tell it, no one at the White House is much interested in noting the one year milestone.
"It's an anniversary of types, but I don't see that a lot of people are ultimately focused on marking the first year," said Gibbs at yesterday's daily press briefing.
He said the White House already had its fill of calendar anniversaries: the first 100 days; 200 days, six months; a year after the election.
It's just a date on the calendar "that denotes you've been here a year," Gibbs said of the occasion.
But it is a milestone, the most important so far on Mr. Obama's watch and a natural moment for taking stock – or in the case of this report: number crunching.
So quickly – before year-in-review fatigue sets in, see if any of these numbers and annotations offer insight into how the president spent his first year.

SPEECHES, COMMENTS & REMARKS: 411 • Includes 52 addresses or statements specifically on his health care proposals.
• He used a TelePrompTer at least 178 times. (Technically, it was 177 ½ . On July 13, 2009, one of the teleprompter screens on the left side of his lectern fell to the ground and broke shortly after he began speaking. So he was left with half a TelePrompTer.)
NEWS CONFERENCES: 42
• Predecessor George W. Bush did 21 news conferences his first year of which 4 were formal, solo White House sessions. Only 1 was in prime time.
INTERVIEWS: 158.
• This is a striking number of interviews and far more than any of his recent predecessors in their first year. Ninety of the sessions were TV interviews. Eleven were radio.
TOWN HALL MEETINGS: 23
• Includes 1 in Strasbourg, France and another in Shanghai, China
DOMESTIC TRAVEL:
46 out-of-town trips to 58 cities and towns in 30 states
FOREIGN TRAVEL:
10 foreign trips to 21 nations (4 of them twice).
• Next most frequent foreign traveler during first year in office was President George H.W. Bush: 7 trips to 14 countries.
FLIGHTS ON AIR FORCE ONE:
160

FLIGHTS ON MARINE ONE:
193
POLITICAL FUNDRAISERS:
28
• The events raised at least $27.25 million. (3 of the events Mr. Obama attended declined to disclose how much was raised.
• George W. Bush did 6 fundraisers his 1st year raising over $48 million.
NATIONAL DEBT:
On day Mr. Obama took office: $10.626 trillion
• One year later: $12.319 trillion
• Increase on Mr. Obama's watch: $1.693 trillion
BILL SIGNINGS:
124 of which Mr. Obama did 13 bill-signing ceremonies.
VISITS TO CAMP DAVID:
11 visits totaling all or part of 27 days.
• George W. Bush made 26 visits his first year spanning all or part of 81 days
VACATIONS:
All or part of 26 days over 4 trips
• George W. Bush spent 69 days at his Texas ranch over 9 trips to his ranch his 1st year.

GOLF:
29 rounds of golf
• George W. Bush played golf 7 times his first year.

.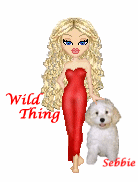 Wild Thing's comment........
They forgot one, Senate Seats lost in First year. heh heh Thank you God.
It's not so much that Obama is becoming unpopular, it's that liberal policies, now that they're being put into action, are being exposed .
Posted by Wild Thing at January 22, 2010 02:47 AM
---
Comments
As if that is not enough of a stack of losses, he is about to add this one, folks:
Biden Heads Up Effort To Warn Iraqi Leaders About Disqualification Of Candidates
(Washington Post)...Leila Fadel
Alarmed that the disqualification of hundreds of candidates from upcoming parliamentary elections threatens to derail Iraq's fledgling democracy, the Obama administration is dispatching Vice President Biden in hopes of defusing the looming political crisis.
And, just like Rush said: "Just keep on doing what you are doing, Democrats. We love it."
"Never Forget that it was Radical Islam at work at Ft. Hood Texas 11/5/091"
Posted by: Frankly Opinionated at January 22, 2010 05:49 PM
---
You forgot one WT, he spent more money in one year than Bush spent in 8.
Posted by: Mark at January 22, 2010 06:54 PM
---
First Year Report Card of Mr. Barack Obama, 1/20/09 - 1/20/10:
1. National Security: Fail. ("Never Forget Ft. Hood Texas 11/5/09!")
2. Defense: Fail.
3. Nuclear Deterrence: Fail.
4. Foreign Policy: Fail.
5. Economy: Fail.
6. Jobs: Fail.
7. Climategate/Global Warming Hoax: Fails to say no to the fraudulent AGW theory.
8. Healthcare: Fail.
9. 2016 Chicago Olympics: Fail.
10. Listening and behavior as POTUS: Fail.
Overall Grade - Year One (2009-2010): F.
Grader´s Signature: Mr. Obama´s signature.

Posted by: Anon at January 22, 2010 07:09 PM
---
Frankly, thanks for the information. And good quote from Rush too, thank you.

Mark, he sure did, thanks.

Anon, yes that should be added too. Thank you.
Posted by: Wild Thing at January 23, 2010 12:21 AM
---