« Scott Brown vs. Martha Coakley: It's All About Enthusiasm | Main | Save lives in Haiti – end lives in America? by Chuck Norris »
January 19, 2010
No KSM in NYC?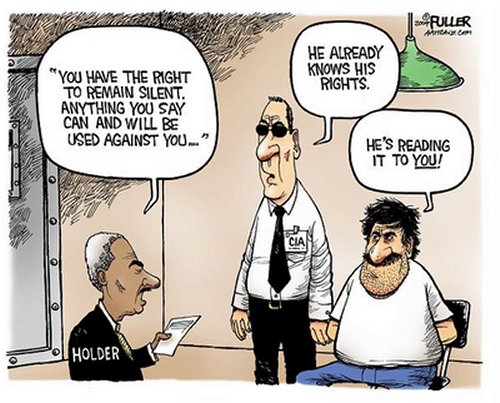 No KSM in NYC?

Michael Isikoff
Top administration officials are getting nervous that they may not be able to proceed with one of their most controversial national-security moves: trying Khalid Sheikh Mohammed and four other accused 9/11 conspirators in federal court in New York City.

Last November Attorney General Eric Holder Jr. portrayed the trial as a way to showcase the American justice system to the world—and to accelerate President Obama's stalled plans to shut down the U.S. prison at Guantánamo Bay. But because of shifting political winds in Congress, the trial is now "potentially in jeopardy," a senior official, who did not want to be named talking about a sensitive situation, tells NEWSWEEK.

The chief concern: that Republicans will renew attempts to strip funding for the trial and, in the aftermath of the bombing attempt aboard Northwest Flight 253, pick up enough support from moderate Democrats to prevail.

Republican Sen. Lindsey Graham says he will force another vote on his amendment to stop the trial (which was defeated 54-45 in November) once Congress reconvenes.
"With Detroit and everything else going on, we've got a pretty good chance of winning this thing," says Graham, adding that he's privately heard from a number of Democrats, saying "they're with me."
GOP Rep. Frank Wolf says he plans a similar move in the House. "I'm afraid it's probably going to pass," says Democratic Rep. Jim Moran, who has strongly backed the administration on the issue.
Another big factor?
The price tag. New York City Mayor Michael Bloomberg recently sent a letter to the White House budget office seeking more than $216 million to provide security for the trial this year—and more than $200 million for each year after that. The figures have prompted some critics to say that, given the years a complex conspiracy case could take, the final cost could approach $1 billion. (The U.S. Marshals Service has briefed congressional staff members on a separate request for an extra $118 million for surveillance aircraft and armored vehicles to guard against terror attacks. White House budget officials, however, knocked the figure down to $40 million.) T
he Justice Department has yet to indict the suspects, nor has it given Congress the required 45-day notice that it plans to bring them to New York.
But spokesman Matthew Miller says the attorney general remains "committed to bringing to justice those allegedly responsible for the murder of nearly 3,000 people"—and "we can do it in trials that are safe, secure, and respected around the world."
If Holder's plans are thwarted, though, one top administration official, who also didn't want to be named talking about delicate issues, notes there is a Plan B—reviving the case against the alleged 9/11 conspirators before a military tribunal, just as the Bush administration tried to do.

.


Wild Thing's comment.......
because of shifting political winds in

Because of political winds.....NOT PUBLIC SAFETY.... Just politics all the time with this bunch.
Will Obama and Holder risk the funding bill votes in the House and Senate or cave ahead of time and in turn hand a victory to Bush/Cheney and the military tribunals? HAR!
Posted by Wild Thing at January 19, 2010 03:47 AM
---
Comments
These trials do not belong here. I thought war crimes were tried in The Hague. Oh well, stupid me. I'm just a girl. Keep them at Gitmo for their trials. Keep them off American soil! It's just another excuse to spend billions of dollars and lengthen out the trials to 5 years or longer and then some judge will just let them go. It's sheer nonsense.
Posted by: Lynn at January 19, 2010 08:16 AM
---
Why not move the TRIAL$ to Nutsy Pelosi's second hometown of San Fransicko? They deserve jury trials on the LEFT coast where KSM can even wear flowers in his hair?
Posted by: darthcrUSAderworldtour07 at January 19, 2010 09:54 AM
---
I'm with darth. Put the trials in a good liberal bastion like San Francisco or Chicago or DC.
Posted by: TomR at January 19, 2010 11:24 AM
---
There is a simple answer for KSM and his handlers. Another White Feather, the judge lông chim trắng .

Posted by: Jack at January 19, 2010 11:58 AM
---
That's good news WT. I thought the trial was a done deal. Enough of the legislators may come to their senses and stop this dog and pony show.
Posted by: Jim at January 19, 2010 01:07 PM
---
Well you know obama is going to push this. Doesn't matter if its a Billion dollars, it's not his money what does he care. What it will do is drive another nail in his own coffin and every other democrat who supports this.
New York will suffer through this but they won't forget.
Posted by: Mark at January 19, 2010 03:57 PM
---
I think they are so much out of their league, Rahm and Obama etc. for running a country. They are way too selfish too besides they anti-America agenda they have.
Posted by: Wild Thing at January 20, 2010 02:07 AM
---