« ClimateGate marches on!.....The Climatic Research Unit Takes Their Website Down! | Main | Christmas With a Capital "C" »
December 15, 2009
Tense Atmosphere Clouds Climate HOAX Talks and Other Fun Stuff From ClimateGate
Copenhagen climate summit negotiations 'suspended'
The African delegation is unhappy over moves by the Danish government Negotiations at the UN climate summit have been suspended after developing countries withdrew their co-operation.
Delegations were angry at what they saw as moves by the Danish host government to sideline talks on more emission cuts under the Kyoto Protocol.
As news spread around the conference centre, activists chanted "We stand with Africa – Kyoto targets now".
Informal talks continue, and the UN climate convention head said the formal agenda should resume in the afternoon.
Blocs representing poor countries vulnerable to climate change have been adamant that rich nations must commit to emission cuts beyond 2012 under the Kyoto Protocol.
The developed countries agreed to the blackmail and more redistribution of wealth:

Developing countries end boycott at climate talks
COPENHAGEN – Poor countries ended a boycott of U.N. climate talks Monday after getting assurances that rich nations were not conspiring to soften their commitments to cutting greenhouse gases, European officials said.
European Union environment spokesman Andreas Carlgren said informal talks resolved the impasse, which was started by African countries and backed by major developing countries, including China and India.
Rich and poor countries "found a reasonable solution," he said.
The U.S. share of the program will amount to $85 million, with the rest coming from Australia, Britain, the Netherlands, Norway and Switzerland, Energy Secretary Steven Chu said in Copenhagen.
They pull the cable from the microphone.
Journalist and filmmaker Phelim McAleer (Mine Your Own Business, Not Evil Just Wrong) attempts to ask Al Gore a question about 'Climategate' emails at the UN Climate Change Conference. Al Gore's Press Secretary grabs his McAleer's microphone and UN security guard pulls the cable from the microphone.
.
They clapped as Al Gore entered....YUK!!!!
.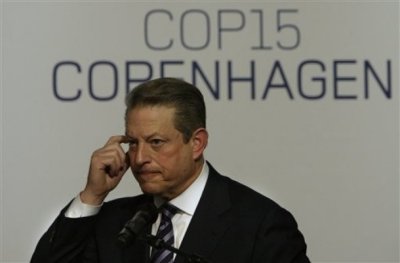 Gore told an audience in Germany last year that "the entire North Polarized cap will disappear in 5 years."It wasn't the first time he'd made the claim. Gore had been talking this nonsense for over a year already.
Inconvenient truth for Al Gore as his North Pole sums don't add up
There are many kinds of truth. Al Gore was poleaxed by an inconvenient one yesterday.
Gore, speaking at the Copenhagen climate change summit, stated the latest research showed that the Arctic could be completely ice-free in five years.
In his speech, Mr Gore told the conference: "These figures are fresh. Some of the models suggest to Dr [Wieslav] Maslowski that there is a 75 per cent chance that the entire north polar ice cap, during the summer months, could be completely ice-free within five to seven years."
However, the climatologist whose work Mr Gore was relying upon dropped the former Vice-President in the water with an icy blast.
"It's unclear to me how this figure was arrived at," Dr Maslowski said. "I would never try to estimate likelihood at anything as exact as this."
Mr Gore's office later admitted that the 75 per cent figure was one used by Dr Maslowksi as a "ballpark figure" several years ago in a conversation with Mr Gore.
The embarrassing error cast another shadow over the conference after the controversy over the hacked e-mails from the University of East Anglia's Climate Research Unit, which appeared to suggest that scientists had manipulated data to strengthen their argument that human activities were causing global warming.

Gore is not the only titan of the world stage finding Copenhagen to be a tricky deal.
World leaders — with Gordon Brown arriving tonight in the vanguard — are facing the humiliating prospect of having little of substance to sign on Friday, when they are supposed to be clinching an historic deal.
Meanwhile, five hours of negotiating time were lost yesterday when developing countries walked out in protest over the lack of progress on their demand for legally binding emissions targets from rich nations. The move underlined the distrust between rich and poor countries over the proposed legal framework for the deal.
Last night key elements of the proposed deal were unravelling. British officials said they were no longer confident that it would contain specific commitments from individual countries on payments to a global fund to help poor nations to adapt to climate change while the draft text on protecting rainforests has also been weakened.
Perhaps Mr Gore had felt the need to gild the lily to buttress resolve. But his speech was roundly criticised by members of the climate science community. "This is an exaggeration that opens the science up to criticism from sceptics," Professor Jim Overland, a leading oceanographer at the US National Oceanic and Atmospheric Administration said.
"You really don't need to exaggerate the changes in the Arctic."
Others said that, even if quoted correctly, Dr Maslowski's six-year projection for near-ice-free conditions is at the extreme end of the scale. Most climate scientists agree that a 20 to 30-year timescale is more likely for the near-disappearance of sea ice.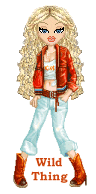 Wild Thing's comment..........
Awe they got all Wee-Weed, I guess.
0bama goes 0 for 2 in HopenChangen?! Climate Change gets tossed under the bus....whie for a little while anyway.

"The U.S. share of the program will amount to $85 million, with the rest coming from Australia, Britain, the Netherlands, Norway and Switzerland, Energy Secretary Steven Chu said in Copenhagen."

Developing Countries just want Mo' money! Shakedown successful, mission accomplished.
Posted by Wild Thing at December 15, 2009 02:45 AM
---
Comments
Hmmm! The original agenda seems to be cooling down at the climate summit as tempers heat up. It is now proving to be all about money. Somewhat like the game plans of Jesse Jackson and Al Gore.
Posted by: TomR at December 15, 2009 11:14 AM
---