« There Are Two Petitions To Free Our Navy SEALs | Main | Saudi Arabia Calls To Boycott Swiss Over Minaret Ban »
December 13, 2009
Anti-American Obama Hit New LOW, He Gets A Minus 16 in Rasmussen Poll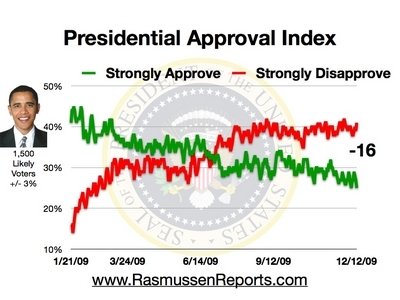 LOL The chart is beginning to look like nasty 'Gator jaws.....is that blood on the top teeth?


Barack Obama has hit a new low in the Rasmussen Reports Presidential Approval Index, with a -16 reading.
The Rasmussen Reports daily Presidential Tracking Poll for Saturday shows that 25% of the nation's voters Strongly Approve of the way that Barack Obama is performing his role as President. Forty-one percent (41%) Strongly Disapprove giving Obama a Presidential Approval Index rating of -16. That's the lowest Approval Index rating yet recorded for this President.
The 25% who Strongly Approve matches the lowest level of enthusiasm yet recorded. That's partly the result of declining enthusiasm among Democrats. While Democrats continue to offer their approval, just 43% Strongly Approve.
Among all voters, 36% now believe that the president is doing a good or an excellent job handling the economy while 45% rate his performance in this area as poor. Seventy-one percent (71%) of Democrats say he's doing a good or excellent job on the economy while 74% of Republicans say poor. Among those not affiliated with either major party, 52% give the President poor marks when it comes to the economy.
On national security matters, 39% rate the president's performance as good or excellent while 36% say poor. Most voters nationwide lack confidence that NATO will do its part to help in Afghanistan. The President's new plan for Afghanistan draws mixed reviews from voters.

Perhaps most ominous for Obama and 2010 Congressional Democrats, only 43% of Democrats "strongly approve" of his performance as President: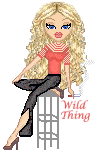 Wild Thing's comment........
Sweet!
This is what happens when you put the human equivalent of a pet rock in the Oval Office--you never think you'll EVER get sick of this novelty item...and then you do.
President Bush finished the Rasmussen poll with 35% approval after 8 years and Obama is already at 46% approval.
Posted by Wild Thing at December 13, 2009 01:44 AM
---
Comments
You mean Barackshevik One is falling faster in the polls than Slick Willie's pants fell to his Oral Office ankles, and only after eleven months too? Really?
Posted by: darthcrUSAderworldtour07 at December 13, 2009 11:14 AM
---
No kiddin, I always thought Monika was under his desk so he wouldn't have to 'drop Trou'. Of course that only works when their in a front panel on the desk, otherwise its a little obvious when her feet are sticking out.
Posted by: Mark at December 13, 2009 06:04 PM
---
Darth and Mark LOL good one!
Posted by: Wild Thing at December 14, 2009 12:16 AM
---