« Obama's Protects HIS ACORN Group He Could Care Less About ACORN'S Corruption ! | Main | A Tribute To 9-11 ....Never Forget »
September 11, 2009
Never Forgetting September 11th, 2001 ~ Obama and the Left Already Have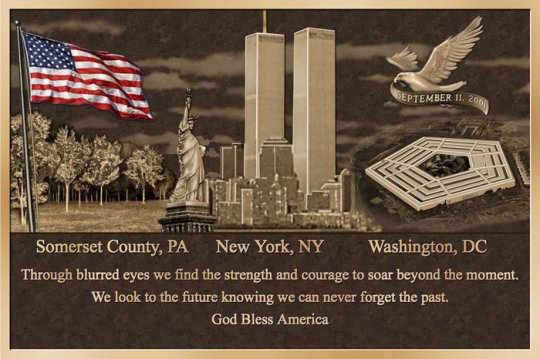 This video BELOW at the LINK has been viewed by untold millions and is now in the Smithsonian.
America Attacked VIDEO...Please click
(Steve Golding a New Yorker ....see what he wrote below
The video includes the planes crashing into the buildings and victims jumping. There are pictures of many of those who lost their lives, and president Bush's aftermath speech set to the haunting background music, 'Only Time' by Enya. It is truly awesome.
Excerpt from Steve Golding essay, 'That Day':
'....and there was that plume coming straight for me, I turned and went another way but it was still coming at me. From all ends. I must've turned down a small alley-like-road where the buildings stood end-to-end because no matter what door I tried to seek shelter, it was locked. The Plume was overtaking me.
There was an older lady screaming in the middle of this alley/street and the monster was about to get her. I grabbed her and shoved her to the back end of a DHL van that was parked. I threw my suit jacket over her head. "Lady, we're gonna be alright. Take 3 deep breaths and hold it." I curled up by the Van. The debris hit. It was humid, sticky, hot. It was white-grey-black in less time than it takes to read this line. I was holding my breath but I hadn't closed my eyes. They felt like fine grade steel wool, 0000 strength were in them. I couldn't see. I had my hands out but couldn't see them. I must've looked like I was imitating Helen Keller.
I couldn't hold my breath anymore. I let it out and gasped for breath. My mouth was immediately filled with the foulest tasting stuff you couldn't ever imagine. For the moment I couldn't breath.
I threw up. Cleared my mouth and took another breath. I threw up again and then pulled my shirt over my face and then breathed. I thought I was going to have a heart attack. Or suffocate. For a long while I just leaned there, trying to regain some composure.
I kept blinking my eyes. My vision was blurred but I started to be able to see through the darkness and I felt my way around. The lady was gone. So was my jacket. I laughed. It was a new suit. Oh well. maybe it helped her live. I hope so.
I was pushed this way and that way by cops, fireman, people with colorful vests on. I was walking through body parts. Shoes with feet still in them. Arms, clumps of matter. The paper was everywhere, more than I have ever seen and I've been to my share of ticker tape parades in this city.
I don't know when the north tower came down. I just know that it did by the sound and the activity and the second plume of debris. I was covered in ash. It didn't dawn on me until later that some of the stuff I was covered in was the remains of incinerated bodies. I have showered many, many times trying to get clean again. The thought that some of the hijackers remains covered me is more for me to be able to bear.
I got down to Broadway, near City Hall but not quite on Park Row. There's a park attached to City Hall. It's about 3 blocks from the twin towers. I got near the tip of that park when I was grabbed by a female EMT. She kept screaming at me to look at her. She had a flashlight and was trying to put it to my eyes. She was wearing a mask. She washed my eyes out. Her partner took tweezers and while she held my head he removed stuff from my eyes.My left eye was blood red. My right eye was almost swollen shut, but I didn't know it. I don't know if they used saline or water but it stung like hell whatever they used. Very much like one of the pictures except that there was no ambulance there; they were just working. I don't even know where they kept their supplies.
They worked on me for a few minutes or a year. I don't know which. After each time they worked on me, they would shine the light and ask me to tell them how many fingers they had and who was the President. I told them they each had 10 and the President of what? They said it's good I had a sense of humor but that they needed to know what I could see. How many fingers were they holding up.
I got it wrong the first couple of times and they went back to work on me. My eyes now started to feel a little better but stung like hell. They felt like sandpaper instead of steel wool. When I got both questions right, they told me to get to NYU Hospital or if I was feeling up to it my own doctor. They gave me a bottle of water. I left.
I made it to my office but scared the hell out of everyone there. I looked like I was badly injured. I washed some of the stuff off my face but it started to cake into mud. I had to get home. I left. Manhattan was closed down. There were thousands upon thousands of people in the streets but there was no subway, no bus. My car was in a garage that might no longer be standing for all I knew. I followed the crowd, helping some who were giving up and just sitting there. We managed to come out of the cloud that was covering the Brooklyn Bridge.
When we got out of the cloud we stopped to look back and could see nothing. A photographer tried to snap my picture as I leaned against one of the steel cables of the Brooklyn Bridge, lighting a cigarette believe it or not, and looking back toward Manhattan. I slapped his camera away and it fell off the bridge. He didn't even curse me out. I mumbled sorry and I moved on.
I got into downtown Brooklyn. Trying to make the subway was useless because hundreds of thousands of people were going into the subway. I knew it would be chaotic. I walked further downtown and a gypsy cab beeped his horn. As in transit strikes, I asked how much to go to Sheepshead Bay, maybe 15 miles away. 140.00. Deal.
I got home and looked in the full length mirror. I looked scary. The thought crossed my mind that had I been the cabdriver I wouldn't have picked me up and I certainly wouldn't think that I had the 140.00. I wasn't even mad at him. I took a shower. Long. Hot. I scrubbed myself. I let the water run on my eyes. The stinging felt great.
I turned on the news. I grabbed a drink. A stiff one. Why did they do this to us? My phone rang and it was family to make sure that I was OK. I could not make calls. I felt very isolated. I listened to the news almost all night. I caught a couple hours of sleep and drove into work the next day using my nephews car. I didn't get into work until noon.
I started tallying the friends that I had at the trade center. 16, 17, 18... 30. My cousin. As strange as it sounds, I was able to make some calls from my office. I called my cousin Charlie's house. Carol told me she hadn't heard from him since right after the first plane hit. He called to tell her that some idiot ran a plan into the tower and that he was evacuating.
He'd call her when he got out. That call never came. He had worked for Euro Traders.
The same with my friend Elkin. (His picture is in the montage.) A friend of Elkin's called his own wife. She heard Elkin's voice in the background. He was saying, "We have to punch through this wall; we can't get through the door. Make sure she calls Cella to tell her I'm OK and getting the hell outta here." His friends wife called Cella and relayed the information. No other call came. He worked for Carr Futures and he leaves his wife and 3 year old daughter Nicole. He loved being a daddy.
Over the next few days things were very chaotic. That guardsman that you see in the montage with his M-16 pointed to the ground, he was stationed at 23rd and 5th which is my building. For the first few days you could not go further south than 23rd Street. Then they moved it to 14th Street. You look down the block and you see the shell of the twin towers (the photo with the arrow pointing to the shell). Since I have dealt with the government on the POW/MIA (Prisoner of War/Missing In Action) issue for the last 30 years, my aunt and uncle decided that I was the one who would deal with the city on Charlie.
I brought his toothbrush and hairbrush to the Armory and filled out the 8 page questionnaire.
Then I found that more friends, firefighters, had been taken as well. My friend Bronco had come to my office a week before the attack. He was wearing this fire-retardant sweat shirt and I told him it was a cool shirt. The Thursday before the attack, he came back to my office and tossed a shirt at me. Just like his with my name on it. He was lost on Tuesday. I haven't been able to wear that shirt yet.
A firefighter came and stood next to me but I hadn't noticed him until he said, "You got that 10,000 yard stare going on." (A reference to those in a warzone.) We started talking. After a while he asked me if I wanted to go down to ground zero. I told him that my badge (color coded) would be spotted and they wouldn't let me further. He took off his coat and draped it around me and then handed me his helmet. We walked down together. Seeing it, I don't know how I possibly survived.
The fires burned for 20 days at full force. The city was covered in smoke and ash. The smell has hung over us to the point that we are almost used to it now. And part of that smell was incinerated bodies.
My personal death toll reached 1 cousin, 36 friends. Of them, 20 are "missing."
Pulverized or incinerated. My hope is that they never knew what hit them.
I know that Charlie did and I know that Elkin did.
We buried a piece of Elkin's jawbone.
Charlie has never been found.
We have to live with their horror and think about their last thoughts as they fought to find a way out of that hell. This has come close to breaking me and I am usually a strong individual. For the last 7 weeks I have been going to funerals and memorials. I just got back from the Memorial at Ground Zero. I am thinking that this should be my last for my own sanity.
I still have that sensation of shaking inside. My hands are steady and I am still seething, still angry and still hurt. I suppose with time that sensation of shaking will subside because I know, also, that we will overcome this blow that we took. But I don't want to overcome it to the point that we forget. Overcome it, but not forget it. And that's the whole reason why I did the page and continue to maintain it.
And that's my story.
As much of it as I can tell or as much as I care to tell. There are images that I will never forget; the husband and wife holding hands as they jumped into oblivion, the other jumpers.
The guy that was shimmying down the grid used by the window washing apparatus, we were all cheering him and then some debris hit him and he fell headfirst. He's one of the pictures, hands behind his back. I only hope whatever hit him knocked him out first.
Those that jumped turning not to flesh and blood but grey-brown matter.
The plane going into the building and being swallowed. The tower coming down as if someone turned on a faucet and drained it from existence.
The emergency personnel running, driving, dashing up to and into the World Trade Center while the rest of us were doing everything we could to get away.
Look at the picture of the lone firefighter running up the stairs while a sea of people were going down.
I guess we should be thankful that more than 30,000 people inside the buildings were saved. Another 15 - 20,000 saved from the other buildings that came down. A 57 story building also came down, but you hardly heard about it. And there were the hundreds of thousands of us on the ground that surely would have perished had those buildings fallen over rather than imploded straight down.
Like I said, I guess we should be grateful, but all I feel is numb and seething and anger and hurt all at the same time.
Every day when I get to work, I look where the twin towers used to stand proud, magnificently thinking that any moment I will wake up from this horrible dream and we will be back on September 11th.'
With the anthrax scare going on, I know that our lives have been forever changed. So in a way, those bastards did what they hoped to do. And now that they got our attention, let's hope our resolve is sustained for the long and difficult road ahead. Terrorism must be wiped off the face of this planet.
And there it is.
Steve

Posted by Wild Thing at September 11, 2009 07:50 AM
---
Comments
obama is using today to announce the increased funding of AmeriCorps. This will likely be the beginning of his national security force which will be a bullying force for his personal programs to socialize us. obama is a sorry bastard. This day should not be used for political purposes.
I remember the images I saw on TV as they were happening. The second plane flying into the second tower. The people running. The towers collapsing. The massive dust clouds. The view of the Statue of Liberty with the smoke cloud in the background.
Steve Golding lived the terror. Like him, I will never forget.
Posted by: TomR at September 11, 2009 10:53 AM
---
The democrats bellowed at the thought of Bush using 9-11 for anything political, they new they would lose bigger than they did, they said the Aircraft landing on the Carrier was just low showmanship.
Yet, the Soutpiel Puppet is allowed to go around the world apologising for the United States of America. To make matters worse, of course its ok for obama to take advantage of 9-11, he uses a day of mourning to sell and pimp his Hitler Youth program, his civilian army and speed along his journey to socialism.
He is the most disgusting POS.
There are some of us obama WHO WILL NEVER FORGET WHAT HAPPENED ON September 11, 2001 and who did it, NEVER...also we will forget your lowball service inititive.
Posted by: Mark at September 11, 2009 06:50 PM
---
In Flanders fields the poppies blow
Between the crosses, row on row,
That mark our place; and in the sky
The larks, still bravely singing, fly
Scarce heard amid the guns below.
We are the dead. Short days ago
We lived, felt dawn, saw sunset glow,
Loved, and were loved, and now we lie
In Flanders fields.
Take up our quarrel with the foe:
To you from failing hands we throw
The torch; be yours to hold it high.
If ye break faith with us who die
We shall not sleep, though poppies grow
In Flanders fields.
"In Flanders Fields," by John McCrae... from World War I but appropriate today (especially the third stanza).
Posted by: Anonymous at September 11, 2009 07:04 PM
---
Anonymous at September 11, 2009
Thank you for the comment.
Posted by: Bob A at September 11, 2009 10:14 PM
---
Tom, thank you I didn't know that he did that
today. I agree , this day should not be used for political purposes.

Posted by: Wild Thing at September 12, 2009 01:49 AM
---
Posted by: Wild Thing at September 12, 2009 01:52 AM
---
Anonymous, thank you soooo much.
Posted by: Wild Thing at September 12, 2009 01:53 AM
---
This was a defining moment for America. I had a friend, Kathy, that lost a very close friend. He and his fiance were flight attendants on the first plane that crashed. Everytime I see that film I cry so hard because I think of K's friends, it makes it more personal even though I didn't know them, because she told me all about them.
Anyone who wants to make this about a Bush Did It issue should be waterboarded. Then horsewhipped. Rinse, repeat. Traitors they are.
Posted by: Eden at September 12, 2009 06:50 AM
---