« Democrat Claire McCaskill Wants Your Vote After That You Are Nothing To Her! | Main | Mark Levin Interviews Dr. Betsy McCaughey On National Healthcare »
July 18, 2009
Missouri Car Dealer Offers Free AK-47 With New Truck

The article below is from FOX, but the video is from CNN. Please note how the woman doing the interview speaks about guns. LOL

The owner of a Missouri dealership is giving away free AK-47s with the purchase of any truck. Actually, he's offering a voucher that buyers can use to buy an AK-47 at a gun store.
BUTLER, Mo.
Buy a truck and get a free AK-47 gun.
That's the deal a Missouri truck dealer is offering new customers who buy a pick-up truck in August.
Mark Muller, owner of Max Motors in Butler, says he knows people will be bothered by the promotion.
But not to worry, Muller is not handing out free guns. Instead, he will give buyers a voucher to use at a gun store after they obtain a license to carry a concealed weapon.
The AK-47 is an upgrade on a previous promotion in which Muller gave away vouchers for the price of a Caltec pistol.
The retail value of an AK-47 is $450 dollars but Muller says customers can spend their voucher on the gun of their choice.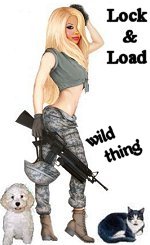 Wild Thing's comment.......
This is the website for the dealer in the story.
This dealer had a previous promotion offering a handgun.
Obama this is called Capitalism, something you hate, something you are trying to destroy.
Posted by Wild Thing at July 18, 2009 06:55 AM
---
Comments
What more could one want, a pickup and a AK-47, and of course maybe your wild thing. Wild thing reminds me of a well known French actress from years ago--a real knockout(Bridget Bardot). Thanks for adding TOTUS to your blogroll, Theodores World in on mine.
Posted by: Ron Russell at July 18, 2009 09:09 AM
---
God, Guns, and Guts made America a great nation. When the Pilgrims stepped on Plymouth Rock, they had a gun in one hand and a bible in the other.
Costello doesn't think that God and guns should be in the same sentence. Prior to the invention of the handgun, the sword was the most deadly weapon a man could carry. When reading the Gospels in the Bible, you see that Jesus disciples carried swords with them when they traveled. When the Roman soldiers came for Jesus, Peter pulled out his sword and cut off the ear of a soldier, which Jesus then healed. One of Jesus last commands to his Apostles prior to his ascension into heaven was to sell their garment, if necessary, and buy a sword.
Posted by: BobF at July 18, 2009 09:18 AM
---
God, Guns and Ma Deuce♥(an incentive I'd like), I'd also accept and cherish a 20 Mike Mike. This is my rifle, this is my gun, ......☺!
Thanks BobF, we've blithely ignored history, some don't have a clue as to what the Bible is.
From personal experience, the worst day for me in Vietnam was the day I turned in my M16, stripped naked it seemed, self defense and that rifle had become an integral part of me, losing buddies was traumatic, as they say "she's your 'wife'" I slept with 'her'. That feeling of loss stayed until we were well offshore days later, I haven't been unarmed since!!!
Jeez, I never go Mall stompin', I had to stop there yesterday, one section of the parking lot was cordoned off, it was a Repo Sale for this weekend, inside the corridors of the Mall were Repo's set up just like the 'New Car' displays. I told the wife I hope these bastards have enough union workers to buy them all.
Posted by: Jack at July 18, 2009 12:39 PM
---
Mark Muller, the dealership owner, put that lefty woman's shit in the street. His statements were clear, to the point and correct. She, being typical news media, was aiming to ambush him and he turned the tables. I am tempted to go to Butler Missouri and buy a truck I don't need.
Thanks BobF for the Bible reference. It sure backs up Mr Muller's argument.
Posted by: TomR at July 18, 2009 01:03 PM
---
"And he said unto them, But now, he that hath a purse, let him take it, and likewise a wallet; and he that hath none, let him sell his cloak, and buy a sword." Luke 22:36
Posted by: JohnE PFC U.S. Army at July 18, 2009 02:42 PM
---
Ron Russell, thank you so much. Love
your blog.
Posted by: Wild Thing at July 18, 2009 07:48 PM
---
BobF., thank you that was great.
Posted by: Wild Thing at July 18, 2009 07:51 PM
---
Jack, thank you for sharing I really
appreciate it.
Love how you put that too, it would be
a part of you so much.
Posted by: Wild Thing at July 18, 2009 07:53 PM
---
Tom, giggle. I love how he responded
to her.
Posted by: Wild Thing at July 18, 2009 07:56 PM
---
JohnE PFC U.S. Army, perfecrt,
thank you so much.
Posted by: Wild Thing at July 18, 2009 07:57 PM
---
On one of our local newscast, the cutie reading the copy on this was trying to maintain an air of objectivity. but it was quite obvious her panties wer in a bunch.
New Pickup, New Khalashinkov, And Wild Thing, Oh Yeah!!!!!!!!!!!!!!!!!!!!!!!!!!!
Posted by: Glenn Cassel AMH1(AW) USN RET at July 19, 2009 06:58 AM
---
Posted by: Anonymous at July 19, 2009 07:40 PM
---