« How Obama's Stimulus Violates Your Constitutional Rights | Main | Senior Airman Nicholas Barker Defuses Commercial Airline Incident »
July 11, 2009
'Camouflage Angel' Spends Last Moments With U.S. Combat Casualties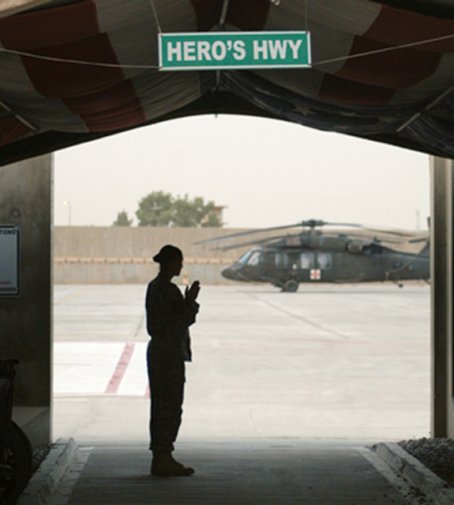 Army Sgt. Jennifer Watson, non-commissioned officer-in-charge of the Casualty Liaison Team at Joint Base Balad, stands in Hero's Highway. Each patient brought via helicopter to the Air Force Theater Hospital passes through Hero's Highway. Watson, a native of Peru, Ind., is deployed here from Fort Campbell, Ky. Photo by Staff Sgt. Dilia Ayala, 332nd Air Expeditionary Wing.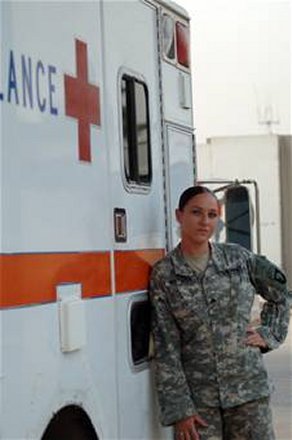 .
'Camouflage Angel' Spends Last Moments With U.S. Combat Casualties

By Staff Sgt. Dilia Ayala, 332nd Air Expeditionary Wing

The emergency-room trauma call and the medical staff's immediate action upon his arrival is only a memory to her now; sitting quietly at the bedside of her brother-in-arms, she carefully takes his hand, thanking him for his service and promising she will not leave his side.
He is a critically injured combat casualty, and she is Army Sgt. Jennifer Watson of the Casualty Liaison Team here.
Although a somber scene, it is not an uncommon one for the Peru, Ind., native, who in addition to her primary duties throughout the last 14 months, has taken it upon herself to ensure no U.S. casualty passes away alone. Holding each of their hands, she sits with them until the end, no matter the day or the hour.
"It's unfortunate that their families can't be here," said Watson, who is deployed here from Fort Campbell, Ky. "So I took it upon myself to step up and be that family while they are here. No one asked me to do it; I just did what I felt was right in my heart. I want them to know they are heroes.
"I feel just because they are passing away does not mean they cannot hear and feel someone around them," she continued. "I talk to them, thanking them for what they have done, telling them they are a hero, they will never be forgotten, and I explain my job to them to help them be at ease knowing the family will be told the truth."
In general, Watson explains to the patients that the CLT works within the Patient Administrative Department here, acting as a liaison for all military and civilian patients in-theater and initiating the casualty-notification process to the patient's next-of-kin.
Upon their arrival at the Air Force Theater Hospital, Watson speaks with each combat casualty getting as accurate information as possible about the incident. Once the doctor gives their diagnosis and severity of the patient's injuries, Watson and her team complete and send a Defense Casualty Information Processing System folder report to the Department of the Army or the patient's respective service so that their next-of-kin can be notified.
"I make sure we tell their family everything they want to know, so they know everything that's going on," said Watson. "[Through the report], we'll tell the families everything that is going on with their family member ... so that they don't have any questions."
Furthermore, once the initial report has been sent, the CLT and Watson make hourly rounds to the intensive-care ward or unit to check on the patient's well-being, or, for the more critical patients, to check on their stability.
"We are constantly communicating and making sure the family knows everything we know," said Watson. "We want to put the families at ease and let them know that everything is being done for their loved one. From the moment a servicemember is brought in through Hero's Highway, they are never alone."
Each month, the AFTH, the equivalent of a U.S. Level-1 trauma center, treats more than 539 patients; more than 101 are trauma cases in the emergency department. Although Watson can never predict if and when her fellow brothers- or sisters- in arms may need her, she is always available here.
"The hospital staff is wonderful," said Watson. "They know how important it is for me to be there with them and if they know it's time, someone will come and get me no matter where I'm at.
"I see it as a form of closure, not just for me, but for the families so that they know that somebody was there with their son or daughter," she added. "My heart goes out to every patient that comes into the hospital, especially my wounded in action Soldiers. I feel like everyone who comes through the door is my brother or sister."
Not surprisingly, Watson's dedication to duty and her hard work have not gone unnoticed. She has touched the lives of all those who she has come in contact with, to include the 332nd Expeditionary Medical Group commander, Col. Mark Mavity.
"Sgt. Watson's story is one of the most compelling here in the Med Group," said Mavity. "She is a Soldier's Soldier who combines an unparalleled level of compassion and commitment to our most grievously wounded warriors with amazing professionalism each and every day.
"What is truly incredible is that she is a personnelist by training but with the heart of a medic who has taken it upon herself to hold the hand and keep a bedside vigil with every mortally wounded Soldier who has spent their last hours within the AFTH," continued the colonel. "She will not let her brave brothers or sisters pass alone. This is a heavy burden to bear and at great personal emotional cost to Sgt. Watson, but she is unwavering in her final commitment to these Soldiers. You don't have to look any further than Sgt. Watson to find a true hero."
"Angel" and "hero" are only two of the many titles Watson has been given since arriving at JBB; although she is appreciative of the kind words, she remains humble.
"I am far from an angel," said the sergeant with a smile. "I just do what is in my heart. I guess for me, I think about the family and the closure of knowing the Soldier did not pass away alone. To say I'm a hero ... no. The heroes are my guys who come in [through Hero's Highway]."
Reflecting on her time here, Watson said she is extremely thankful for the opportunity she has had to work side-by-side with the Air Force.
"The staff of the 332nd Expeditionary Medical Group has done an amazing job since I have been here," she said. "They are incredible. They have done procedures and saved the lives of the most critically injured Soldiers, and have been some of the most professional people I have ever worked with.
"I want the families to know that their servicemember was a hero," Watson concluded. "They made the ultimate sacrifice, but before they passed on, they received the best medical treatment, and the staff did everything they could -- they were not in pain and they didn't die alone."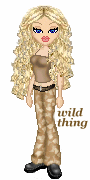 Wild Thing's comment......
Prayers for this soldier and those she helps. This is not even her assigned duty, she an administration clerk. This is just something she started doing because she's an angel full of love and everyone else in the unit not only accepts it, they encourage it.
Posted by Wild Thing at July 11, 2009 06:55 AM
---
Comments
Thank your WT for your war reporting! It is too easy to forget there is a war on. The news, even FOX, has forgotten to report on every thing.
Posted by: Odin at July 11, 2009 10:30 AM
---
Sgt. Jennifer Watson is why we must prevail!
Posted by: horace at July 11, 2009 10:45 AM
---
Sgt. Jennifer Watson is doing what all good
Rear
Echelon
Military
Forces
do. Thank you Jennifer.

Posted by: Jack at July 11, 2009 12:11 PM
---
Difficult to read this without choking up a bit. Thank you Sgt Jennifer for your above and beyond service to our most important soldiers.
Posted by: TomR at July 11, 2009 12:27 PM
---
This is impressive. They do such a great job and if WT didn't report on it. Their Job would go un-reported. They don't get enough credit or thanks for a job well done.
Posted by: Mark at July 11, 2009 01:30 PM
---
I apologise, I didn't pay close enough attention to the article. I just re-read this. God Bless her. That has got to be the toughest job in the Hospital bar none. The Doctors and Nurses know when they have done all they can do. Now it is her turn to take the patient the rest of the way. Oh my God that has got to be tough. It is bad enough losing someone in the field, next to you and sending them off in a chopper, but the waiting has got to be horrendous.
Posted by: Mark at July 11, 2009 07:36 PM
---
I know Mark, that was the worst part of visiting the field hospitals, the expectant area. I didn't see any Chaplains there but they must have been nearby. At first I couldn't eat without getting sick. I couldn't do what Jennifer is doing and remain sane, she has to deal with the finality of life and then contact next of kin. I had one man who had bad news from home, he went suicidal, it was a 24 hour watch and an escort home. Too close to the anguish. We all knew each other and each other's families, for me it was one of the worst things I ever experienced.
Posted by: Jack at July 11, 2009 08:54 PM
---
Odin, I wish they would. I have so many
ideas how they could report on the war and
our troops. All positive things that would
inspire the active duty, comfort the families
and inform the public. Have it done by
someone that has served and been there too
so it is all legit all the way around and
no slant from a journalist in the media.
Thank you Odin.
Posted by: Wild Thing at July 11, 2009 11:50 PM
---
Horace, I agree, she is very special.
Posted by: Wild Thing at July 11, 2009 11:51 PM
---
Posted by: Wild Thing at July 11, 2009 11:52 PM
---
Tom, nodding a quiet yesss.
Posted by: Wild Thing at July 11, 2009 11:53 PM
---
Mark, yes we have such special wonderful
people serving our country.
I agree Mark so much.
Posted by: Wild Thing at July 11, 2009 11:55 PM
---
Jack, thank you for sharing about that,
these are the things so many civilians
don't realize. Thank you.

Posted by: Wild Thing at July 11, 2009 11:58 PM
---
This brought tears to my eyes. Thank you Jennifer!!!
Posted by: BT in SA at July 12, 2009 01:30 PM
---