« What a Difference Obama vs.Netanyahu and President Bush | Main | First ( Lady) Kicks Off "United We Serve" Summer On Monday »
June 22, 2009
Obama Cold Blooded on Iran, Capt.Taken Hostage and Economy
Obama golfs after 30 minute meeting with foreign policy advisers on Iran
Barack Obama steers the cart with his golfing partner, Vice President Joe Biden, left, as they finish 18 holes at the Fort Belvoir Golf Club together on Father's Day, Sunday, June 21, 2009.
WASHINGTON
U.S. President Barack Obama expressed concern about violence and "unjust actions" against Iranian demonstrators on Sunday in a meeting with advisers who updated him on fast-moving events in the Islamic Republic.
"At approximately noon today, the President met for more than 30 minutes in the Oval Office with foreign policy advisors to get an update on the current situation and developments in Iran," a White House aide said in an email.
"At the meeting, the president reiterated his concerns about violence and unjust actions being taken against the Iranian people."
Obama's comments echoed a longer statement he released on Saturday urging the Iranian government to cease violent actions against its own people. Unrest has convulsed Iran for days since a disputed June 12 election that returned hardline anti-Western President Mahmoud Ahmadinejad to power.
Gunfire rang out in Tehran on Sunday after demonstrations culminated in the death of at least 10 people on Saturday. Iranian authorities dismissed the protesters as "terrorists" and rioters.
Ahmadinejad warned the United States and Britain on Saturday not to interfere in Iran's affairs, according to Iran's official ISNA news agency.
"The president of the United States is supposed to lead the free world, not follow it," Sen. Lindsey Graham, R-S.C., said Sunday. "He's been timid and passive more than I would like."
Sen. Chuck Grassley, R-Iowa, said a slow or muted U.S. response risks undermining the aspirations of Iranian voters to change or question their government.
"If America stands for democracy and all of these demonstrations are going on in Tehran and other cities over there, and people don't think that we really care, then obviously they're going to question, 'Do we really believe in our principles?'" Grassley said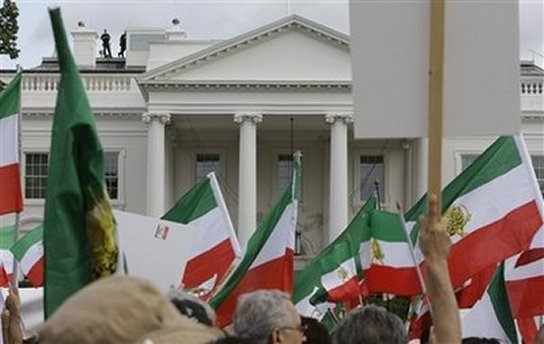 A group protests in front of the White House in support protesters in Iran and to condemn Supreme Leader Ali Khamenei's decision to suppress the protests, in Washington Sunday, June 21, 2009.
(AP Photo/Alex Brandon)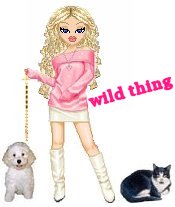 Wild Thing's comment.......
Obama is a degenerate , his cold heart and icy blood in his veins make it easy for him to go golfing while all that is happening in Iran.
Remember how he laughed when asked about the economy and was even asked if he was on drugs I think the interviewer.

Remember how Obama ducks question on terrorists (pirates) and Capt. taken hostage? He also had the reporter removed abruptly from the room afterward.
Obama Jokes, Laughs about Economic Crisis on 60 Minutes: 'Punch Drunk' President -- 3.22.09
Posted by Wild Thing at June 22, 2009 05:55 AM
---
Comments
Barry and Slow Joe premier the new, sporty GM 6000 Club Car, drop top, (side-curtains optional) two-cyle limousine.
Find all GM's new models at ObamaRods.Gov.
Posted by: Rhod at June 22, 2009 07:50 AM
---
Did he just run for president so he could golf for free for life? That should be at the bottom of his list of things to do. He needs to learn to put "ducks in a row" as the Marines would say. If I don't feel well, I still go to work. I don't take personal days without getting permission first.
Posted by: Lynn at June 22, 2009 08:12 AM
---
Good one Rhod, Obamarods.gov, let's see Briggs and Stratton or Tecumseh top this. But John Deere is another matter.
Posted by: Mark at June 22, 2009 10:11 AM
---
Yes, Barry Soetoro Obama or whatever his real name is, the follower of the free world.
Posted by: Bob A at June 22, 2009 10:27 AM
---
Mark, I researched the Club Car.
King Obie's auto czar is considering robust powerplants made by Poulan. Homelite and Baby-Bee couldn't meet production demands for the really big sedans at their Beijing facilities. They admit that electric starters are years away from development, but new nylon pull-cords are standard.
Also, Fisher is out for the chassis and Husqvarna is in. Magneto Ltd, a division of Lucas, will handle the electronics and a cutting-edge Holley single-barrel is going into production.
I'm saving up right now.
(Chrissie - sorry about the diversion. Guys love to talk about cars)
Posted by: Rhod at June 22, 2009 11:35 AM
---
More to the point, President Urkel's hyper-activity and shallowness is his kind of liberalism. He's the On-The-Other-Hand President -the kind of soul-destroying fool who deforms all disputes in order to find some pseudo-mathamatical equality in human struggles.
He's morally neutral on everything, which doesn't liberate anyone from political or mental tyrannies. This is the result: Some leftard imbecile called a local talk show today here in CT and claimed that Obama/America has no moral authority on Iranian despotism because of Kent State.
Only a moral pervert could deduce any factual, historical, circumstantial or moral equivalency between Kent State and Iran's chaos. This is what passes for deep thought among the sweat hogs of liberalism. If you ask me, the callerr was simply speaking for Obama and all other leftards.
In this kind of world, evil doesn't have to triumph, it just has to wait.
Posted by: Rhod at June 22, 2009 11:56 AM
---
I'm reminded of that other 'black leader 'Idi Amin. This is but one example of the leader we have. I'm emotionally torn as to whom to hold accountable on retribution day, that post turtle didn't get there by himself.
Rhod, boys toy can be girls toys too, have built this and have fantasies of this and this, or just plain fun!!!. Then again I'm daim brannaged.
Pst!!! Buy Ammo!!!
Posted by: Jack at June 22, 2009 02:04 PM
---
obama is king. Kings don't make great decisions. They just live the luxurious life of royalty. Right now the king is tied up with moving a health plan through his round table(Congress) and that is what his town criers will be zeroed in on. Also, the king's time is needed for photo-ops.
Posted by: TomR at June 22, 2009 02:07 PM
---
Jack, the king will eventually appoint a Fun Czar, who will find a way to tax it.
Posted by: Rhod at June 22, 2009 03:27 PM
---
Rhod, can you imagine trying to start that guvment POS in the winter time at about 20 below, oh yea a nylon pull cord thats about par for the course, then the other thing will be getting that little POS out of the driveway, in 18 inches of snow, hell the tires will be buried at that point.
Oh I just love those people who want to bring up Kent State. First they destroyed the town of Kent, Knocked a worker off a ladder who was trying to repair one of the signals those libtards had destroyed he eventually died. Then after all this the guard was called in, after it had become a full blown riot. These bastards have a selective memory. But what is puzzeling to me how come so many of the Guardsmen missed, they were using M-1's.
But whats really amazing is half these experts weren't even born yet.
Posted by: Mark at June 22, 2009 07:58 PM
---
LMAO Rhod, yeah you are right another czar, wow those things are noisy though. :) Sheer joy.
As for Kent State, damned good thing I wasn't there, I'd been home from the zoo only 9 months and was in no mind for domestic terror. For once the threat was real and reaction was real, and Kent wasn't Los Angeles and Watts where troops stood against them with an empty rifle in a toothless defense. Don't want trouble don't stir it up.
Posted by: Jack at June 22, 2009 10:36 PM
---
Rhod, HAHAHAHAHAHAHAH
Good one!
My first thought was I wondered why Obama
was driving maybe he thinks Biden drives like
he does gaffes.
heh heh
Posted by: Wild Thing at June 23, 2009 01:44 AM
---
Lynn, haha good one, he has never in
his life had it so good and he deserves
it less then anyone in the world. augh!!!!
Posted by: Wild Thing at June 23, 2009 01:46 AM
---
Bob A., yes the word free takes on a
whole new meaning now since Obama.
We are paying for all his wishes.
Posted by: Wild Thing at June 23, 2009 01:52 AM
---
Rhod....
"(Chrissie - sorry about the diversion. Guys love to talk about cars)"
No way, I LOVE it Rhod, no problem at all.
Posted by: Wild Thing at June 23, 2009 01:58 AM
---
Rhod, well said....this is so true today.
"In this kind of world, evil doesn't have to triumph, it just has to wait."
Posted by: Wild Thing at June 23, 2009 02:00 AM
---