« Fox News Discusses Obama Birth Certifcate | Main | U.S. Army Parachute Team The Golden Knights Make Historical Jump »
May 28, 2009
Secret Service Remove Woman Trying To Give Obama a Letter

Secret Service personnel remove Brenda Lee from near Air Force One after Lee attempted to give President Obama a letter.
A reporter for a small newspaper was forcibly removed from a press area near Air Force One shortly before President Barack Obama arrived at Los Angeles International Airport to depart California early Thursday.
Secret Service personnel remove Brenda Lee from near Air Force One after Lee attempted to give President Obama a letter, Thursday May 28, 2009, at LAX.
Airport security officers carried the woman away by the feet and arms as she protested her removal.
She later identified herself as Brenda Lee, a writer for the Georgia Informer in Macon and said she has White House press credentials. The newspaper's Web site says it is a monthly publication, and a Brenda Lee column is posted on it.
Calls to the newspaper and the White House press office were not immediately returned.
Lee said in a telephone interview with The Associated Press that she wanted to hand Obama a letter urging him "to take a stand for traditional marriage."
She said she asked a Secret Service agent to give the president her letter, but he refused and referred her to a White House staffer. Lee said she refused to give the staffer the letter.
"I said, 'I'll take my chances if (the president) comes by here,'" said Lee, who identified herself as a Roman Catholic priestess who lives in Anaheim, Calif. "He became annoyed that I wouldn't give him the letter."
Lee, who was wearing what she described as a cassock, said she protested when she was asked to leave.
"I said, 'Why are you bothering me?' They escorted me outside the gate," she said.
She said security officers allowed her to return when she promised she would not yell or wave, but then other officers arrived and told her to leave.
"I said, 'I'm not leaving,'" she said. "They tried to drag me out."
Two officers then picked her up and carried her out. An Associated Press photographer photographed the incident.
"I was afraid you could see under my clothes," she said, her voice choking up.

.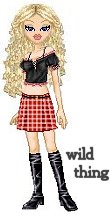 Wild Thing's comment......
LOL......She did have a good message, about being in favor of traditional marriage. But I guess she had no clue about how tight security is for any President. Especially if she wanted to give him a letter in person. It could have had anthrax in it or something else.
Not that I would give a boo hoo about Obama, but I don't want him to be a martyr. Then we might never win back the Presidency or any other office. Cold??? You bet, my blood runs cold when it comes to Obama and his party.
But with all he is doing there are legal ways to get him out of office as the most dangerous president this country has ever had.
Posted by Wild Thing at May 28, 2009 05:40 PM
---
Comments
Hehehehehehe...priceless. She really thought she had an 'in' to the messiah and he shunned her.
Now she'll probably sue the Secret Service. Incredible, You can't make this stuff up.
Posted by: Mark at May 28, 2009 07:44 PM
---
Too much fun for one day, this is incredible WT.
Just walk right in. A self-proclaimed Roman Catholic priestess eh, come to see his Holiness in the flesh? Why not? Another Muslim proclaimed "I Am The Greatest".
Hmmmm? I bet the from the Pope on down they just love that title, Priestess. Looks like a stunt Thomas Mapother IV would pull. Hey!!! Look at me!!! She resembles Sheila Jackson-Lee, mouth and all, related???.
Posted by: Jack at May 28, 2009 08:58 PM
---
Mar, Hahahaha never a dull moment.
Posted by: Wild Thing at May 29, 2009 12:44 AM
---
Jack, perfect song. LOL
Hahaha I have no idea what that "Priestess"
thing is about. Since I am not a Catholic
I am not up on all the jobs in the Cathholic
church.
Oh my gosh she sure does resemble the
infamous Sheila Jackson-Lee. hahahahahaha
Posted by: Wild Thing at May 29, 2009 12:47 AM
---
He probably gets more real threats than any other politician ever.
And I agree completely, he's getting enough idol worship, no martyrdom please! I really don't want to live out the rest of my life driving down Obama Blvd. in every city over 25000 and every third school named Obama Elementary.
Posted by: Eden at May 29, 2009 05:37 AM
---
A close relative used to say of LBJ, "better a live son of a bitch than a dead martyr".
Posted by: TomR at May 29, 2009 12:37 PM
---