« White House Moves to Restrict Criticism of Stimulus Projects | Main | Obama Speech in Cairo to Offer Personal Commitment ( kissing up ) to Muslims »
May 31, 2009
Obama Changes Mind About Uighur Terrorists at GITMO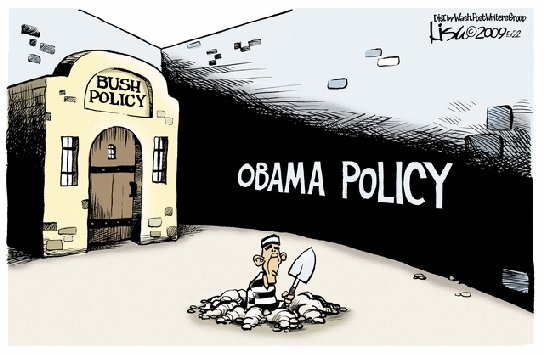 Obama Administration Asserts Uighur Detainees Have No Right to Come to US
by Jack Tapper
The Obama administration asked the U.S. Supreme Court Friday to reject a request for a hearing from 17 Chinese Muslims currently being held at Guantanamo Bay Naval Base, arguing they have no right to come to America despite a district judge's orders last Fall that they immediately be brought to the U.S. and released.
"Petitioners are free to return to their home country, but they understandably do not wish to do so, because they fear inhumane treatment there," reads the filing, signed by US Solicitor General Elena Kagan, Assistant Attorney General Tony West, and other Justice Department officials. "Petitioners are also free to go to any other country that is willing to accept them."
Many European countries are waiting for the US to accept the Uighurs before they agree to accept any more detainees from Guantanamo, but there is strong resistance from Congress, which recently voted to keep any detainees out of the US -- even out of US prisons.
But not to worry -- the Obama administration says the Uighurs' detention isn't so bad, considering.
"In contrast to individuals currently detained as enemies under the laws of war, petitioners are being housed under relatively unrestrictive conditions, given the status of Guantanamo Bay as a United States military base," Kagan writes, saying they are "in special communal housing with access to all areas of their camp, including an outdoor recreation space and picnic area." They "sleep in an air-conditioned bunk house and have the use of an activity room equipped with various recreational items, including a television with VCR and DVD players, a stereo system, and sports equipment."
On April 3, 2009, the Uighurs asked the US Supreme Court to hear their case.
The Obama administration on Friday urged the Supreme Court to not hear the case of the Uighurs, and to uphold the appellate court ruling.
Ironically, the Obama administration is now using Congress's refusal to allocate funding for the closing of Guantanamo as further reason why the Uighurs should not be freed. Mentioning that the House of Representatives passed a supplemental defense appropriations bill containing a provision specifying that "(n)one of the funds made available in this or any prior Act may be used to release an individual who is detained" at Guantanamo.
.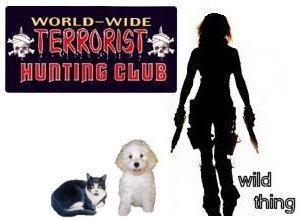 Wild Thing's comment.......
LOL Hello Obama, it seems he has realized that if even one of these terrorist come to America and commit any violent crime he would be held responsible. Or it may be a polticial play not sure.
Obama could care less about the safety of Americans! But the media would have a tuff time defending him when there would be an attack on our soil after bringikng the Uighur terrorists here.
.

....Thank you Mark for sending this to me.


Mark
3rd Mar.Div. 1st Battalion 9th Marine Regiment
1/9 Marines aka The Walking Dead
VN 66-67


Posted by Wild Thing at May 31, 2009 04:50 AM
---
Comments
But he wants them here! That way he can control us even more! Do as I say and the terrorists will leave you alone.
Posted by: Lynn at May 31, 2009 06:36 AM
---
Posted by: Jack at May 31, 2009 02:12 PM
---
Obama's teleprompter mouth overloaded his Marxist brain. Now he is stuck with trying to find a place for all the Gitmo terrorists. He promised to close Gitmo, but didn't have an alternative location for them first. Stupid sh-t!
Posted by: TomR at May 31, 2009 02:22 PM
---
How many of those Plumbic prisoners are actually related to obama and what is the real reason he wants to release them into OUR Society.
'Gittin even with'em ism'
Posted by: Mark at May 31, 2009 06:24 PM
---
We need Joe Biden to give us an answer on this one. He is great at ab-libbing.
Bob A.
Posted by: Bob A at June 1, 2009 12:28 AM
---