« Pathetic Obama is Worst Public Speaker To Hold Office of President ~ LOL | Main | Obama Threatened Bank CEOs with His Pitchfork »
April 04, 2009
A Nightly Evening At The Beach To Honor Our Veterans
Every evening at sunset in Siesta Key, a crowd gathers to honor our veterans.
PLEASE CLICK HERE TO SEE THE LATEST VIDEO....news chanel 8
From last year
July 4th, 2008 Flag lowering ceremony at the Siesta Key home of Captain Ralph Styles USN,2 Navy Crosses, WWII vet,Pearl Harbor invasion,submarine captain,Assist. Dir. Naval Intel,Joint Chiefs of Staff, a founder of New College in Sarasota
"I do this for the veterans, so people don't forget the sacrafices they have made for our country." ~ Captain Styles

Capt. Styles The Captain's Corner
Capt. Styles Joins Those He Honored Daily
October 2008
SIESTA KEY - A simple act of paying respect to the flag and the men and women who served in uniform turned retired Navy Capt. Ralph Styles into something of a folk hero.
Day after day, year after year for perhaps 15 years, Styles has ceremoniously raised and lowered the flag at his beachfront home accompanied by patriotic music on his boom box. A neighborhood bugler and drummer eventually joined in, and in recent years the twice-a-day tribute to Old Glory drew fellow patriots, curious onlookers and applause.
Styles, a Pearl Harbor survivor and, at 98, one of the oldest living graduates of the Naval Academy, died Tuesday of pneumonia and congestive heart failure during a brief hospitalization.
He proudly raised and lowered the flag at his Beach Road home as recently as last Friday.
"He became quite a celebrity in his old age," said his daughter, Anne Overbeck of Hingham, Mass., and Sarasota.
Neighborhood residents and beachgoers often gathered at sunset to watch the 15-minute ceremony unfold on his front lawn. After a bugler played taps and the flag was lowered and folded, Styles invited onlookers to sing along with "Amazing Grace" to honor those who lost their lives, or to join in as each military branch's song was sung.
"Some nights there will be about 10 people, and other nights there will be as many as 200," his daughter said.
The former naval officer's patriotic routine drew television and newspaper reporters over the years and was featured on "A Gulf Coast Journal with Jack Perkins" and another Tampa Bay-area public television broadcast, which featured World War II veterans.
During his 30-year military career, Styles was awarded a Legion of Merit, two Navy Crosses and eight Naval Unit Citations for his heroism. He commanded a submarine during World War II that destroyed a Japanese submarine and five Japanese merchant ships in Tokyo Bay in 1944.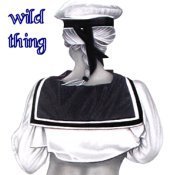 Wild Thing's comment.......
Nicholas and I have been to this several times. Siesta Key is about 11 miles from where we live. It is at the beach and we live in the country where it is more of a wooded area.
It was wonderful and I never knew there were videos of it till Steve sent the story to me.
Capt. Styles has passed away but they still keep the tradition going every evening.
God bless our Veterans and we will never forget those that are no longer with us.

......Thank you SSGT Steve

SSgt Steve
1st MarDiv, H Co., 2nd Bn, 5th Marine Regiment
2/5 Marines, Motto: "Retreat, Hell"
VN 66-67
Posted by Wild Thing at April 4, 2009 05:48 AM
---
Comments
How very sweet and patriotic! Capt Styles sure seems like he was one of the white hatted "good" guys. Sounds like a good time all around.
Posted by: Lynn at April 4, 2009 06:47 AM
---
Reminds me of my school days. The principal would use the intercom to lead all the classes in a prayer, then the Pledge of Allegience. Then he would play a religious hymn and a patriotic tune. Guess that is all history now.
Posted by: TomR at April 4, 2009 02:06 PM
---
Lynn, it was really special the times that Nick and I got to go there and be a part of it.
Posted by: Wild Thing at April 4, 2009 06:12 PM
---
Tom, thanks for sharing about that,I miss those times. Right now I too am unsure how much longer this kind of thing would be allowed. Not a good feeling to have.
Posted by: Wild Thing at April 4, 2009 06:14 PM
---