« Remember The Alamo! (166 Men Died For Freedom - March 6, 1836) | Main | Obama Ponders Outreach to Elements of the Taliban »
March 07, 2009
In Country With Our Warriors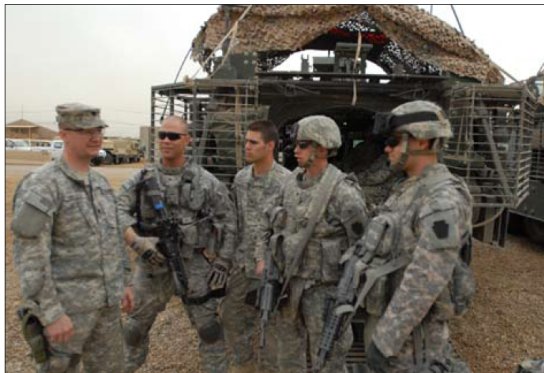 Lt. Col. Sam Hayes (left), of Newport, Pa., commander of 2nd Battalion, 112th Infantry Regiment, 56th Stryker Brigade Combat Team, Pennsylvania National Guard, meets with Soldiers from his battalion as they prepare for a patrol Feb. 24.
The Lewistown, Pa. based unit officially began its mission Feb. 21, after taking over from members of the 2nd BCT, 25th Infantry DIvision.
Speaking with Hayes, from left to right are; Sgt. Robert King, of Uniontown, Pa., Spc. Corey McNamara, of Las Vegas, Nev., Spc. Larry Magee, of Clearville, Pa., and Pvt. Matthew Leiphart, of Red Lion, Pa. (U.S. Army photo by Sgt. Doug Roles, 56th SBCT, 28th Inf. Div., MND-B)
Keystone state Soldiers settle into mission
Sgt. Doug Roles
56th SBCT PAO
BAGHDAD
Several days into the official start of his unit's mission in Iraq, the commander of an Army National Guard
battalion from central Pennsylvania says a partnership is already being developed between his Soldiers and Iraqi Security Forces.
"Morale is as high as it's ever been. We're excited about the mission. The partnership with the Iraqis is a good partnership." said Lt. Col. Sam Hayes, commander of the 2nd Battalion, 112th Infantry Regiment, 56th Stryker Brigade Combat Team, Multi-National Division—Baghdad.
The battalion officially began its Iraq mission with a Feb. 21 Transfer of Authority ceremony. Soldiers of the Lewistown, Pa. based unit took over responsibility to assist Iraqi Security Forces with securing the area of Abu Ghuraib, north of Baghdad. A two-week transition period preceded the TOA. During that time the battalion's
Soldiers worked side by side with the departing Soldiers from the 1st Battalion, 21st Infantry, 2nd Stryker Brigade Combat Team, 25th Infantry Division, based out of Schofield Barracks, Hawaii. Hayes said the transition period included meetings with Iraqi military leaders.
"We meet on a very regular basis, at least two or three times a week. We do have security concerns, like we always do, but there's also a lot of economic and government opportunities that we both share an interest in developing."
Sgt. Robert King, Uniontown, Pa., a dismounted infantry team leader, credited the Hawaii-based Soldiers with helping his unit prepare for the TOA.
"It was done expeditiously. They were right on and were candid with their responses to our questions," King said. Pvt. Matthew Leiphart, Red Lion, Pa., echoed King's comments. Leiphart, who enlisted 18 months ago, said he looks forward to the rest of the deployment.
"We've been training to do this mission and now we actually get to do what we've been training to do."

.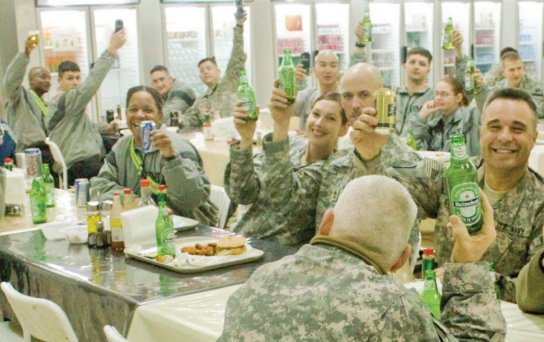 Thunder Horse Battalion troops and other personnel at COB Adder toast a beer to each other during the Pittsburgh Steeler's 27-23 Super Bowl victory over the Arizona Cardinals at the Coalition South Dining Facility Feb. 2. The Super Bowl marked the first time personnel stationed in Iraq were allowed to drink alcoholic beverages. Soldiers were not allowed to consume any beer if they were scheduled for any type of duty within six hours, but the Long Knife Brigade held a late work call to aid in the Soldiers' relaxation and enjoyment of the Super Bowl.
.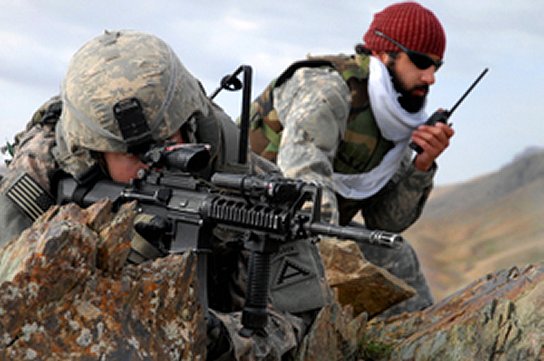 Ridge Runners
U.S. Army 1st Lt. Jared Tomberlin, left, and an interpreter pull security on top of a mountain ridge during a reconnaissance mission near Forward Operating Base Lane in Zabul province, Afghanistan, Feb. 28, 2009. Tomberlin is assigned to Company B, 1st Battalion, 4th Infantry Regiment.
U.S. Army photo by Staff Sgt. Adam Mancini
.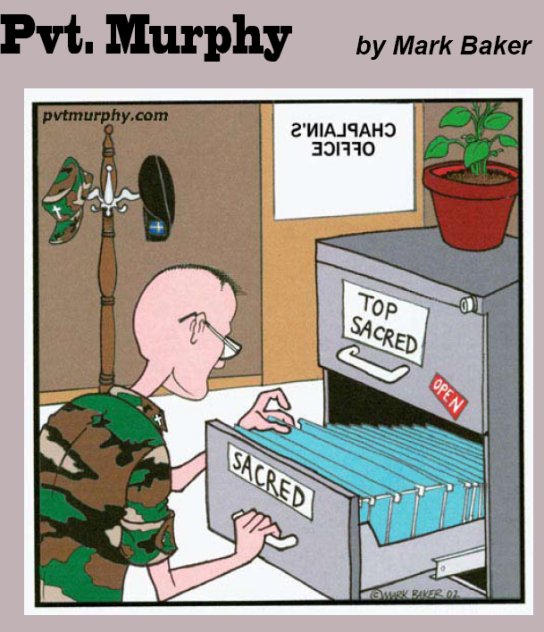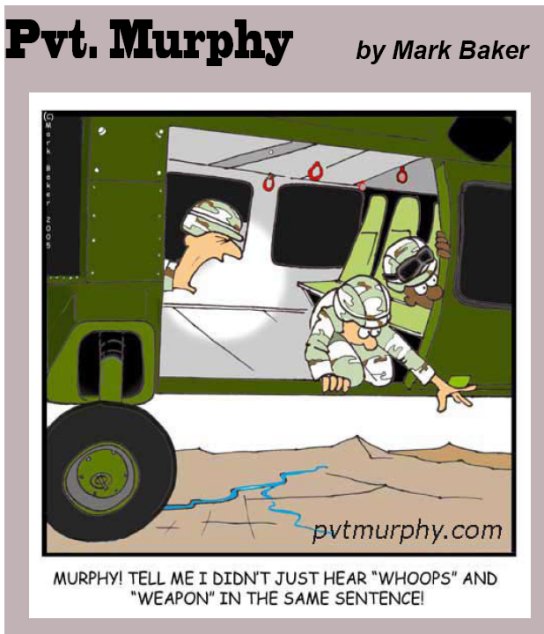 Posted by Wild Thing at March 7, 2009 06:55 AM
---
Comments
That last cartoon would be Pvt Me. It's just as well I never joined the military...
Our troops are the best! Reading the certificates that go with the medals these kids are racking up is an awesome experience.
Now more than ever we so need to let them know that we know they're out there and we care. They're in for a bumpier ride these coming years with this administration.
Posted by: yankeemom at March 7, 2009 09:48 AM
---
Posted by: BobF at March 7, 2009 11:33 AM
---
Thank you Chrissie. LMAO yankeemom, been there!!! I once heard a "whoops", a Huey doorgunner flying overhead yelled out 'Heads Up' just in time for yours truly to duck a full belt of M60 Ammo, at around 80-90 mph, mass times velocity took over, that writhing like a snake belt of ammo buried itself in some very hard packed clay along side me. I can appreciate that second cartoon!!! I do remember the pucker factor of a Huey at 5000 feet with the door open, suddenly rolling over into a full dive with only the seat belt holding my sorry butt in, with nothing but space out there. The pilot said later, I thought you had mumps back there, the bastid!!! Who says a sphincter muscle won't hold you in the seat.
Dang it these troops are going to need our support now more than ever. The current administration is going to use them as bloody pawns to extricate themselves from prior commitments before they capitulate. I truly fear for them.
We do have some patriots that refuse to go along, some were raised right. I know all of you were severely beat about the head and shoulders with media coverage of the Lincoln Memorial in Washington during "We Are One," an inauguration celebration for President-elect Barack Obama, where Tiger Woods delivered his "You'll Never Walk Alone" speech. Not what the crowd expected to be sure, in the day of 'Democracy' as expected by Obama and the minions. Slowly we are learning, "veritas odium parit" the truth, if you are wondering, "veritas odium parit" is Latin for "truth begets hatred". Not saying Obamastain is lying but my leg is damp and it's not raining. Both sides are so corrupt they are almost indistinguisable from each other, "Lex facit regem...Rex non debet esse sub homine sed sub Deo et lege...The law makes the king...The king ought not to be under any man, but under God and under the law..."
We base our law on English common law, somewhere in that translation today they translate that phrase, without God, as their being declared by law under man to be king. Algore tried it and narrowly failed, Queen Gregoire tried it and succeeded, Al Franken has yet to be determined by the law. We have a foreign president, seated contrary to the Constitution, due to the 'law'. The transition from oligarchy to authoritarianism.
Sad BobF, great story. Must have been terrifying inside that ball turret under fire. I once read a book by Robert Mason, ChickenHawk, that now is out of print I believe, it's an eye opener into a copter pilots nightmare.

Posted by: Jack at March 7, 2009 01:08 PM
---
Hoorah to the Pennsylvania National Guardsmen. May God protect them. All the commenters are right about this Obama Administration being anti military. They don't believe the "law makes the king".
Thanks for the ball gunner story BobF.
yankeemom - if ya spend much time around helicopters and airplanes, ya will end up with some funny mishaps to relate later, if you survive.
Posted by: TomR at March 7, 2009 01:47 PM
---
Yankeemom, I agree so much.
"They're in for a bumpier ride these coming years with this administration."
Posted by: Wild Thing at March 7, 2009 06:25 PM
---
BobF.,oh wow thank you so much for that story.
Posted by: Wild Thing at March 7, 2009 06:26 PM
---
Jack, haha thank you for sharing about your woops experience.
LOVED your comment and I agree about our troops too, needing our support now more then ever. And also like you said too they are not going to get it from their CIC that's for sure.
Posted by: Wild Thing at March 7, 2009 06:32 PM
---
Tom, I was thinking today how neat it would be if Bush would go visit the troops later on. Past Presidents have traveled to do harm to our country like Carter has. But Bush would be something that would be so positive for our troops. I bet Obama would be seething if that happened. heh heh
Posted by: Wild Thing at March 7, 2009 06:41 PM
---
Wild Thing - what a neat idea. Maybe Bush would do that. It would knock the socks off Obama and he and the Dems would whine like babies.
Posted by: TomR at March 7, 2009 10:44 PM
---
Love the cartoons and the stories.
We lost a couple of local soldiers in the past few weeks. The small communities really rally to show them honor and dignity at their funerals. Makes me proud.
It makes me sick in the gut to think about them going to Afghanistan. I hope they all get issued torches and bic lighters to kill the poppy crops, because nothin is going to work there until they eradicate that. Long row to how there.
Posted by: Eden at March 8, 2009 07:07 AM
---