« TV Ad from American's United for Change Their Group Wants a Socialist America | Main | Obama Corrupting America With Socialism »
February 28, 2009
Rush Limbaugh Wraps Up CPAC Today With Speech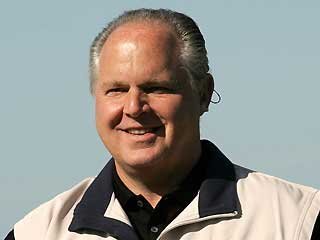 Rush Limbaugh will give ia speech and also he will receive the "Defender of the Constitution award."

Rush Wraps Up CPAC on Saturday

RUSH : Listen to Carl Cameron's report on Fox. Fox News is going to carry the speech live at five o'clock. They've been promoing it since last night, they're promoing it all morning today, and I'm saying, "Man, I better be good, all this attention?" (interruption) "Well, this is the head of the party." No. I'm not the head of the party. See, this is where these Looney Toons are missing the whole boat here. If I'm head of anything, which I'm not, but if I'm head of anything, it's conservatism, but not the party.
You know, Clint Eastwood had it right, Clint Eastwood said he's fed up with political correctness. He's fed up with everybody trying to be politically correct. He's fed up with nobody being able to laugh anymore. He's fed up with not being able to tell race jokes and ethnic jokes. When he was growing up, everybody did. Nobody took offense at it. Every race tells jokes about the other race. Every country tells jokes about people in other countries. We can't do it anymore. And he's right, and, as such, people don't understand humor any more, unless it's liberal humor, and liberals especially do not laugh. I never see a happy one. Even liberal comics are angry and filled with rage. I just never see it. This program's one of the funniest programs on the radio and the libs don't get one syllable of it, which, to me, is sort of fun at the same time, 'cause I can tweak 'em any time I want to, and they don't even know that they're being played. Anyway, here's Carl Cameron this morning, reporting live from the Conservative Political Action Conference.
CAMERON: The radio icon always a polarizer, love him or hate him, liberals hate him, here the conservatives at this CPAC conference are just in a lather waiting for him here. It's the biggest turnout, people are talking about how Republicans are in disarray and have problems because of the last election and the breakdown. They acknowledge that here, but there's no sense of demoralization at all. The GOP and conservatives ready to get sort of back to core principles and see the Obama administration and the Democrat control of Congress as the perfect opportunity for them to do it.
RUSH: Largest crowd ever, is what Carl Cameron and others have been saying. So it will be on TV at five o'clock, and I'm on time.
Townhall.com Presents CPAC 2009 Online
Click here to watch live streaming of the entire conference via UStream.tv
9:00 a.m. - 6:p.m.
Rush is scheduled to be on at 5:00 p.m.
Also Rush's speech will air on FON news channel at 5:00 EST as well
I caught CPAC also was shown yesterday on C-SPAN
So there are a few place if you would like to see it available.

Also Gov. Sarah Palin was asked to speak and I guess is unable to make it. So she did an interview instead and they will be showing her video. I am not sure if they will show the interview on TV or just in one of the conference rooms of the conference.

Yesterday House Republican Leader John Boehner told conservatives today at CPAC that the Democratic Majority and President Obama are taking the first steps toward an American brand of socialism.
"First it was the stimulus, then the omnibus and now the budget," Boehner said during a speech to the Conservative Political Action Conference. "It's all a down payment on a new American socialist experiment."
"The spending barrage is just beginning," he added.

Saturday CPAC schedule
EMCEE
Jim Roberts, Radio America
9:00
Hon. Rick Santorum
Regency Ballroom
Introduction: Tim Goeglein, Focus on the Family
9:30
Gov. Tim Pawlenty (MN)
Regency Ballroom*
Introduction: TBD
9:30
Phyllis Schlafly
Ambassador Ballroom
Introduction: Sandy Rios, WYLL Chicago
9:45
Stephen H. Balch
Regency Ballroom*
Introduction: TBD
9:45
Legal Immigration: Defending the Constitution
and Assimilation
Ambassador Ballroom
Mark Krikorian, Center for Immigration Studies
Tom Fitton, Judicial Watch
Helen Krieble, Vernon K. Krieble Foundation
Moderator: Grover Norquist, Americans for Tax Reform
10:00
Hon. Elaine L. Chao
Regency Ballroom
Introduction: TBD
10:00
The Catholic Vote and the Future of Conservatism
Congressional A
Sponsored by the Catholic Family Caucus
Speaker: Dr. Kevin Roberts, Founder and Executive Director
Open to all CPAC attendees
10:15
How Many Crimes Did You Commit Today?
Regency Ballroom
Hon. Asa Hutchinson
Tim Lynch, Cato Institute*
Paul Rosenzweig, Department of Homeland Security*
Moderator: Pat Nolan, Prison Fellowship Ministries*
10:30
Jim Worthing
Exhibit Hall
CD Signing
Hang On to Your Freedom
10:30
God and Man at CPAC: The Enduring Legacy of William F. Buckley
Congressional B
Sponsored by The Intercollegiate Studies Institute
Panelists: James Panero, The New Criterion; Matthew Continetti, The Weekly Standard; Daniel McCarthy, The American Conservative;
Moderator: Mark Henrie, Intercollegiate Studies Institute
Free books and journals to those in attendance
Open to All Attendees
11:00
Chris Horner
Exhibit Hall
Book Signing
Red Hot Lies
11:00
Iain Murray
Exhibit Hall
Book Signing
Real Inconvenient Truths
EMCEE
David Bossie, Citizens United
11:15
William J. Bennett
Regency Ballroom*
Introduction: TBD
11:30
Threats to Our National Sovereignty
Ambassador Ballroom
Chris Horner, Competitive Enterprise Institute
Iain Murray, author of Real Inconvenient Truths
Prof. Jeremy Rabkin, George Mason University
David Rifkin, Baker & Hostetler
Moderator: Jeff Gayner, Council for America
11:45
Education at the Crossroads: Monopoly or Competition?
Regency Ballroom
Virginia Walden Ford, D.C. Parents for School Choice*
Jeanne Allen, Center for Education Reform
Kevin D. Roberts, Catholic Family Caucus
Moderator: Joe Bast, The Heartland Institute
12:00
Roger Simon
Exhibit Hall
Book Signing
Blacklisting Myself: Memoir of a Hollywood Apostate in the Age of Terror
12:30
Ann Coulter
Regency Ballroom
Introduction:TBD
12:30
S.E. Cupp and Brett Joshpe
Exhibit Hall
Book Signing
Why You're Wrong About the Right
1:00
Presentation of Conservative Blogger Award
Regency Ballroom
Presenter: David All, David All Group*
Recipient: Steve Gilbert, Sweetness & Light
1:00
Woman of the Year Luncheon
Palladian Ballroom
Sponsored by the Clare Boothe Luce Policy Institute
Speaker: TBA
Lunch Served
Open to Pre-registered Women Students Only
1:05
Moving the Left Coast to the Right: A Call to Action for Conservatives
Regency Ballroom
Robert Davi, actor and director
Roger L. Simon, Pajamas Media
David Horowitz, David Horowitz Freedom Center
Moderator: Andrew Breitbart, Breitbart.com's Big Hollywood
EMCEE
Kirby Wilbur, KVI
2:00
SPEAKER TBD
Regency Ballroom
Introduction: TBD
2:00
Media in the Obama Era: Is Journalism Dead?
Ambassador Ballroom
John Gizzi, Human Events
John Ziegler, How Obama Got Elected
R. Emmett Tyrrell, The American Spectator
Terry Jeffrey, CNSNews.com
Moderator: Peter Roff*

2:00
Conservatism 2.0 Conference
Diplomat Ballroom
Sponsored by Pajamas Television
The Washington Tea Party hosted by Kellyanne Conway, Mary Anne Marsh, Michelle Malkin and Jeri Thompson with their special guest, Fred Thompson.
Complimentary lunch served
Open to all CPAC attendees
2:00
Love Taking Charge? The Common Sense Tool For Kickin' *** One State at a Time
Paul Jacob and friends – activists who have fought big government, the status quo, and tyranny in their communities will discuss the toolbox for citizens who want to take charge.
Open to all CPAC attendees.
2:15
Driving Energy Policy for the 21st Century
Regency Ballroom
Niger Innis, Congress of Racial Equality
Rep. Tom McClintock (CA)
Myron Ebell, Competitive Enterprise Institute
Morry B. Markowitz, Edison Electric Institute
Moderator: Andrew Moylan, National Taxpayers Union
3:00
The True Cost Of Global Warming Hysteria
Regency Ballroom
Ann McElhinney, Not Evil, Just Wrong
Phelim McAleer, Not Evil, Just Wrong
Moderator: Andrew Breitbart, Breitbart.com's Big Hollywood
3:00
David Horowitz
Ambassador Ballroom
Introduction: TBD
3:00
Sarah Palin Unplugged on the Media Video Interview
Diplomat Ballroom
Sponsored by "Media Malpractice" Movie
Speaker: John Ziegler and special guest
Open to all CPAC attendees/Tickets enclosed in CPAC registration bags
3:30
Alan Charles Kors
Ambassador Ballroom
Introduction: Mal Kline, Accuracy in Media
4:00
Ward Connerly
Regency Ballroom
Introduction: Tammy Cali, Eberle Associates
4:30
Straw Poll Results and CPAC 2010: Where Do We Stand?
Regency Ballroom
Tony Fabrizio, Fabrizio, McLaughlin & Associates
David A. Keene, American Conservative Union
5:00
Rush Limbaugh
Regency Ballroom
Introduction: Lisa De Pasquale, American Conservative Union
5:30
Presentation of Defender of the Constitution Award
Presenter: Brad O'Leary, PM-Direct Marketing
Recipient: Rush Limbaugh
5:35
Adjournment
Posted by Wild Thing at February 28, 2009 05:50 AM
---
Comments
I've got my alarm set to make sure I watch it. Newt was good yesterday and I believe Rush will be better.
Posted by: BobF at February 28, 2009 09:52 AM
---
I wish I could attend this conference. Just watched Bill Bennet. Optimism is difficult to come by these days. There is some at this conference.
Posted by: TomR at February 28, 2009 11:55 AM
---
I've got 5000 stations, and none of them have anything worth watching. Hopefully if I start now, about 1 pm, I will be able to find it.
Posted by: Mark at February 28, 2009 12:56 PM
---
Earlier today I put on C-SPAN to watch the 2009 CPAC coverage - like last year - and on C-SPAN they had 'The State of The Black Union'... In exactly six hours and three minutes, Black History Month ends! "GOD love Clint Eastwood...
and Bo Derek too!"
Posted by: darthcrUSAderworldtour07 at February 28, 2009 05:57 PM
---
Just watched Rush and he was on Fire. He covered everything. I didn't think they were going to let him out of there.
Just outstanding, uplifting and most of all encouraging.
Posted by: Mark at February 28, 2009 06:25 PM
---
Wow!!! Thank you Chrissie everything came to a screeching halt for this address. Rush in his 'first international address' wowed the audience, I have never witnessed so many standing ovations as he made salient point after salient point about everything that's wrong with the current administration. We'll have to mute the news for weeks now as they try to discredit Rush and all the conservatives. God bless Rush, he deserved that "Defender Of The Constitution" award signed by Benjamin Franklin. Very inspirational!!!
Thank you
Posted by: Jack at February 28, 2009 06:26 PM
---
Interesting...I am a moderate democrat who stumbled upon Rush's speech and found it a little eye opening in a good way, actually. It was interesting however that near the end of the speech CNN went snowy - said it was a power outage in DC ....hmmm....didn't like the message? I then switched to Fox and found the speech still in progress. No power outage for Fox? Rush was in DC for both networks I believe. Interesting how mainstream media pulls the plug when they aren't happy with the message. I think I will tune to Rush on Monday to learn more. Maybe I have been misled by the democrats.
Posted by: Peg at February 28, 2009 06:35 PM
---
BobF, good idea. It is done now but I wanted to respond. It was uplifting and the kind of speech that I will not forget. Awesome.
Posted by: Wild Thing at February 28, 2009 10:45 PM
---
Tom, yes it is filled with people that feel like we all do. We are upset and angry but there is a positive side to all of this too. Like the Phoenix, some will rise to the top to take a lead for conservatives.
Posted by: Wild Thing at February 28, 2009 10:48 PM
---
Mark, it was weird, we had it on C=Span and then right before Rush was to speak they cut to some kind of Black group meeting with Travis Smiley. So we watched it on Fox.
Posted by: Wild Thing at February 28, 2009 10:52 PM
---
Darth, yes Clint really is upset about all the PC stuff. Bo Derek is great too, she is a Republican.
Posted by: Wild Thing at February 28, 2009 10:54 PM
---
Mark, YEssssss you said it!! He really was on FIRE!
Posted by: Wild Thing at February 28, 2009 10:55 PM
---
Jack, I agree it sure was inspirational. I love too how Rush can laugh at himself, and all he says is right from his heart. He loves America so much.
Posted by: Wild Thing at February 28, 2009 10:57 PM
---
Peg, I am so glad thank you for sharing about it. Yes do give Rush a chance, listen to his show and check it out for yourself.
One thing for sure Rush loves this country and wants everyone in it to succeed and do well.
Posted by: Wild Thing at February 28, 2009 11:03 PM
---