« Obama To Cut US Defense Budget ~ Terrorist Bill Ayers Must Be Proud! | Main | Barack Obama's Cruel Socialism by Rush Limbaugh »
February 28, 2009
From GITMO "Until the Mission Is Complete"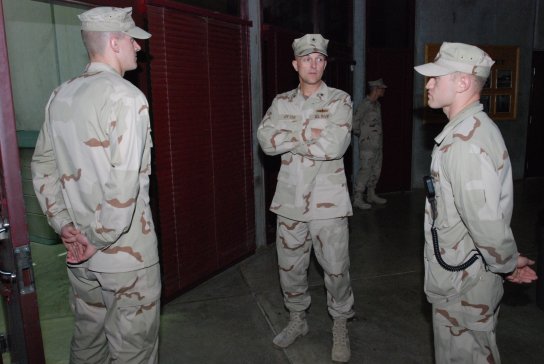 Navy Rear Adm. Dave Thomas takes time to speak with Joint Task Force Guantanamo troopers during a recent tour of Camp 6, Nov. 25, 2008. Thomas considers his troopers his "main battery" and often expresses his pride in the men and women who support the JTF mission. JTF Guantanamo conducts safe, humane, legal and transparent care and custody of detained enemy combatants, including those convicted by military commission and those ordered released. The JTF conducts intelligence collection, analysis and dissemination for the protection of detainees and personnel working in JTF Guantanamo facilities and in support of the Global War on Terror. JTF Guantanamo provides support to the Office of Military Commissions, to law enforcement and to war crimes investigations. The JTF conducts planning for and, on order, responds to Caribbean mass migration operations.

Until the Mission Is Complete
Story by Staff Sgt. Emily Russell
GUANTANAMO BAY, CUBA
The decision to close Joint Task Force Guantanamo is no longer just a campaign promise but a reality now that the executive order has been signed. Naturally, JTF troopers are curious to know what the fate of the detention facility and the JTF will be.
"President Obama said the detention facilities will close by the 22nd of January, 2010," said JTF Commander Navy Rear Adm. David M. Thomas, Jr. "That's an order, and I, as a military member, understand orders. It's not a suggestion or a recommendation, it's an order. I don't have opinions about them, I perform my duties and the missions that I have in accordance with my orders."
These words hold true for every trooper. Although we have a new order, our mission remains the same.
"We have to maintain our focus on those missions – the safe and humane, legal and transparent care and custody of these detained enemy combatants, intelligence collection for force protection and support law enforcement in the global war on terrorism and support for the Military Commissions – it's very important," Thomas said
.
According to the JTF commander, the executive order is more significant to the policy makers and legislative and judicial branches in Washington than it is to troopers here in the short and mid-term.
"What the executive order does is direct many folks in Washington to perform an evaluation of JTF Guantanamo within 30 days for compliance with Geneva Convention Common Article Three," Thomas explained. "[Navy] Adm. [Patrick] Walsh, the Vice Chief of Naval Operations, is here with a team of 10 other senior Department of Defense officials evaluating every aspect of JTF Guantanamo. He has 30 days to do it."
Thomas explained a provision of the executive order which requires the individual evaluation of all the detainees here and the evaluation of all the intelligence and information that the government has collected about the detainees to assess each detainee, with the findings reported back to the president.
"Then, within one year, the closure of the facility," Thomas added. "We will support those reports and evaluations and of course await a timeline or decisions on the transfer or release of the detainees. But, those decisions will be made in Washington."
Thomas emphasized that until the last detainee is gone and the last bit of this facility is closed down, Troopers will remain focused on the three missions.
"In the Navy, when we deploy, the most vulnerable time of that deployment isn't when we're launching aircraft or engaged in forward activities, it's that transit back when the deployment is over and all we're doing is transiting." Thomas said. "If you let your guard down and you stop focusing on being safe, that's when accidents are most likely to occur, and you're likely to lose your edge.
"We are going to run through the finish line with the same focus and dedication that we've had all the way through," he continued. "We're going to do this right until the last detainee is gone. We're going to finish strong."
According to Thomas, the executive order changes nothing in the relationship between JTF and the Naval Station.
"The JTF gets marvelous support from the Naval Station, Navy Region Southeast and the entire Navy chain of command," he said. "We also get fantastic support from Morale, Welfare and Recreation, as well as support in construction projects and maintenance."
Thomas is frequently asked about ongoing projects he has in place to refine the conditions of detention operations in the JTF.
"I'm asked, 'Since we know the facility is going to close, we're going to stop all this, right?' The answer is 'no,'" he said.
Thomas decided, in consultation with his staff, that the right thing to do was to address these issues that would continue to improve the detention facility.
"Whether it's for 11 months, 11 years or 11 days, those things are still the right thing to do."
Thomas explained the necessity of moving ahead with the projects and programs that he and his staff plan to refine.
"There's no timeline on the right thing to do, so I'm going to press ahead with those initiatives," he stated. "We're going to finish this correctly, the right way, as our country would expect us to do."
"Our troopers are my main battery," Thomas explained, as he expressed his pride in the men and women who support this mission.
"I'm really proud of what we do here," he said. "Every day I recognize what an important mission this is for our country and how important it is to do it right. I'm grateful to be part of this team."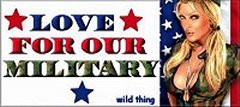 Wild Thing's comment.........
Our troops at GITMO know that it is the best place for these prisoners, and they want to complete what they are doing there.
Posted by Wild Thing at February 28, 2009 05:40 AM
---
Comments
Thats what I like about the Navy. they are so straight forward about their ranking system, a Rear Admiral, lower half or upper half, then there is a thrice Admiral(Vice, makes you wonder what he's in charge of.
But seriously the Navy will get the job done and done right.
Posted by: Mark at February 28, 2009 09:58 PM
---
Mark,thank you, yes hahaha true too.
Posted by: Wild Thing at February 28, 2009 11:31 PM
---