« B.Hussein Obama Depicted in Carnival Floats in Duesseldorf, Germany | Main | Meant To Be a Satirical Site »
February 27, 2009
A Great Air Force Poster and Story
This nineteen-year-old ex-cheerleader (now an Air Force Security Forces Sniper) was watching a road that led to a NATO military base when she observed a man digging by the road. She engaged the target (i.e., she shot him). Turned out he was a bomb maker for the Taliban and he was burying an IED that was to be detonated when a US patrol walked by 30 minutes later. It would have certainly killed and wounded several soldiers.
The interesting fact of this story is the shot was measured at 725 yards. She shot him as he was bent over burying the bomb. The shot went through his butt and into the bomb which detonated; he was blown to pieces. The Air Force made a motivational poster of her.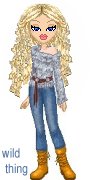 Wild Thing's comment........
God bless our troops. It does onot givei a name, I guess they did not want to give that information. But even so how wonderful.

....Thank you JohnE PFC U.S. Army for sending this to me.

Posted by Wild Thing at February 27, 2009 05:40 AM
---
Comments
Thanks WT and JohnE PFC. This is awesome. Wonder if she would be on loan for a little "house" cleaning back here in the States?
Maybe the NRA could work out a photoshoot with this lady and Sarah Palin together on a hunting trip!!!!! Can you imagine what that poster would look like?!?!?! lol
On the serious side, I have the most admiration for this young lady.....to join the military in defense of her country and be instrumental in saving the lives of her fellow soldiers....to have to do something that many would not have the guts to do and that is kill another human being.....when she could be home safe and sound, going on dates or college, or maybe even starting a family. God Bless each and every one of our fine military personnel. These are our future leaders!!!!
Posted by: John at February 27, 2009 07:49 AM
---
A lovely view for a kill? One Taligonner = 72 more virgins? Hope they look and smell like HELEN THOMAS!!
Posted by: darthcrUSAderworldtour07 at February 27, 2009 09:02 AM
---
That's my kind of woman. To be a young NCO again in Air Force instead of some old retired lifer.
Posted by: BobF at February 27, 2009 09:57 AM
---
Good shooting! 725 yds is a great shot. The fact that is bomb exploded vaporizing the bastard is just icing on the cake. I hope she racks up a high score.
Posted by: TomR at February 27, 2009 10:06 AM
---
Posted by: Mark at February 27, 2009 11:18 AM
---
I have a warm and fuzzy glow of pride in that young lady. Take out a terrorist and clear the mine field in one shot, awesome!!! When it gets tough the tough get going. I'm sure if you asked her what she felt at the time it would be "slight recoil" and pride. Well done dear and it didn't take a beehive round to nail him. Beer, more beer. Yes, Carlos would be proud Mark. I just wish he were alive to bear witness. Thanks WT and JohnE PFC.
Posted by: Jack - American-American at February 27, 2009 11:49 AM
---
Hey guys, Alvin York would also be proud.
Posted by: TomR at February 27, 2009 04:14 PM
---
Someone please give her the coordinates for the Oval Office.
Posted by: cuchieddie-25th ID Vet at February 27, 2009 07:23 PM
---
Army Staff Sergeant Adelbert Waldron would be proud as well.
Posted by: JohnE PFC U.S. Army at February 27, 2009 07:24 PM
---

(((( hug ))))
You are all the best!!!!!
Posted by: Wild Thing at February 28, 2009 12:58 AM
---