« Dear Car Czar.... by Oliver North | Main | John McCain No Support For Palin and Trashes RNC Ad »
December 15, 2008
President George W. Bush Visits Our Troops in Iraq and Afghanistan
President Bush visits our troops.
.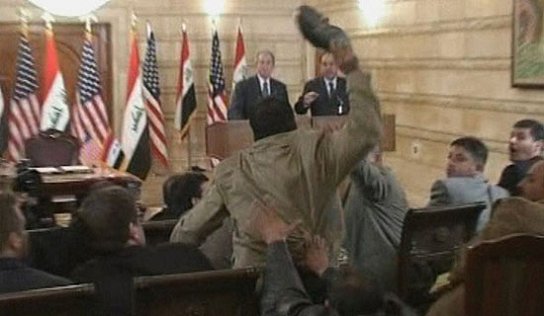 A man throwing a show at President George W. Bush during a news conference with Iraq Prime Minister Nouri al-Maliki on Sunday. (The Associated Press)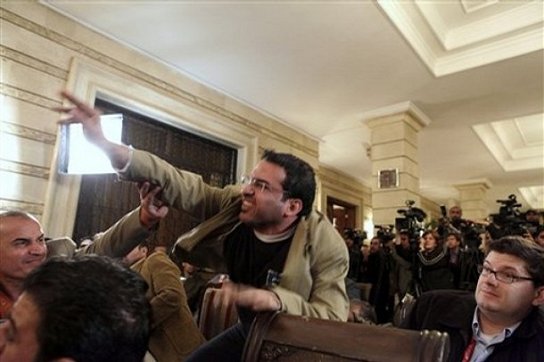 .
As most of you probably already know a hate filled Iraqi journalist threw a shoe at George Bush in Iraq and Afghanistan on Sunday.

This is not just an "Iraqi Journalist" - this is an emigre journalist, working for an emigre news outlet out of Cairo, which was pro-Saddam Hussein and anti-Shiite.

The Left in the USA will seize on this and say, "see the Iraqi people hate us thanks to Bush." This misses the point, and they would be dead wrong. Back with Saddam there was no dissent. Instead there were rooms for torture. Under Saddam, this man and his family were feeding other people to the pigs - or the plastic shredders.
--- Wild Thing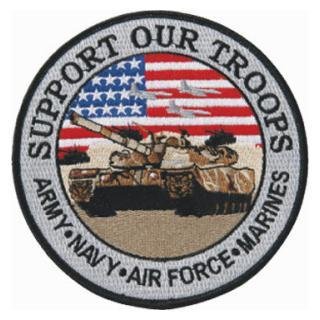 If you really want to get pumped up, listen to the way the troops in Iraq greeted their Commander in Chief.
Headquarters 18th Airborne Corps Public Affairs
14 Dec 2008 Baghdad IQ
Troops reactions to President George W. Bush's speech to them in Iraq. Scenes include Gen. Odierno introducing the President, President Bush speaking at the podium, reaction shots and Bush shaking hands with troops s they applaud. Also see "Spc. Whitfield, 1st Lt. Benson, Capt. Howell, 1st Lt. Butel"

PLEASE CLICK HERE TO SEE THE VIDEO

Bush departed the Green Zone by helicopter to Camp Victory, where he was greeted with cheers and whoops from the troops inside the enormous rotunda of the Al Faw palace. Speaking at a lectern beneath an enormous American flag that nearly reached the domed ceiling, he praised this generation of soldiers and reflected on the sacrifice of those who had died.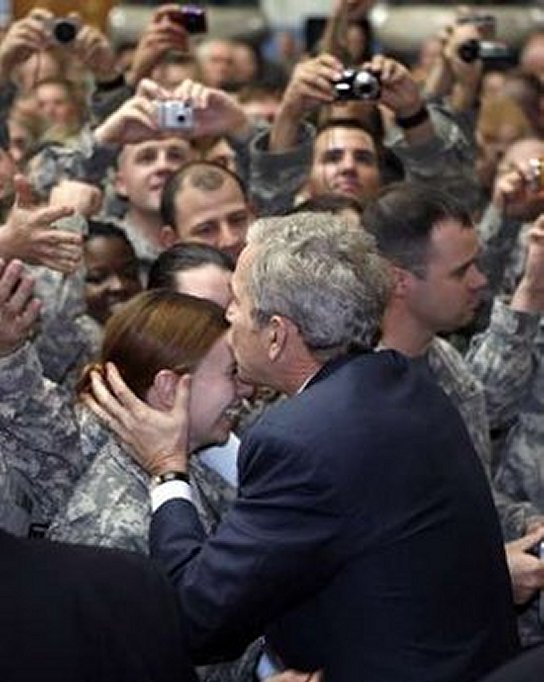 BAGRAM AIR FIELD, Afghanistan
President George W. Bush paid a visit to the service members of Combined Joint Task Force-101 at Bagram Air Field, Afghanistan, Dec. 15 during his last visit as president of the United States.
"I'm proud to be back in Afghanistan," Bush said during his visit. "I am proud to be with brave souls serving the United States of America."
Bush expressed his well wishes to the troops during the holidays and thanked them for their service in eastern Afghanistan.
"It was here in Afghanistan that the terrorists planned the attacks of Sept. 11, 2001," Bush said. "After that date, America gave the Taliban a choice: you can turn over the leaders of Al Qaida – or you can share in their fate. And when they refused, our just demands were enforced by the United States military."
"Because of you, killers who wanted to take the lives of Americans back home have been brought to justice before they reached our shores," he said to the troops.
Awesome Videos of our Troops and their Commander in Chief George Bush.


He called the surge "one of the greatest successes in the history of the United States military."
"Thanks to you," he told the soldiers, "the Iraq we're standing in today is dramatically freer, dramatically safer and dramatically better than the Iraq we found eight years ago."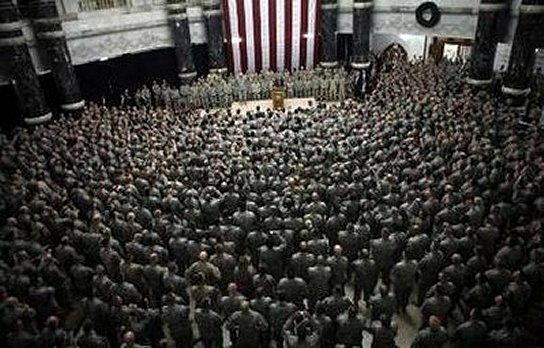 After action report:
Probably over 1,000 soldiers, sailors, airmen, and marines packed the palace and stood for a couple hours (lots arrived way early to make sure they could get in).
The 4th Infantry Division had some band members there playing some great tunes and even doing vocals. Support folks had chow, snacks and beverages laid out for the crowd.
People were packed in like sardines. The backdrop for the stage was a gigantic flag that reached all the way to the ceiling, maybe about 70 feet.
General Odierno introduced the President. Started with, "Someone wanted to come see you to say goodbye, and to wish you all a Merry Christmas and Happy Holidays..."
The troops were jazzed and very energetic, though this was about 2200 at the end of a, no doubt, very long day for everyone.
A great cheer went up when he took the stage. The President talked about the early decisions to go into the war, UN resolutions, the success of the Coalition. He talked about the dark days during '04-'05, and the ultimate success of the surge. Many compliments for the unprecedented successes of the military.
The troops broke in several times with applause and "Hooahs!".
Two things stood out. The first was when he said its sometimes hard to understand you're making history when you're in the middle of the action. Second, he said he was ordering everyone, as Commander In Chief, to call their families when "y'all get out of here tonight" and tell them "the Commander in Chief says 'thank you'" for all the sacrifices made.
He spoke about the losses and injuries to friends and loved ones, and how the troops would someday be thought of in the same way as those who were in Normandy, Verdun, Korea and elsewhere.
He was very comfortable with the troops and talked about what he would miss most not being President which was not being CiC. Afterwards, he stayed for a bit and shook hands and signed autographs. This one was just for the troops - no civilians or contractors or TCNs, just our soldiers, airmen, sailors and marines. It was clearly a great morale booster.

President George W. Bush gestures the "hook'em horns" sign of the University of Texas to U.S. military personnel in the balcony, as he meets with U.S. military and diplomatic personnel Sunday, Dec, 14, 2008, at the Al Faw Palace-Camp Victory in Baghdad. White House photo by Eric Draper

Military reporter interviews the troops after the Baghdad visit:
PLEASE CLICK HERE TO SEE THE VIDEO
Posted by Wild Thing at December 15, 2008 02:55 AM
---
Comments
One part of your comment stands out Chrissie "The Left in the USA will seize on this and say, "see the Iraqi people hate us thanks to Bush." "
True, that is what they'll say, but let's put the blame squarely where it belongs, on the media and the elites who have spent the past 8 years trashing the president in the news and in public around the globe. No, Congress doesn't get a pass, over half of those spineless assholes have done the very same disrespect to the president in front of cameras and in front of audiences. One of the things we are taught as soldiers is to demean and belittle our enemies, to diminish their importance and value as humans it makes the job of killing subhumans easier. The Commies amongst us have done that quite well and like swearing and using bad behaviour in front of children, we can't blame them if they emulate that same bad behaviour. These are the same lowlife scum that want my respect and for me to respect the Communist they have elected. Uh Uh!!!
Posted by: Jack at December 15, 2008 03:40 AM
---
Yep, I agree, the media and congress (especially the Pelosians and Reeders and Murtha the huts) made Bush into a vile, odious person because they mistakeningly believed that 2000 and 2004 were theirs for the taking with Gore and Kerrey and when Bush won, it pissed them off, so they decided to make him look as bad as possible so that they could get their damned socialist agenda pushed through as quickly as possible. Do they care about America? I think not. Bush did what he could with what he had. You can't get blood from a turnip, but that's exactly what the media and congress wanted--miracles that they knew could not happen and then blamed Bush when they didn't.
I don't see Obamanation getting ovations like this from our military. He'll get the polite clapping and hand shakes, but no roaring hoo-ahs, ooh rahs and the like. He's just not a military type of guy. He doesn't appreciate a strong military or militia, but he'll have his goon squads to push us around.
Bush wasn't near as bad as other Presidents who thought they were above the law, or diddled interns in the oval office while foreign dignitaries were left waiting in the Rose Garden!
Posted by: Lynn at December 15, 2008 04:35 AM
---
No matter what anyone can say about Bush, there's one thing that you cannot deny and that's the troops love him.

Posted by: BobF at December 15, 2008 09:47 AM
---
Yup, BobF, that is Bush's strong point. He has never wavered in his support for the Troops or for that matter First Responders, Fire and Police. That has been his strong suit. He truly loves them and they him.
I don't think the same will be said about the next president. Alas, I will give obama the same respect, dignity and honor that the left has given President George W. Bush for the last 8 years. That amounts to zip, zero, nada to me obama is a usurper and doesn't even belong on Pennsylvania avenue let alone in the White House.
Posted by: Mark at December 15, 2008 11:10 AM
---
I will miss Bush as CinC. This War on Terror has not been a smooth road, but President Bush stayed the course. Mistakes were made as they always are in war. I waivered in my support for the war. I took it out on the easy target, President Bush. My real target was Rumsfeld.
I firmly believe that George W Bush loves the troops. There is nothing phony is his admiration of the military. Bush has never used the military for his own personal good. He has used it only for the good and security of America. I am sure he hurts deeply everytime he gets a casualty report.
The troops are probably in for a rough ride. The next president, Obama, is anti American military and will not be a supporter of the troops. He will use them for political purposes. I hate to see what will happen to the morale of our military forces.
Posted by: TomR at December 15, 2008 01:22 PM
---
I'm sure I've said this before so forgive me for repeating myself. In 1956 as best I remember I took an oath before an Army Officer to defend the Constitution and obey the orders of the President. I have not rescinded that oath even when Jimmy Carter and Bill Clinton were President. If Obama calls, I have instructed everyone to say, "He's incapacitated." I'm free of that 52 year old committment. I'm sure this will break whatever passes for a heart in our PRESIDENT-ELECT.
Posted by: horace at December 15, 2008 03:27 PM
---
As I've said before, O'Vomit may be the new POTUS but he will never ever be my President. Sorry if you don't agreed but I despise the arrogant asshole.
Posted by: cuchieddie at December 15, 2008 03:49 PM
---
The weaponized shoes of an Egyptian journalist must qualify as some kind of bio-warfare.
Posted by: Rhod at December 15, 2008 05:21 PM
---
"Man I love Team Theodore!" I will miss W as a commander-in-chief who loves is country in a time of war, and who prays often, and means it! I will miss Laura too! The Apollo Theatre comes to town patriots, and the shoe had been removed from the RIGHT foot and placed onto the LEFT! Sit back, and pop Raisinettes, and watch the hip-slop freak show!
Posted by: darthcrUSAderworldtour07 at December 15, 2008 05:36 PM
---
Jack,yes I agree, I blame all of them too.
I also agree with what you said about their guy for President. No way will he be my president, not even if hell freezes over. He will never get one ounce of respect from me.
Posted by: Wild Thing at December 15, 2008 06:01 PM
---
Lynn, I agree there is no way our troops will feel like we see in the photos and videos I posted when Obama is president. I just can't see it. They never did with Clinton, not like this. Not with respect in their eyes and faces and big smiles like we see.
Posted by: Wild Thing at December 15, 2008 06:04 PM
---
BobF, yes and I love seeing this. It is such a good feeling to see the troops and how they react to Bush. He truly does love them and care about them.
Posted by: Wild Thing at December 15, 2008 06:07 PM
---
Mark, DITTO that.
Obama is dirt heck not even dirt, dirt would be insulted to be compared to Obama. Sorry dirt.

Posted by: Wild Thing at December 15, 2008 06:09 PM
---
Tom, thatis how I feel about the troops with Obama as their CIC too. I feel badly for them. No one can be that cold like he is and get love back and most of our troops were actually for Palin.
Posted by: Wild Thing at December 15, 2008 06:12 PM
---
Horace, yes he sure has no heart I even wonder if he has a soul. Do communists have a soul? I don't think so.
I agree with you Horace, I love your heart. I officially free you up from ever having Obama as CIC. Me too only I have never served.
Posted by: Wild Thing at December 15, 2008 06:16 PM
---
cuchieddie, LOL I think we all feel like that.
Obama sure as heck will not be my president.
Posted by: Wild Thing at December 15, 2008 06:17 PM
---
Rhod, haha good one, I can just imagine how they smell from that jerk.
Hi Rhod good to see you.
If I had been one of the security guards I probably would have shot the shoe thrower. I am surprised no one did. Those shoes could have had a bomb in them. But I have been hearing the guys family is known for this and it is a thing with them to show dislike and hate.
Posted by: Wild Thing at December 15, 2008 06:20 PM
---
I wonder how the MSM would report a story of a crowd of hundreds of people all throwing their shoes at Barack Obama at the same time. Can you imagine the outrage?
The personal love and respect relationship that George W. Bush has with the military and their families is something that Barack Obama couldn't even imagine in his wildest dreams. I grieve for the military when they have to serve under the upcoming anti-American and anti-military CIC.
Posted by: Les at December 15, 2008 06:26 PM
---
Darth, I am so glad you love it and are a part of Team Theodore. Me too.
LOL..."Sit back, and pop Raisinettes, and watch the hip-slop freak show!"...yes it certainly will be a freak show. What a cast of character we are going to have. Hillary and her 500 FBI files, why she is not in jail, oh wait Vince Foster has not said a word in just ages. Obama and Michelle are their own special freak show too. Too many to count.
Posted by: Wild Thing at December 15, 2008 06:33 PM
---
Les, I do too. Our troops are very smart and they can tell when a person does not respect them, and they already know the disrespect Obama has shown to their Generals and Mission.
Posted by: Wild Thing at December 15, 2008 06:39 PM
---