« Raila Odinga To Lead Delegation To D.C. To Celebrate Inauguration | Main | A Different Christmas Poem »
December 07, 2008
Pearl Harbor Remembrance December 7th, 1941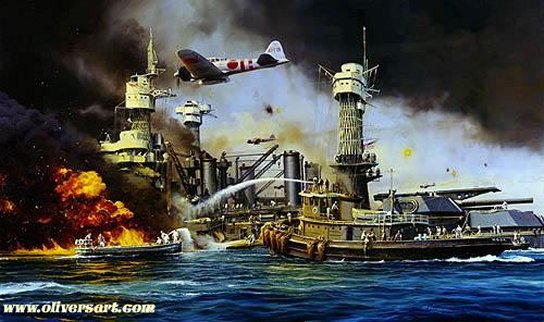 .
There are few truly defining moments in the history of a State - single episodes that touch every citizen, and cast a nation's future. Epoch-making events that influence the entire world are even more uncommon. The events that took place in the space of less than two hours on the morning of December 7, 1941 were of such defining importance.
.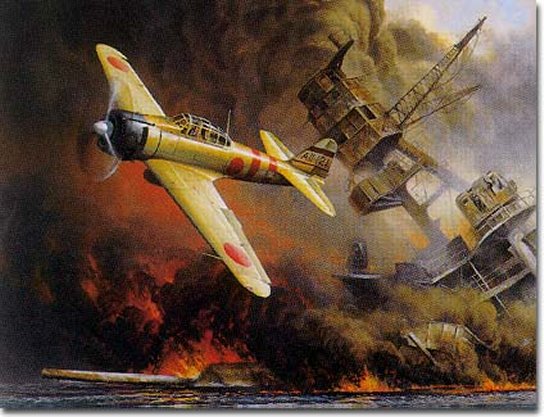 December 7th, 1941 - a date which will live in infamy - the United States of America was suddenly and deliberately attacked by naval and air forces of the Empire of Japan.
The United States was at peace with that nation and, at the solicitation of Japan, was still in conversation with its Government and its Emperor looking toward the maintenance of peace in the Pacific. Indeed, one hour after Japanese air squadrons had commenced bombing in Oahu, the Japanese Ambassador to the United States and his colleague delivered to the Secretary of State a formal reply to a recent American message. While this reply stated that it seemed useless to continue the existing diplomatic negotiations, it contained no threat or hint of war or armed attack.
It will be recorded that the distance of Hawaii from Japan makes it obvious that the attack was deliberately planned many days or even weeks ago. During the intervening time the Japanese Government has deliberately sought to deceive the United States by false statements and expressions of hope for continued peace.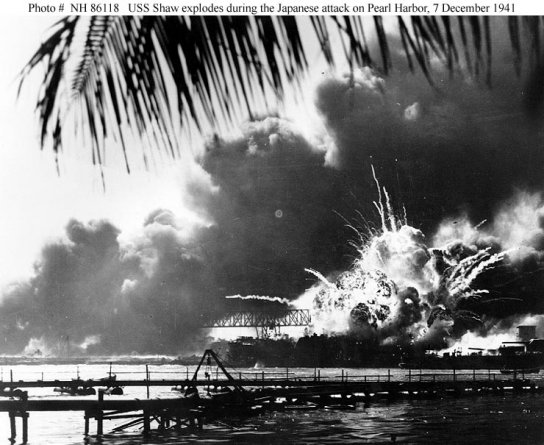 December 7, 1941
As the Japanese planes began the attack on Pearl Harbor at 7:53am, Captain Mitsuo Fuchida sent the now Famous Radio message "Tora Tora Tora" (Tiger Tiger Tiger) The signal meant that the Americans had been caught completely by surprise.
At the sound of the first bomb dropping it was thought by most Americans who heard it, to be an accident, a bomb dropped by one of their own aircraft.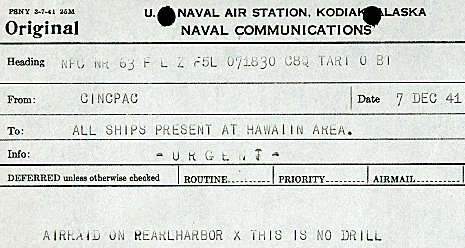 When a dive-bomber blew up a hangar at the Ford Island Command centre, Commander Logan Ramsey realized that the island was under attack and he sent out the message "Air raid Pearl Harbor. This is no drill".
For the next 2 hours torpedoes from the midget subs slashed through the water hitting the hulls of the American Battleships, and bombs rained from the air attack.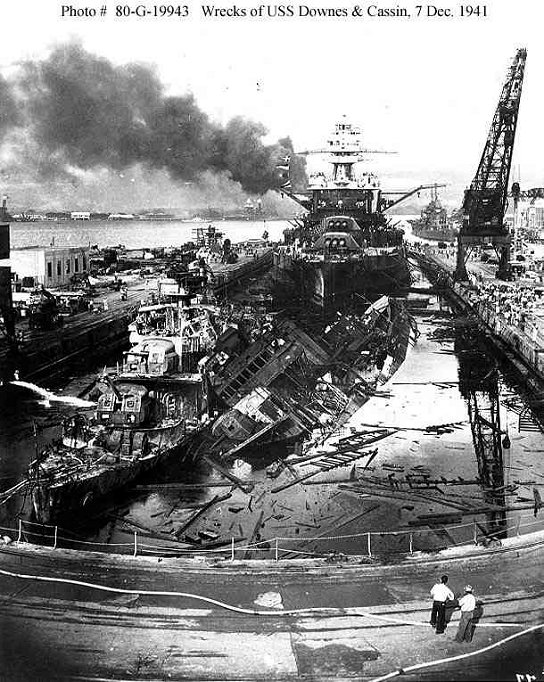 Pearl Harbor was not the only attack carried out by the Japanese on the 7th of November 1941, attacks were also launched on Hong Kong, Guam, The Philippians, Wake Island, and the Japanese attacked Midway Island,in a day that was to become known in history as "The day of Infamy"
Curiously, the Japanese failed to attack the submarines, and of course, totally failed to address the aircraft carriers - all of which were at sea at the time. As Admiral Yamamoto so exquisitely put it "...I fear that all we have done is awaken a sleeping giant...! "

On the 8th of November President Roosevelt delivered the following message to congress.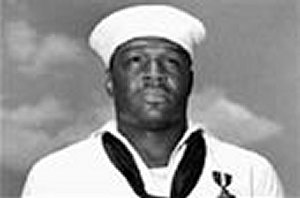 A messman aboard the U.S.S. Arizona,
Dorie Miller
, had his first taste of combat at Pearl Harbor on December 7th, 1941, when he manned a machine gun and shot down four Japanese planes.
Born on a farm near Waco, Texas in 1919, Miller was the son of a sharecropper, and grew up to become star fullback on the Moore High School football team in his native city. At 19, he enlisted in the U.S. Navy, and was nearing the end of his first hitch at the time of the Pearl Harbor attack.
On the infamous morning of December 7th, 1941, Japanese bombers and fighters flew over Pearl Harbor and rained a hail of bombs and bullets on the slumbering U.S. Navel base there. Among the battle vessels sunk and reduced to helpless hulks was the U.S.S. Arizona, the ship on which messman Dorie Miller was routinely going about his duties collecting laundry when the ear-splitting sounds of battle sirens and exploding shells rent the air. Miller rushed up on deck, and instantly hauled his wounded Captain to safety.
Moments later he sprang into action behind an anti-aircraft gun he had never been trained to operate. Firing calmly and accurately, he shot down four zero fighter planes before the cry to abandon ship was heeded by all survivors.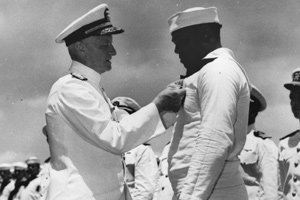 On May 7th, 1942, messman Dorie Miller was cited for bravery by Admiral Chester Nimitz, Commander-in-chief of the Pacific Fleet, who decorated him with the Navy Cross and in doing so acknowledged the nation's debt to a man of "extraordinary courage".

After returning from a trip back to Harlem, in New York City, where he drummed up support for the purchase of U.S. War Bonds, Miller yearned to get back into action. Remaining a messman during the hostilities while aboard the aircraft carrier Lescome Bay he was subsequently promoted to mess attendant Third Class. He was killed in action in the South Pacific in December of 1943, when his ship was torpedoed by a Japanese submarine.
Sailors on board the USS Hoel saw smoke and flame rise at least a thousand feet when the torpedo ripped into Liscome Bay and detonated her bomb magazine.
At 0533, Liscome Bay listed to starboard and sank (in 23 minutes), carrying Admiral Mullinnix, commander of the Air Support Group, Captain Wiltsie, 53 other officers, and 591 enlisted men down with her. 272 of her crew were rescued.
Miller was commended for "distinguished devotion to duty, extreme courage and disregard of his personal safety during the attack."
USS Liscome Bay survivor, Robert "Bob" E. Haynes Montrose, CO Dec 2003

The American losses sustained at Pearl Harbor on December 7, 1941, were staggering. The United States lost 160 planes to the attack, and five aircraft from USS Enterprise were shot down. Eighteen ships were sunk or damaged, including USS Arizona, the pride of the Pacific Fleet.
The dock and hangar facilities were so twisted and mangled that it took months to repair them. In terms of manpower lost, American casualties totaled 3,581. The effect on morale throughout the nation was devastating. The Japs lost 29 planes and 55 airmen. America's situation could have far worse at the end of 1941 if American aircraft carriers had been at Pearl Harbor. Thank God our carriers were at sea which some months later allowed for the incredible, daring Doolittle Raid on Japan's mainland, April 18th, 1942.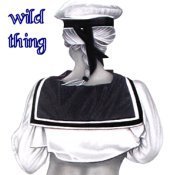 Just something personal I want to add. As I have mentioned before all the men in my family have served in the military, every branch has been represented. Also two of my Aunts were nurses during WW11.
One of my other Aunts and her husband ( he was a Col. in the USARMY) they were stationed in Hawaii at the time. Both of them have since passed away. When I was a little girl and the adults would be talking about how it was during the old days, and what it was like during WW11, she shared with us how during the attack she saw the Japanese planes flying low overhead, so low in fact that as she looked out her window in her kitchen she saw the face of the Japanese pilot looking right back at her. Something she said she would never forget.
Posted by Wild Thing at December 7, 2008 06:55 AM
---
Comments
Thanks WT.
Let us remember all of our brave countrymen and women who were at Pearl Harbor on that fateful day. Let us remember all of out troops who served in this World War II.
Unfortunately we will most probably have another "Pearl Harbor" before our people get it, and stand up for what this country stands for. 9/11 it seems was not enough.
Posted by: Bob A at December 7, 2008 07:48 AM
---
Posted by: Duane at December 7, 2008 09:28 AM
---
Posted by: Duane at December 7, 2008 09:39 AM
---
Americans remembered Pearl Harbor for four years during WWII. We are at war right now and most Americans forgot why. 9/11 was a momentous event just like Pearl Harbor. However, the War on Terror has been turned into a political event by the media and by much of Congress. That has divided America and we don't have the solidarity we had during WWII.
Sadly, it may take another major attack on America to remind us and unite us to the danger we face.
Posted by: TomR at December 7, 2008 11:14 AM
---
In the video they talk about 'total victory' total victory over all our enemies. What the hell has happened to my country. Even when i was a kid, at the movies, the newsreels between the features, sounded like that. When they talked about Korea, it was always to stop the Red Menace, to stop the Communist from spreading their venom through out the rest of the world.
Now they can't wait for it to arrive. What the hell went wrong.
Posted by: Mark at December 7, 2008 12:10 PM
---
Things were different then. You knew where your priorities lie--with your home country and you would do anything to defend it. Now it's every man for himself and blame America first for all the ills in the world.
Had we NOT done our solemn duty as citizens of the UNITED STATES OF AMERICA, we would have been lost then to either Japan or Germany. And those of us who were fortunate enough to have family members who drilled this work ethic into our brains are the lucky ones. We will never forget or forgive what has been done to the nation past and present and we will defend her with every honor we can. She is one blessed lady and we love her. People need to stop and think about what they are doing to her by just rolling over and playing dead. But I sort of imagine that these are the descendants of those who have always just rolled over and played dead instead of fighting the "good" fight for justice, equality and freedom.
Let's make this year and every year after, a time when we all came together as one voice and declared that NO politician will EVER take ANY freedom away from us and that we stand united against ANY tampering with the Constitution, the Bill of Rights and the Declaration of Independence.
Posted by: Lynn at December 7, 2008 02:14 PM
---
Unfortunately, this date which will live in infamy no longer does. The United States is not the country that it was during WWII. We were a country of legal immigrants who chose to become part of the American dream and melting pot. We are now a nation of diversity and difference boiling pots divided against itself and the Constitution that made the country great.
American history is being rewritten and distorted by anti-American and liberal diversity revisionists, a failed education system, and a biased MSM so that now most of the country doesn't know or care about WWII and Pearl Harbor.
Bill Clinton didn't heed the warning signs of Islamofascist terrorism including, but not limited to, the first WTC bombing, Khobar Towers, the USS Cole, African embassies, and Osama bin Laden/Al Qaeda which set the stage for 9/11. Now we have a President-Elect, Barack Hussein Obama, who refuses to accept the fact of Islamofascist terrorism or call it by it's name who appoints Hillary Rodham Clinton (another Islamofascist terrorism non-beleiver) as Secretary of State and appoints Janet Napolitano (a believer in open borders and amnesty/citizenship for 12 million illegal aliens) as Secretary of Homeland Security.
What has the United States learned from Pearl Harbor? Nothing!
Terrorists could mount nuclear or biological attack within 5 years, warns Congress inquiry
http://www.guardian.co.uk/world/2008/dec/04/
terrorism-nuclear-attack-congress-report
Does anyone really believe that Barack Obama, the United States's version of Neville Chamberlain, with his global appeasement policies has the awareness, desire, and experience to protect the country and free world from this and other similar disasters?
Those who cannot learn from history are doomed to repeat it. -- George Santayana
The United States left itself back in American and world history and has doomed itself to repeat it.
http://redstatepatriot.com/islamofascists.jpg
http://heavenawaits.files.wordpress.com/
2008/05/top132-a.jpg
http://heavenawaits.wordpress.com/
do-you-live-near-a-terrorist/
http://img.photobucket.com/albums/v365/bdfaith/
Album3/varv05242008a.jpg
Posted by: Les at December 7, 2008 02:57 PM
---
Bob A., I think your right. Too many forget and something will more then likely happen again.
Posted by: Wild Thing at December 7, 2008 03:34 PM
---
Duane, thank you for the link to the article. It is excellent.
Posted by: Wild Thing at December 7, 2008 03:39 PM
---
Duane, that quiz is ingteresting.
I got two wrong. I thought everyone was for fighting back and there was one person that was against it in the vote. The other one I got wrong was I thought no one got in trouble for the decision made to go to war etc. and it said that there were charges brought up but later on dismissed. (my wording)
Posted by: Wild Thing at December 7, 2008 03:44 PM
---
Tom,your right, what a difference from then and now.
There was no PC then too. There are just too many people all too worried about not offending the stupid "religion" of peace (death & desrtruction). And too few don't give a hoot about how we have stayed a free and safe land all these years.
Posted by: Wild Thing at December 7, 2008 03:48 PM
---
Mark, I wish I knew, with all my heart I wish I knew.
Posted by: Wild Thing at December 7, 2008 03:51 PM
---
You mean Flight Commander Mitsuo Fuchida is to blame for DESTROYING 'O BOMB A's' Hawaiian birth certificate? Thank God the USS Saratoga was in San Diego, and the Enterprise and Lexington were out to sea (Midway Island / Wake Island)... Gunny Dad Vader was on the Sara #60 in the early 60's - John McCain's sister ship (Forrestal #59?). GREAT article Wild Thing and love ya for it! Forever REMEMBER PEARL HARBOR!
Posted by: darthcrUSAderworldtour07 at December 7, 2008 03:51 PM
---
Lynn, yes that is what I pray for, thank you.
Posted by: Wild Thing at December 7, 2008 03:54 PM
---
Les, that breaks my heart but it is true. Obama would have to be forced to fight back with some men from the Pentagon laying into him or something. I can't see Obama ever doing what Bush did to fight back.
Posted by: Wild Thing at December 7, 2008 03:58 PM
---
Thank you Chrissie.
Having been to Pearl Harbor, visiting the USS Arizona Memorial which entombs 1,102 of the 1,177 sailors killed on board, Hickham Field, Wheeler Field, Barber's Point and Ft Shafter. You get a profound sense of how small Pearl Harbor is, how close surrounding military targets are and the enormous magnitude of the war deaths if you visit Punchbowl, The National Memorial Cemetery of the Pacific and the Honolulu Memorial. The United Nations of despots has neutered the United States and it's leaders with it's false pretense of international security.
Posted by: Jack at December 7, 2008 03:58 PM
---
Darth, thank you. Thank you for sharing about your Dad too.
Posted by: Wild Thing at December 7, 2008 04:06 PM
---
Jack thank you for bringing up the Memorials. I don't see how anyone can see them and ever forget what happened there. The last time I was there, there were a lot of senior citizens and I watched their faces as they read the scrpts on the brass plates with names. It was like a double feeling of pride and such sadness at the same time.
Posted by: Wild Thing at December 7, 2008 04:11 PM
---
America's oldest living Medal of Honor recipient, living his 100th year is former enlisted Chief Petty Officer, Aviation Chief Ordnanceman (ACOM), later wartime commissioned Lieutenant John W. Finn, USN (Ret.). He is also the last surviving Medal of Honor, "The Day of Infamy", Japanese Attack on the Hawaiian Islands, Naval Air Station, Kaneohe Bay, Oahu, Territory of Hawaii, 7 December 1941.
'Navy Centenarian Sailor', 103 year old, former enlisted Chief Petty Officer, Aviation Chief Radioman (ACRM, Combat Aircrewman), later wartime commissioned Chief Warrant Officer Julio 'Jay' Ereneta, U. S. Navy (Ret.) is a thirty year career veteran of World War One and World War Two. He first flew aircrewman in August 1922; flew rearseat radioman/gunner in the 1920s/1930s air squadrons of the Navy's first aircraft carriers, USS LANGLEY (CV-1) and USS LEXINGTON (CV-2).
Visit my photo album tribute to these veteran shipmates:
http://news.webshots.com/album/141695570BONFYl
http://news.webshots.com/album/123286873BFAAiq
San Diego, California
Posted by: TetVet68 at December 7, 2008 08:53 PM
---
TetVet68, nice to meet you. Thank you for the information and the links.
Thank you too for serving our country and Welcome Home.
Posted by: Wild Thing at December 8, 2008 12:09 AM
---