« In Country With the B-1s of the 34th Expeditionary Bomb Squadron | Main | Loving That Israel Is Attacking Hamas!! »
December 29, 2008
Hey Barack ~ It"s not too late to back out!!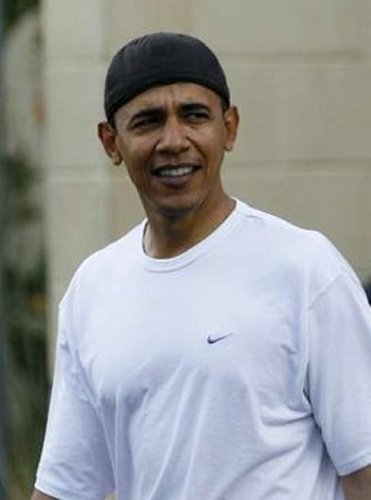 Obama bristles as the bubble closes in on him


HONOLULU

The media glare, the constant security appendage and the sheer production that has become a morning jog or a hankering for an ice cream cone – it's been closing in on Barack Obama for some time.
Now the president-elect appears increasingly conscious of the confines of his new position, bristling at the routine demands of press coverage and beginning to chafe at boundaries that are only going to get smaller.
Obama even took the unusual step Friday morning of leaving behind the pool of reporters assigned to follow him, taking his daughters to a nearby water park without them. It was a breach of longstanding protocol between presidents (or presidents-elect) and the media, that a gaggle of reporters representing television, print and wire services is with his motorcade at all times.
Then when reporters finally caught up with Obama at Koko Marina Paradise Deli and he acknowledged them for one of few times since arriving in Hawaii last Saturday, he sounded resigned.
After ordering a tuna melt on 12-grain bread, Obama approached reporters and placed his hand on the shoulder of pool reporter Philip Rucker of The Washington Post, who was scribbling away in his notebook.
"You don't really need to write all that down," Obama said.
All presidents and would-be presidents struggle with "the bubble" – the security detail and the always-there reporters that impose barriers to any spontaneous interaction with the outside world.
But Obama seems to be struggling particularly hard, particularly early.
Soon Obama likely will be forced to give up the BlackBerry he often kept attached to his hip during the campaign.
"There's still some things we're not adjusted to," Obama said in a "60 Minutes" interview after the election. "You know, the small routines of life that keep you connected, I think some of those are being lost."
Bill Clinton grew frustrated that he couldn't go out any time he wanted, and once went Christmas shopping without the pool. After he became president, George W. Bush stopped sending e-mails to his daughters because he didn't want the personal notes to become public one day.
"OK, guys, come on," Obama said last Sunday, looking toward photographers clicking away as he warmed up before a round of golf. "How many shots do you need?"
It's been a progression. And Obama's frustration shows in waves.
On Halloween, Obama grew testy with a Polish media crew as he took his daughter Sasha to a party at his campaign treasurer Marty Nesbitt's Chicago home.
"All right guys. That's enough. You've got a shot. Leave us alone. Come on guys. Get back on the bus," Obama said before breaking into a trot with Sasha still holding his hand.
The day before Thanksgiving, a sixth grader at a Chicago school asked Obama about his new life.
"You don't have a lot of privacy," Obama told some 200 children, adding that going to Walgreen's and riding a bicycle are now far more involved than before.
Those close to the Obamas have spoken to the media less and less since the election. Calls and e-mails to close friends and associates of the Obamas were not returned.
"My husband and I have been asked not to speak with the press about the Obamas," one of them wrote in an e-mail. "They would prefer that we stay out of the papers for now."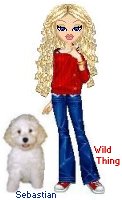 Wild Thing's comment..........
It goes with the territory. Don't like it...don't run for office. Politicians use the press to get elected, then think they can scorn the press once they're elected...sorry it doesn't work that way, the press is part and parcel of the job.
Posted by Wild Thing at December 29, 2008 01:50 AM
---
Comments
Thin-skinned and criticism challenged Barack Hussein Obama is already cracking under the pressure of presidential press coverage and he didn't even take the oath of office yet when he will perjure himself by swearing (or affirming) to "protect and defend the Constitution of the United States". Poor baby!
Can the country and world leaders handle four years of a whining, complaining, and sniveling "always the victim" President and Commander-in-Chief?
http://www.thepeoplescube.com/images/Obama_Poster_Crybaby.gif
Posted by: Les at December 29, 2008 03:30 AM
---
He's got to toughen up that skin of his. Sure, it's frustrating that you can't just go to Walgreens to pick up a medication or Walmart to pick up groceries, but you wanted the job and that comes with the job. Even really popular stars can't go galavanting around without some kind of security detail. Some even have the security get the stuff for them!
So toughen up, or drop out. You got the life you wanted, so live with it.
Posted by: Lynn at December 29, 2008 04:29 AM
---
Like all the times I've shone a light on a noise I've heard and have seen rats scurry, trouble is I can't shoot these rats. This pack of rats promised an open government yet they practice censorship as if it were a secret gospel. As much as I hope the press gets alienated by the Obama's I don't think they'll ever turn against the Communists they put in office. Neither party have the guts to acknowledge their shortcomings and their complicity. Obama is cracking under the soft glove of his media, thank you Blago for being the loose cannon, this court jester is disturbing the King's robe where Rahm is hiding.
The local media here doesn't get traffic from me as I grew sick of their liberal drivel many years ago, I won't even accept a free copy of their rag. Now that they are facing huge shortfalls the editor acknowledges an error. Notable, as this is as rare as a flying Dodo, she is hoping for a full redemption I'm sure, I'm not swayed but it's a start on their biased part. But their empire is dying and I'll accept this as a last gasp as they continue to slide into oblivion. News is telling both sides of a story, not just the one that fits their agenda.
Posted by: Jack at December 29, 2008 04:44 AM
---
Posted by: BT in SA at December 29, 2008 08:34 AM
---
Wild Thing glad you're back, HOOAH!
If the thinks the press is bad, he should try livin' in a BCT Barracks. He wouldn't last one minute in there. NO privacy at all. Communal Showers, that's not the one you want Private.
P.S. thanks for the e-card!
Posted by: JohnE PFC U.S. Army at December 29, 2008 09:19 AM
---
Glad you are feeling better WT. We have worried about you and missed your postings. Ironic, you made through some Christmas's in Viet Nam, then overdo it at home.
Yes, Obama is really learning early on that his privacy is no longer sacred. He has enough baggage in his background that a lot of that will be brought up now that the press has him elected. If he attacks the press or mums up to them, they will turn on him like a pack of ravenous dogs. A good part of his honeymoon ma be over.
Posted by: TomR at December 29, 2008 11:36 AM
---
BHO is already whining. Just wait until he sits behind the desk on the Oval Office. Then he'll find out just what a burden the mantle of power is.
Posted by: Always On Watch at December 29, 2008 02:02 PM
---
Les, that is the big question... I sure would not tolerate Obama and the way he is if I was a world leader.
"Can the country and world leaders handle four years of a whining, complaining, and sniveling "always the victim" President and Commander-in-Chief?"......
Posted by: Wild Thing at December 29, 2008 03:42 PM
---
Lynn, I agree, hahaa isn't it funny how they forget to think about this part of it. But for Obama he owes the media big time so he better be careful because they can turn on a person very fast too.
Like you said Lynn,he wanted this he better figure out a way to live with it.
Posted by: Wild Thing at December 29, 2008 03:47 PM
---
Jack, thank you for the link to that. Amazing isn't it how they are. I agree it is extremely rare but it would have to be a consistent change and not just one Peterson finally woke up to after messing up on the Haditha Marines updates,
It speaks volumes when I can find the information from research let's say on the Haditha Marines for updates about them and she was not interested enough to have someone at her paper do this. I guess now they just wait for ap and reuters to send them news. Newspapers used to go out and research stories, hit the pavement and do a lot of work to get information. No more.
Posted by: Wild Thing at December 29, 2008 04:01 PM
---
BT in SA , LMAO oh my gosh, hilarious.
HAHAAHAHAHAHAHAHAA

And thank you yes I am feeling a little better each day.
Posted by: Wild Thing at December 29, 2008 04:04 PM
---
JohnE PFC U.S. Army, your welcome.
LOL that is funny, yes he would not last long in the service. hahaha
Posted by: Wild Thing at December 29, 2008 04:10 PM
---
Tom, thank you I really appreciate it.
I agree Tom, they may not turn completely on him, but I have noticed just little things, faces made, comments that never would have been said before.
Posted by: Wild Thing at December 29, 2008 04:55 PM
---
Always On Watch, yes he won't be able to call in present on anything again......like you said he will soon feel the...... " burden the mantle of power is."
Posted by: Wild Thing at December 29, 2008 05:02 PM
---
I'm surprised that Mount Rushmore hasn't added a FIFTH head yet, eh? No dynamite available or it's probably not too environmental friendly?
Posted by: darthcrUSAderworldtour07 at December 29, 2008 10:48 PM
---