« Shoppers Stampede and Trample Worker at Long Island Wal-Mart | Main | Mumbai Attacks: 300 Feared Dead »
November 29, 2008
TRAITOR Rep. John Murtha: Fund diplomacy, not AFRICOM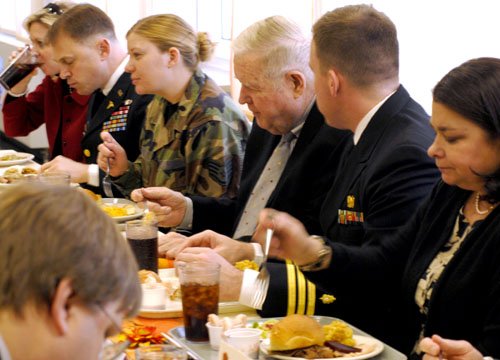 Rep. John Murtha, D-Pa., center, enjoys Thanksgiving dinner at Landstuhl Regional Medical Center with Navy Cmdr. Fred Lindsay, on Murtha's left, and Air Force Staff Sgt. Margaret Hill, on Murtha's right. Near the far end of the table is Landstuhl commander Army Col. Brian Lein. Also at the table were U.S. Army Europe commander Gen. Carter Ham and Europe Regional Medical Command commander Brig. Gen. Keith Gallagher.
Murtha: Fund diplomacy, not AFRICOM
By Steve Mraz, Stars and Stripes
Mideast edition, Saturday, November 29, 2008

LANDSTUHL, Germany
More money should go to the U.S. State Department for U.S. efforts in Africa rather than to the military's U.S. Africa Command, said Rep. John Murtha, D-Pa.
The chairman of the House of Representatives' defense appropriations subcommittee made his comments Thursday at Landstuhl Regional Medical Center after visiting wounded troops and having Thanksgiving dinner with top U.S. military leaders in Europe.
"They should use diplomacy in Africa rather than military," Murtha said. "We can't win these wars militarily. Nobody wants us over there. I think Liberia wants us. Nobody else."
"You can't just throw money at it, and you can't win it militarily. It has to be done diplomatically. So I've been trying to shift money and convince the people that make the decision on where the money goes that more money should go to the State Department for those kind of things."
President Bush requested $389 million for AFRICOM for fiscal 2009. Earlier this year during the budgetary process, the subcommittee Murtha chairs recommended providing AFRICOM only $80.6 million in funding for fiscal 2009. In the end, AFRICOM's budget was approved at $266 million.
Vince Crawley, a spokesman for AFRICOM, noted that Defense Secretary Robert Gates has already spoken about the need for the State Department to get a bigger share of the funding.
However, "It would be inappropriate for us to comment on what members of Congress are saying," Crawley said Friday.
AFRICOM, which stood up Oct. 1 in Stuttgart, as a unified combatant command, brings all Defense Department programs on the continent under one umbrella.
Missions range from anti-terrorism programs in the Horn of Africa to maritime security initiatives and military-to-military training exercises in numerous countries.
In July, Refugees International released a report called U.S. Civil-Military Imbalance for Global Engagement: Lessons from the Operational Level in Africa, detailing policy and funding disparities between the Defense Department and the State Department. The report argues that the Pentagon controls an increasing share of foreign aid that used to be directed by civilian agencies and that priorities on the African continent do not reflect need.
Murtha, a retired Marine colonel, was at Landstuhl during a stopover on the way to Afghanistan "to find out what the problems are there." Murtha is well-known for accusing Marines of "cold-blooded murder and war crimes" for the deaths of Iraqi civilians in 2005 in Haditha.
Four enlisted Marines were charged for their roles in the deaths, and four officers were charged in relation to the investigation. One officer was acquitted and charges have since been dropped against everyone else except a staff sergeant, who is suing Murtha for defamation, according to the Associated Press.
"Haditha's an entirely different situation," Murtha said. "I have the highest regard for the troops in the field, but in this case, these people didn't die of a heart attack. They didn't die of natural causes. (The Marines) used excessive force, obviously. And I point out to the troops: Look, in a guerrilla war you can't just go in and knock down doors. We've changed that completely."
While Murtha agrees with President-elect Barack Obama's plans to withdraw U.S. troops from Iraq over the next 16 months, he is "very nervous" about a troop surge in Afghanistan.
Obama has said he would send two or three more brigades to Afghanistan in 2009. Last week, Gates said he supported a troop buildup in Afghanistan that's been estimated at more than 20,000 American troops over the next 12 to 18 months, according to the Washington Post.
"I've warned the Obama people, and I've also warned my leadership on the Democrat side in the House," Murtha said. "Let's not be pushing ourselves into Afghanistan. Let's see what the plan is. What is the plan? How are we going to solve this problem now? … I'm going to come back and report to them what I think should be done."

.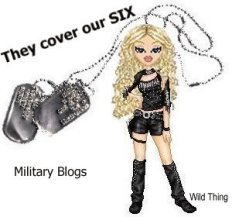 Wild Thing's comment.......
Murtha is a POS and he thinks he is all three branches of the government.
"Haditha's an entirely different situation," Murtha said. "I have the highest regard for the troops in the field, but in this case, these people didn't die of a heart attack. They didn't die of natural causes. (The Marines) used excessive force, obviously."
I want to say he's unbelievable but at this point nothing the senile old fool says surprises me. Seven out of eight Haditha Marines have been exonerated by IO's or a courts-martial panel but that doesn't seem to be good enough for Murtha.
"I'm going to come back and report to them what I think should be done."
We have a very competent SECDEF and military commanders!
I defy him to get on the www.africom.mil website and say his stupidity there so as to allow General Ward the opportunity to have dialog with him that will be on the record. Murtha wont...he's too busy with accusing his own constituency of being idiots and his total LIES about Marines being murderers.

Example of Rep. Murtha's blatant disregard for House rules:
Posted by Wild Thing at November 29, 2008 03:55 AM
---
Comments
Murtha the Hut is a big fat moron. He needed to be overthrown, but those ones he called names re elected him! I have no clue why!
It's sad that Africa has fallen into such a shambles, but they could have done more for themselves. They started to rely on us and other nations dropping food, medical care, etc., and now they can't take care of themselves. We need to tell them to overthrow their own government, like we did. Find the ways themselves. Because every time we go over there, they attack us. So why would I want to help someone who wants to hurt me in the process?
Posted by: Lynn at November 29, 2008 05:53 AM
---
According to Murtha, his constituents are nothing but White Trailer Trash Racist Rednecks...and they reelected him. The past two elections his constituents had a chance to elect two fine decent Americans but instead chose Murtha. They chose a corrupt POS who brings home the bacon. Looks like his constituents lived up to his expectations of them.
Posted by: BobF at November 29, 2008 09:53 AM
---
Posted by: Yatalli at November 29, 2008 12:28 PM
---
Murtha - American politics at it's worst. Our Founding Fathers planned for this with rules, but when the rules are broken, chaos and corruption reign.
I also don't know why his constituents voted Murtha back in. He mocked, ridiculed and degraded them. Yet, they went for the goodies again. Murtha may be another Robert Byrd and will sit at his congressional seat years after he is legally dead.
Posted by: TomR at November 29, 2008 12:30 PM
---
How can anyone respect Congress when they condone and revere rat bastards like Murtha? A line from a Kris Kristofferson song "Me And Bobby McGee" says it all. "Freedom's just another word for nothing left to loose". The Congress let itself become overrun with first, second and third generations of lawyers without any ethics beyond their own, subverted by Socialists. They welcomed useful idiots like Murtha to 'buy' the constituency and today we have a nation of Obamabots to show for it. Like those greedy SOB's that stomped the life out of that Wal-Mart employee yesterday, they fall in line for a 'good deal' or a government handout. Common people who represent the common interest of us all like Sarah Palin are a threat to their empire and must be destroyed.
Posted by: Jack at November 29, 2008 01:06 PM
---
November 4, 2008 was the first day in my life that I was not proud of my country. Voters crossed the line of acceptable political differences and with a poisonous mix of ignorance, stupidity, and "O" Kool-Aid elected a President and Congress that is openly trying to destroy the Constitution and country as the founders intended it to be and many fought and died for to protect.
If there is anything evil about the country, Rep. John Murtha is at the core of it. One can only hope and believe that when the time comes he will be sentenced to an eternity of shoveling coal in a Hell of his own making.
Posted by: Les at November 29, 2008 02:26 PM
---
Murtha has a huge political machine in his district. His opponent was way ahead in the polls, and murtha was begging for money from the DNC then, did what he does best, cheat. And that is how he got re-elected. People in his district were afraid of losing their jobs if they publicly backed Colonel Russel. Not all of us from Pennsylvania are Rednecks.
In that picture, I wonder why the Base Commander is not sitting next to Murtha, I guess its like sitting next to a pariah or a pox upon your house to go near the Rat-bastard.
Posted by: Mark at November 29, 2008 03:37 PM
---
Lynn, those that voted for Murtha in his district probably lean more to his thinking or just couldn't see the better person was the Iraqi War Veteran Russell. It was close for awhile and it even looked like Russell might win. I bet those that wanted to get rid of Murtha are as disappointed as we all are maybe even more.
Posted by: Wild Thing at November 29, 2008 05:45 PM
---
BobF, you are right, that's true, that is what he called them and I really feel badly for the ones that almost pulled it off voting and suppoting Russell. I remember posting how close it was and Russell was ahead for awhile. I know what that feels like from when I lived in Calif. and saw how so many are conservative there but we were outnumbered. It was heart breaking.
Posted by: Wild Thing at November 29, 2008 05:51 PM
---
Tom, oh that will be so horrible, never to be able to get rid of Murtha. But your right, that very well might happen. One thing this time it almost happened, since it was close with Russell. But the next time there might not be a Russell running against Murtha.
Posted by: Wild Thing at November 29, 2008 05:57 PM
---
Jack, yes Sarah Palin was a threat to the lefties. I was shocked at how the left all across our country hated her. Not just disagreed with her but hated her. Truly a sickness in our country.
Posted by: Wild Thing at November 29, 2008 06:00 PM
---
Les, perfect graphic, thank you. Yes Murtha is pure evil and it sickened me too what I learned about half of America this last election.

I am still in shock, I don't know if this feeling will ever go away.
Posted by: Wild Thing at November 29, 2008 06:04 PM
---
Mark, LOL good one.
"I guess its like sitting next to a pariah or a pox upon your house to go near the Rat-bastard."

I agree too about the voters. There were a ton of them that busted their glutes campaigning for Russell in hopes of getting rid of Murtha.
Posted by: Wild Thing at November 29, 2008 06:06 PM
---