« A Toast To Marines | Main | Taj Mahal Hotel Owner:" We had warning" »
November 30, 2008
Marines Face 'profound' Differences In Afghanistan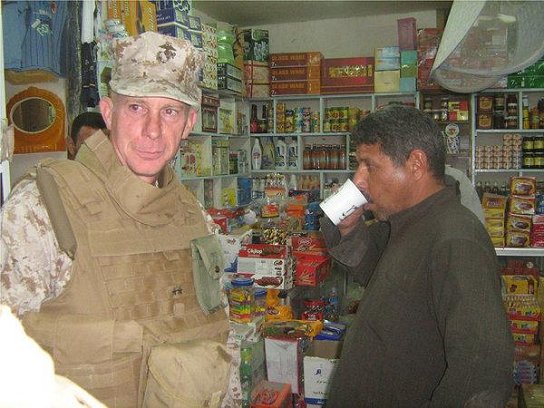 Camp Pendleton's Maj. Gen. Thomas Waldhauser visits a market in Haditha, Iraq, earlier this month.

MILITARY: Marines face 'profound' differences in Afghanistan
With relative calm in Iraq, focus shifts to nation's other war

For U.S. Marines, America's war on terror is now in Afghanistan, where, a top general warns, there are "profound" political, military and cultural differences from Iraq.
Nearly six years after the invasion of Iraq, the Marines are now largely in a monitoring role in the Anbar province, all but declaring victory in the massive region once considered untamable.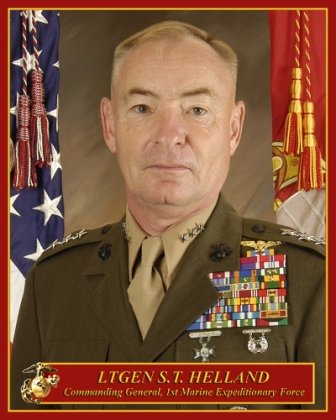 By this time next year, Lt. Gen. Samuel Helland, commander of Marine Corps forces in the Middle East, predicted that as many as 15,000 of his troops could be in Afghanistan ---- 12,000 more than are there now.
By the middle of 2009, Maj. Gen. John Kelly, who has led Marines on the ground in Iraq since January, said he believes the number of Marines in Anbar can be cut from the current 23,000 to around 15,000 or slightly fewer.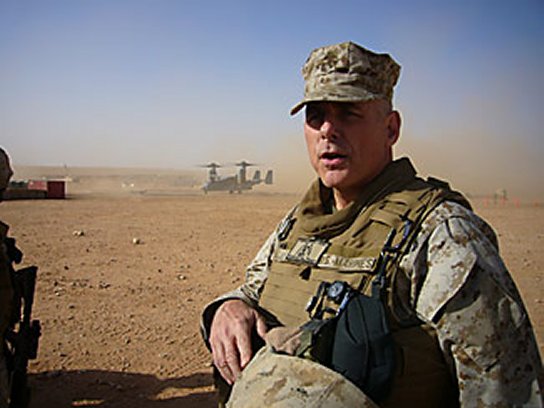 Maj. Gen. John Kelly
"The Marines in Anbar have performed magnificently," Helland said last week aboard a military aircraft as he returned to his Camp Pendleton home after a two-week swing through Iraq, Afghanistan, Kuwait and Bahrain.
"What was once a volatile, brutal environment is now changing, as Iraqis are determined to defeat their enemies and bring stability to the country," he said.
While Iraq is a largely literate and modern society with oil revenue to fund its treasury, Afghanistan is one of the poorest countries in the world, with few paved roads.
The opium poppy is its greatest cash crop.
As the Marine Corps plans to draw down its forces in Iraq and move thousands more troops 1,200 miles to the east in Afghanistan if President-elect Barack Obama and Pentagon officials give the go-ahead, Helland was clear in a recent message that the differences between the two countries are stark.
"This is not Iraq," he wrote in a message to Col. Duffy White, who has taken command of the approximately 2,100 Marines now in Afghanistan. "Your units will have a large proportion of Iraq veterans who accomplished great things in the Anbar province.
"That said, remember that Afghanistan is not Iraq. The political, military and cultural differences are profound. Your unit must quickly adjust to working in a coalition environment. Once a mistake is made, the excuse that 'this is how we did it in Iraq' will not suffice," Helland wrote.
Shortly after the 2001 invasion of Afghanistan and toppling of the ultrafundamentalist Taliban from the government in Kabul, the Marines left that country largely to Army and NATO forces.
Their responsibility was Anbar, the expansive region of Iraq that borders Syria, Jordan and Saudi Arabia.
Home to a majority Sunni population, the border saw thousands of foreign al-Qaida fighters cross into the region to join the home-grown insurgency.
But when the insurgency began killing Iraqis as part of an intimidation campaign, Sunni leaders and tribal sheiks turned and sided with U.S. forces and the protection and financial resources to be had.
The result is that Anbar is now one of the calmest regions of Iraq, military officials say, leading to one general's declaration earlier this month that the work today is far more about politics than combat.
In Iraq
Kelly is succinct in his appraisal as he prepares to return to Camp Pendleton in February.
"The war here is over," he said.
The future security for the rest of Iraq is now almost solely dependent on the Iraqi government and its ability to bring rival political and sectarian factions together and prevent internal strife, the two-star general said during an interview at his new office at Al Asad Airbase in Iraq.
His former headquarters in the city of Fallujah was turned over to the Iraqi army four weeks ago.
In Anbar, the remaining threat is "very, very manageable," he said, adding that use of lethal force is now at a minimum.
"The biggest arrow in my quiver is influence," Kelly said.
Helland said the next six to 12 months, and the decisions made by Obama when he takes office, will go a long way toward charting the Marine Corps' future in Iraq and its pressing desire to increase its forces in Afghanistan.
"I see the Marine Corps continuing to move into a strictly overwatch role in Anbar," Helland said, adding that the redistribution of troops will depend on conditions on the ground.
"The country has to continue to come together and have confidence in the credibility of its army and its police forces," he said.
"It's certainly a different place than it has been, and we have to be able to take the training wheels off sooner rather than later."
Grunts such as Sgt. Juan Mendez, a 27-year-old Chicago native on his sixth deployment, said the years spent combating insurgents and training the Iraqi army have paid off.
"I think the fact that most of the guys haven't fired their weapons once during this deployment shows that all of our good hard work has accomplished what needed to be done here," the mobile security unit section leader said during an interview at Camp Ripper, the Marine encampment at Al Asad.
For the Marines, it's clear their new focus in "the long war" against extremists is shifting from Iraq to the mountains and deserts of Afghanistan.
In Afghanistan
During an address to troops at Camp Bastion in Afghanistan's Helmand province this month, Helland made his prediction that up to 15,000 Marines could be fighting the Taliban next spring.
"What the commandant would like to do, quite frankly, is move the Marines out of Iraq," Helland said. "We want to grow our footprint and crush the enemies in Afghanistan."
Defense Secretary Robert Gates recently said he would like to see three additional brigade combat teams ---- at least 12,000 troops ---- sent to Afghanistan well before the country's September elections.
Over the last 18 months, the U.S. and NATO countries have increased their troop count in Afghanistan by 20,000, and commanders have asked for an additional 20,000, including 3,000 as soon as possible to bolster training of fledgling police forces.
During his visit, Helland took part in several closed-door meetings with commanders as the Marine Corps plans for the troop build-up they expect Obama will order after taking office.
Marine units from Twentynine Palms and North Carolina that have been in Afghanistan since the spring are being replaced this month.
Unlike Iraq, Afghanistan is landlocked, a unique challenge for Marines who rely on ships to transport their vehicles and major weapon systems.
"Infrastructure is a very, very big challenge," Helland said.
That's evident in part by the fact that decades-old Russian transport planes are now providing much of the heavy-lift capability, under a contract with the U.S.
The planes are among the few in the world that can hold the large, anti-mine vehicles that have stemmed the rate of fatalities from roadside bombs in Iraq and Afghanistan.
The freshly deployed Marines that arrived in Afghanistan this month include a helicopter attack squadron from Miramar Marine Corps Air Station.
Commanders say they expect the Taliban, which has traditionally retreated during the cold months, to continue a pace of attacks that has been the highest since the 2001 invasion.
"The campaign will go on through the winter," Helland said. "For the Taliban, it's fast becoming a fight for survival."
That said, Helland emphasized that Afghanistan presents a host of challenges different from Iraq, including brutally cold temperatures.
"The climate is different, the terrain is different and the human terrain is different," he said.
In his message to his new commander on the ground in Afghanistan, Helland also warned Col. White about civilian killings.
"Escalation of force must be applied judiciously," he wrote. "There is a low tolerance for collateral damage in Afghanistan."
Anbar took years, hundreds of millions of dollars and the lives of hundreds of locally based Marines and sailors to tame.
The same steadfastness is paramount for what has been called the nation's "other war," Helland said.
"Afghanistan will require the same amount of patience," said the three-star general, who also heads Camp Pendleton's 40,000-member I Marine Expeditionary Force. "It will take time."
How much time is unclear, and few are willing to put a number on how many years it will take to defeat the Taliban.
There's a saying in Afghanistan that provides a warning for Americans hoping for a quick resolution: "We have the watches; the Taliban has the time."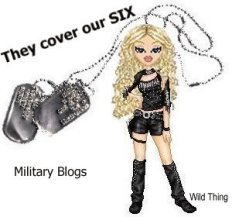 Wild Thing's comment............
I am so glad to read this, it is perfect timing since the post I did about the traitor Murtha and what he plans to try to insist on regarding Afghanistan and our military. It is almost as though the word is out about Murtha and his future trip and they want to make it very clear to Murtha and his ilk not to mess with the military, with the Marines, Army all of them. They are doing what needs to be done, they know the difference in the two countries and are letting him ( Murtha) know to stay out of it.
I might be wrong but this is my take on this article.
Posted by Wild Thing at November 30, 2008 03:48 AM
---
Comments
The Marines did not topple the ultrafundalmentalist Taliban from the government in Kabul in 2001 and then leave Afghanistan largely to Army and NATO forces.
The Marines played little or no part in the initial defeat of the Taliban. The Taliban were militarily defeated by US Army Special Forces teams working with anti Taliban tribal forces.
Posted by: TomR at November 30, 2008 02:29 PM
---
Tom, your so right, and thank God for the Army and Special Forces.
Tom I wonder if the reason they are moving the Marines into Afghanistan now is to let some of the Army and Special Forces guys come back home for awhile before sending them back.
Posted by: Wild Thing at November 30, 2008 05:58 PM
---
Why don't the pukes in the Pentagon take a page from the WW II 'Island Hopping US Marines (1945)' and let the Leathernecks use FLAME THROWERS and ZIPPO TANKS? Taliban BEARDS are not fire proof, eh?
Posted by: darthcrUSAderworldtour07 at December 1, 2008 06:38 AM
---
There are no Taliban hard points that would require a ZIPPO TANK. These people are horrible in all ways. As fighters, as solders, and as human beings the Taliban are failures. Afghanistan itself was only a success as a trade route crossroads back before Islam moved north and the Assassins cult cut the Silk Road. I do not know what could be made of Afghanistan and thanks to the US State Department; those who are expert at creating businesses have not had the chance.
Posted by: Avitar at December 1, 2008 02:32 PM
---