« Michelle Obama Coming to Pennsylvania | Main | What's Obama's problem with free speech? »
September 22, 2008
The Size of Palin's Crowd Of 60,000 In The Villages Causes Global Warming ~ heh heh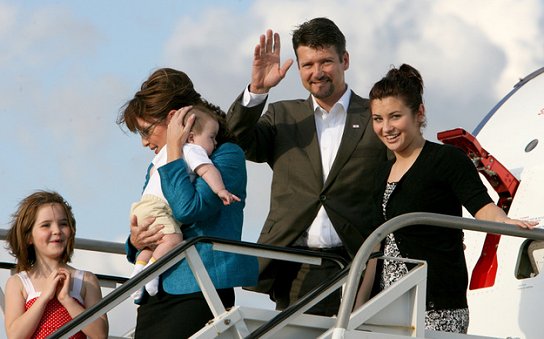 Look how it looks like the baby Trig is saying his Mom is #1 , I love it. Arriving in Orlando on Friday , the Palin family spent Saturday at Disney World. Before Sarah's speaking at the rally on Sunday afternoon.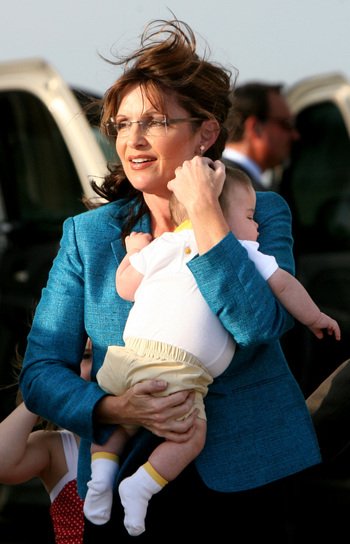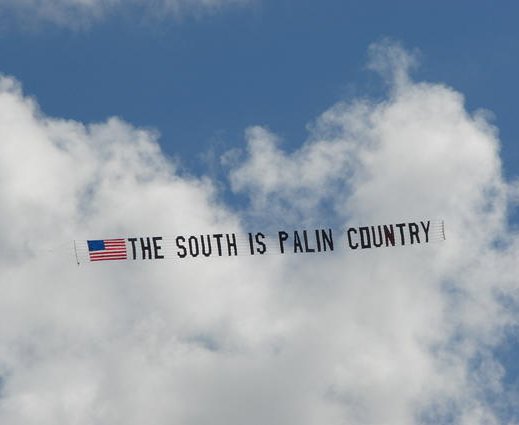 There was a bi-plane flying in circles over the site carrying a banner that said, "The South is Palin Country".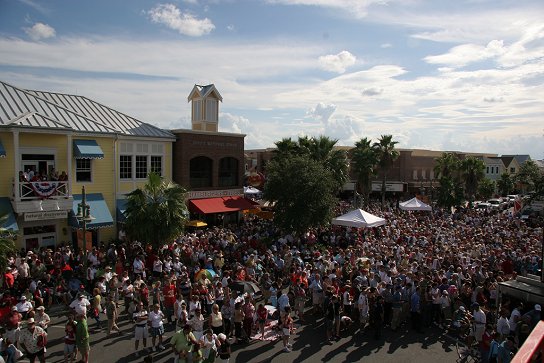 .
Mike Tucker, a local fire marshal, estimated 60,000 And this came with such short notice, they only knew she would be able to do this rallly when the RNC in Florida was notified on Thursday...........unlike "Ceaser's Roman forum spectacle".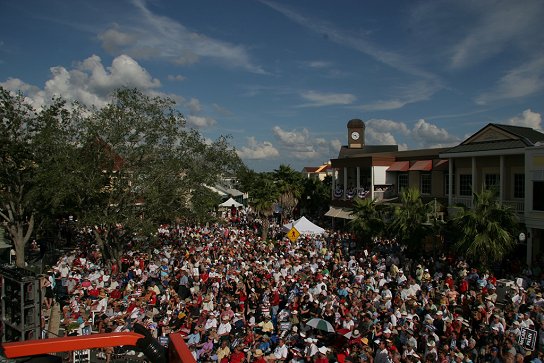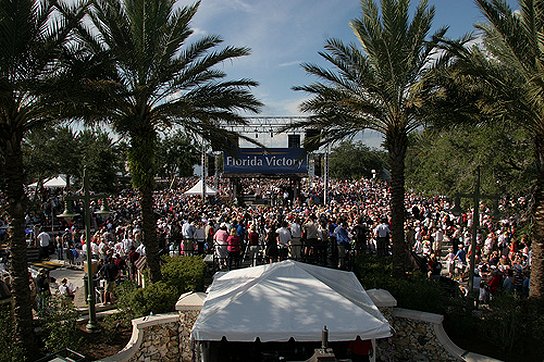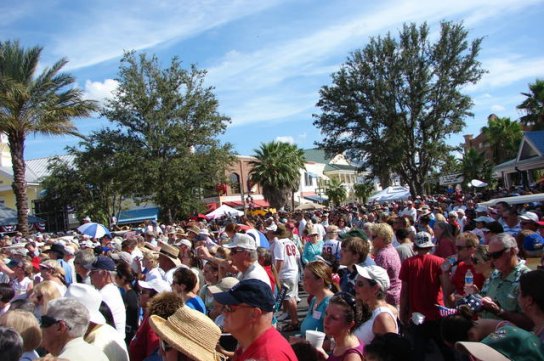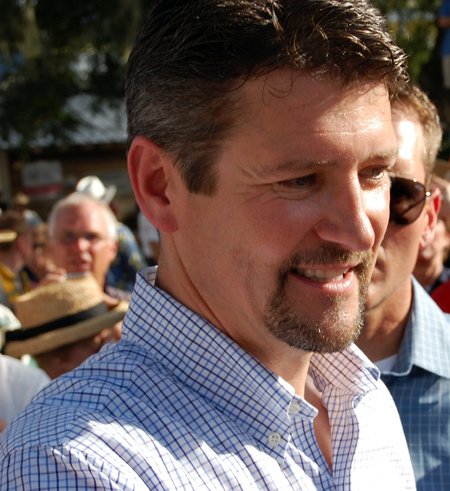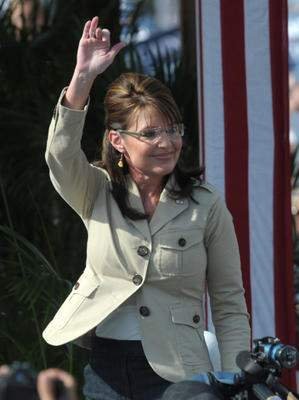 .
Joining Palin at the sun-scorched rally was members of her family, including husband Todd Palin; daughters Piper and Willow and son Trig.
Piper Palin started it off by saying, "Thank you for letting us be here."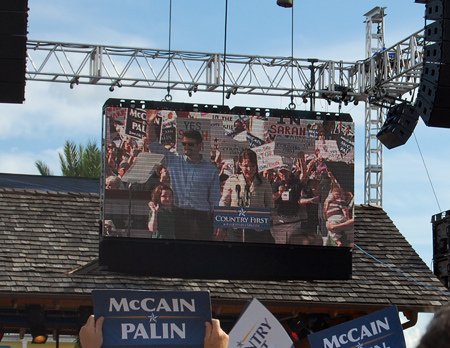 Huge big screens for those who won't be able to get inside the gates.
.
Please CLICK photo to enlarge
Palin draws crowd of 60,000 in The Villages
news press.com ....for complete article
Tens of thousands inched along roads into the picturesque town square of the complex, where they stood in sweltering heat for about four hours . Many Military Veterans were there and the crowd was all ages, of young and senior citizens.
"Sa-Rah! Sa-Rah!" they chanted at every mention of her name, applauding loudly and waiving tiny American flags that were distributed -- along with free water bottles -- by local volunteers. The fire chief estimated the crowd at 60,000.
Admiring throngs mobbed the Palin family's arrival and departure, snapping souvenir pictures. Autograph seekers thrust campaign signs, caps with the McCain-Palin logo and copies of magazines with her face on their covers, and the Palins responded warmly.
In a theme Palin would pound home, GOP Chairman Jim Greer Greer said Obama and his running mate, Delaware Sen. Joe Biden, have records of voting for higher taxes and have said on the campaign trail that they would increase regulation of financial markets.
"John MCain and I are going to take our case for reform to every voter in every background and every party, or no party at all," said Palin. "We're going to Washington to shake things up."
She said "John McCain warned Congress that we needed to do something before these problems became a crisis," but that Washington -- including Obama and Biden -- did not act for months as financial giants teetered and toppled.
"Americans are caught in kind of a perfect storm between high taxes, high gas prices, greed on Wall Street and a shortage of courage in Washington," she said. "But we need new leadership in Washington -- we need serious reform on Wall Street."
Palin, whose son shipped out for Iraq this month, made a point of asking veterans and military members in the crowd to raise their hands for a round of applause.
Then she recalled that McCain took an early, unpopular stance in support of the Iraq troop surge, a policy shift now widely credited with stabilizing Iraq. "That's the kind of man I want as commander in chief," she shouted, as applause and whoops rose in the town square. "John McCain is the only great man in this race."
.

From CNN:
Though the audience was one of the Palin's largest to date, the actual size of the crowd could not be verified. According Mike Tucker, the fire chief of The Villages who was made available to the press by the McCain campaign, 60,000 people crammed into the streets to see Palin speak.
"There were people down the side streets, people down in the parking areas, people who couldn't quite make it around to the main areas," Tucker said, adding that many people were let into the rally without tickets, making the crowd count impossible to verify.
The enthusiastic crowd welcomed Palin with shouts of "USA!," and she chanted back along with them. As in many of her speeches, Palin promised that hard-working Americans will dig the country out of its economic woes, and she laced her remarks with fulsome praise for the nation's spirit.
.
And this from FOX News
Palin Draws Crowd of 60,000 in Florida
by FOXNews.com
Sunday, September 21, 2008
Sarah Palin played it safe Sunday on her first trip as John McCain's running mate to the battleground state of Florida, drawing a massive crowd of 60,000 people.
The visit drew a few contrasts between Palin and Obama running mate Joe Biden.
The largest was the crowd — an estimated 60,000 according to the fire chief. Some people had to wait in line about 90 minutes just to park their cars. Biden's largest crowd during a visit earlier this month was about 2,000.
Tyler Deeds, 19, who made the drive from Auburndale 90 miles away and waited more than 5 hours to see Palin. "I couldn't even tell you who the governor of Alaska was."
But Deeds, who plans to enter the Navy soon, said he "tends to cling to my guns and religion" and he quickly grew excited about Palin's candidacy.
Joan Guay, 81, dabbed bottled water on her arms as she waited for Palin in the broiling heat. She said she previously supported Democrat Hillary Clinton.
"This country needs a woman up there," Guay said. "I like her background, I like her family. It's a family that does things together. And I like her work in the community."

.
After her Speech:
They are playing background music as she leaves and is signing autographs......
"Signed, Sealed, Delivered (I'm Yours) "music heh heh is playing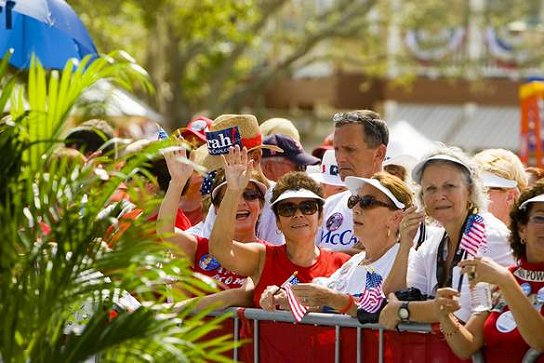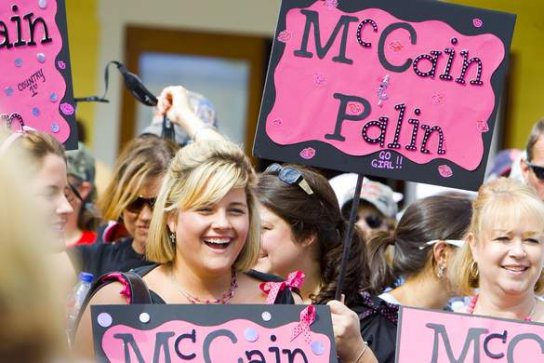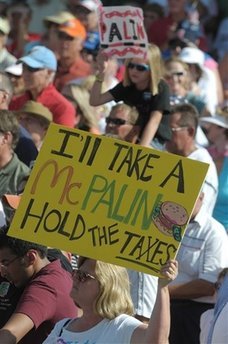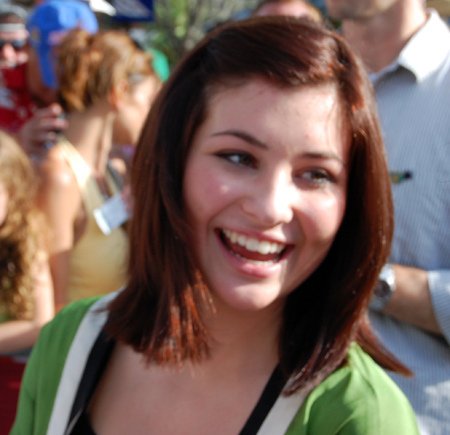 Willow Palin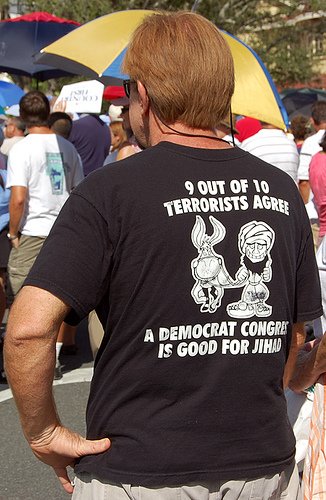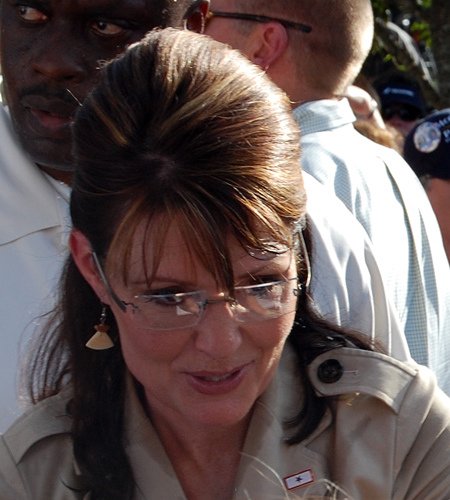 Someone handed her a giant mockup of a lipstick tube to sign LOL Sarah just put her autograph on it!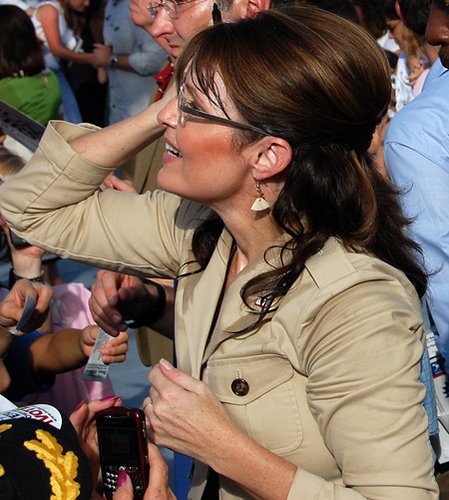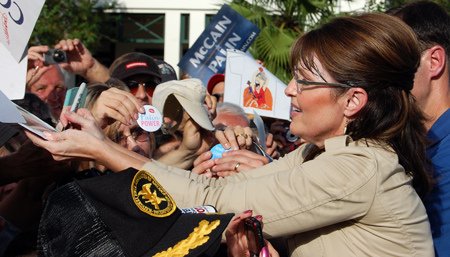 .

My NOTES about the rally:
These crowds are reacting to the most exciting thing to hit politics since Ronald Reagan—they sense that she has the stuff of greatness and she does!
Some had to leave they could not take the heat, so there were people there with golf carts that were helping them get the 2-3 miles walk back to their cars.
No one would expect a VP candidate to draw 60,000 people to a political rally. So I am sure those that had to leave due to the heat can understand that this was planned on such short notice that no one had any idea the crowd would be so huge and the parking and walk so many miles from the event. I have not heard any complaints from those that were able to go.
It is unprecedented in American history.
Piper and Willow were both giving autographs. Piper's was HUGE! ( giggle sooooo cute)
Sarah was dripping sweat as was everyone there. It was really insane to have this event outside in the middle of the afternoon. I'm told one hundred fifty people were carted off on stretchers from heat exhaustion.
There were women holding signs "Pumas for Palin"
Sarah said that Barack the Unabama merely voted 'present' on this week's bill to save the financial institutions.
She quotes from McCain about the fiscal crisis. Going after Obama.
Obama voted present about 130 times; this week he voted present on the financial problems of today (paraphrased)
WOW! I love the line — This is about Obama's poor judgement!
She's nailing Obama on how he told people to get in their face. I am so glad she called Obama out on telling his minions to "get in their faces"!! She is leaving no stone unturned.
She used PAPER Notes...... not teleprompter!
"WE'LL BE ON A MISSION OF ENERGY INDEPENDENCE!"
Maybe if he (Obama) had been a Governor of an Energy Rich state he would get it!
That was a great double slam against obam! He don't know energy, and he ain't got no Governor-level experience.
Crowd yelling Sarah! Sarah again!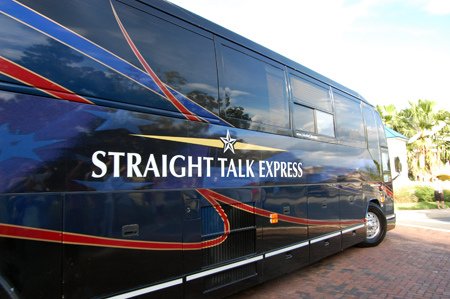 Sarah owns the Republican party now. It is her party. Our connection with her is a 20 megaton nuke in the world of politics. There is no substitute and no defense against it if you are on the other side.
Posted by Wild Thing at September 22, 2008 05:55 AM
---
Comments
The Sarah Palin's, Bobby Jindal's, and Duncan Hunters are the future of the Republican Party and of our nation. We cannot forget thought that we need to get control of Congress because a Reid/Pelosi Congress will only destroy the nation.
Posted by: BobF at September 22, 2008 08:39 AM
---
LOVE THE BIG HUGE LIPSTICK!!-- SO FUNNY!! AND THE BABY STICKING OUT HIS FINGER-- #1 TOO MUCH!!!
I CANNOT WAIT FOR OBAMA TOO CRY WHEN HE LOSES- WHAT A YUCK!!!
Posted by: Cheryl Zee at September 22, 2008 10:41 AM
---
Finally a rallying point for traditional America. We have been without leadership for twenty years since Reagan left the White House. Now we have Sarah Palin. Sarah is the booster shot we needed to fight off the diseases of liberalism, monster government and loss of nationalism.
Rallies like this will probably be common for McCain/Palin now. Sarah does not need a popular rock band to draw the crowds. Her character is her draw.
Posted by: TomR at September 22, 2008 11:04 AM
---
I don't think it is possible to take a picture of Sarah Palin that isn't outrageously beautiful. And I think that is at the heart of Demo hatred for her. Just stand to the side and cheer her on, John.
Posted by: Horace at September 22, 2008 11:18 AM
---
I just love her so much, she's already done so much for this country...instilling pride and the need to take back our country, with the confidence that she and John can get that job started. It's such a mess. I don't know why anyone would want to tackle all of it. They are two of the bravest ever.
We know what The Fraud is, what he wants...and it scares the bejeezus out of me.
Posted by: Eden at September 22, 2008 01:40 PM
---
The pathetic, panicky, hysterical, and hate-driven reaction of Cult Obama to the enthusiastic national reaction to Sarah Palin, her message, and her family is nothing less than the damage done by a physical shock and awe attack. These blind faith followers of the Pied Piper of Chicago to a Socialist cave never to be seen again are blown away by the bright light of tens of thousands at a time of followers of Sarah Palin basking in the bright light of a Constitution supported free society and democracy.
Posted by: Les at September 22, 2008 03:26 PM
---
I guess the media is not reporting accurately how many people actually did attend. They are saying 20,000 people. This 60,000 figure equals the forced spectators at Invesco Field.
So they are not going to give an accurate accounting of the actual event.
Posted by: Mark at September 22, 2008 04:39 PM
---
BobF,your right and I sure hope we can take Congress back. This is soooo important.
Posted by: Wild Thing at September 22, 2008 06:01 PM
---
Cheryl, I would love to give Trig a big hug. He is so adorable.
LOL that is funny about Obama yess big huge tears.
Posted by: Wild Thing at September 22, 2008 06:08 PM
---
Tom, wow 20 years, no wonder we are so extra happy. That is such a long time, I never thought of it in years only names.
"Her character is her draw"....I agree it sure is.
Posted by: Wild Thing at September 22, 2008 06:20 PM
---
Horace, I agree she is beautiful and I think a lot of the dems are jealous of that.
Posted by: Wild Thing at September 22, 2008 06:23 PM
---
DEATH STAR II crew for MCCAIN*PALIN! A few Hillaryites told us ..."There's NO WAY we're voting for Obama. We'll vote McCain and then Hillary runs again in 2012!" I refer to this fact as Rush Limbaugh's 'Operation Chaos II'. No way the red states and southern states will vote for Osama, er Obama. NO WAY!
Posted by: darthcrUSAderworldtour07 at September 22, 2008 06:24 PM
---
Eden, me too, I am terrified Obama could win. Si things like this,people turning out like this for Sarah Palin is magical and shows we really might be able to keep Obama out of our White House.
Posted by: Wild Thing at September 22, 2008 06:38 PM
---
Les, great description of the left.
Posted by: Wild Thing at September 22, 2008 06:43 PM
---
Mark, yes I noticed that about the total that attended. That is why I thought I better put three different sources for that 60,000 total.
I think that is the more accurate one. When McCullum was speaking before Sarah got there on stage, he commented into the microphone that it looked like a 100,000 were there. So my guess is the 60,000 must be pretty close to the truth.
Posted by: Wild Thing at September 22, 2008 06:49 PM
---
Darth, good to see you. Yes I hope we turn all the blue States red. heh heh
Posted by: Wild Thing at September 22, 2008 06:57 PM
---
Our Maverick is truly American beyond patriotism and catholic suffering for the down-syndrome Baby,rather than wearing Obama's purple tie
Posted by: Andrea Fuzzi at September 28, 2008 03:52 AM
---