« Combat Helicopters | Main | Karl Rove Blasts Pelosi as Most Vicious Speech »
September 30, 2008
'Cow patty,' Booze the Metaphors and Analogies on House Floor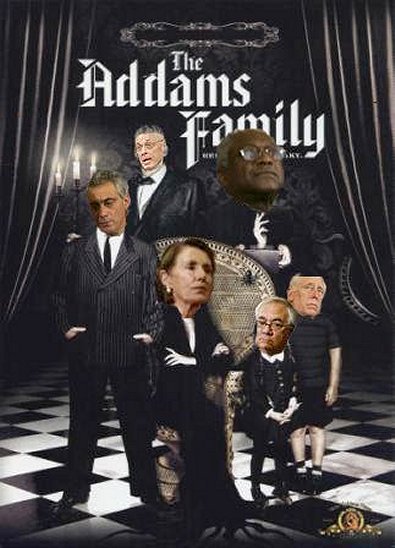 'Cow patty,' booze denote mess on House floor

Here's a sampling of some metaphors and analogies that made their way into the rhetoric on the House floor, both in support and against the $700 billion bailout package. The measure, and the market, ultimately took a nose dive:
• "This is a huge cow patty with a piece of marshmallow stuck in the middle," Rep. Paul Broun, R-Ga., said of the package. "I'm not going to eat that cow patty."
• "We don't have a perfect bill," said Rep. Paul Kanjorski, D-Pa. "We do have a perfect storm."
• "We have individuals who are drunks and regulators who are pouring the drinks," said Rep. Gregory Meeks, D-N.Y., as he attempted to compare the faltering economy to drunken drivers. "We have to clear the highway."
• "Like an explorer in uncharted territory, none of us in this body have any good judgment or insight into what happens if we don't pass this bill," said Rep. Spencer Bachus, of Alabama, the top Republican on the House Financial Services Committee.
• "The golden parachutes have been exchanged for camouflage parachutes," said Rep. Peter DeFazio, D-Ore., of the proposal's goal of limiting executive compensation.
• "We are watching one domino after another fall, that are the pillars of our financial system in the United States," said Rep. Adam Putnam, R-Fla., a member of the House GOP leadership team.
Wild Thing's comment..........
LOL some of these are so funny. Ah-h-h politics and the crazy people in it.
hahaaha
Posted by Wild Thing at September 30, 2008 04:50 AM
---
Comments
Where is my favorite derby wearing hairball character... COUSIN IT?
Posted by: darthcrUSAderworldtour07 at September 30, 2008 10:01 AM
---
Cow-Patty Nancy is looking older than ussual, she must've missed her Botox shot.
Posted by: Mark at September 30, 2008 12:12 PM
---
Pelosi has her father's eyes...hanging on a chain around her neck.
Posted by: Rhod at September 30, 2008 01:46 PM
---
Darth, oops hhahahahahaha forgot that one.
LOL
Posted by: Wild Thing at September 30, 2008 04:19 PM
---
Mark, hahahahaha good one, yes it sure looks like it. That junk cannot be good for a person I just keep thinking it will poison the brain somehow. Pelosi sure makes me think that way.
Posted by: Wild Thing at September 30, 2008 04:23 PM
---
Rhod.....LMAO oh my gawd.
hahahahahahaha
Posted by: Wild Thing at September 30, 2008 04:26 PM
---