« Ann Coulter " Will Campaign For Hillary Clinton" ~ LOL | Main | What Costs More Per Year Then The Iraq War? »
February 02, 2008
Rick Santorum Endorses Romney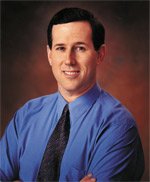 "If you're a conservative, there really is only one place to go right now. I would even argue further than that. If you are a Conservative, I will go even further then that, if you are a Republican in the broadest sense, there is only one place to go right now, and that's Mitt Romney."
-- Senator Rick Santorum, endorsing Mitt Romney's presidential bid
On Laura Ingraham's talk show Rick Santorum said that the more endoresments and that the less if at all he will decide to start to listen to the conservative base. I think he is right. When the RNC types give McCain the A-OK it only is going to make him stronger on being a leftie and ignore the very party he belongs to more then he ever has.
His Bio:
Rick Santorum, a Senior Fellow of the Ethics and Public Policy Center, established and directs EPPC's Program to Protect America's Freedom. He is writing a book on the "gathering storm" of the 21st century -- the challenges posed by radical Islamic fascism and its growing alliances around the world.
Mr. Santorum served as United States Senator from Pennsylvania from 1995 to 2007 and as a member of the U.S. House of Representatives from 1991 to 1995.
As a United States Senator, he was a champion of efforts to counter the threat of radical Islam, to protect victims of religious persecution, and to promote democracy and religious liberty around the world.
He founded the Congressional Working Group on Religious Freedom and spearheaded the passage of several key pieces of legislation, including :
the landmark welfare reform bill
the American Community Renewal Act
a ban on partial-birth abortion
the Born-Alive Infants Protection Act
the Combating Autism Act
the Farmland Preservation Act
the Abandoned Mine Lands Reform Act
the Multi-Employer Pension Reform Act
the Global Aids Authorization Act ealth Savings Accounts
the Syria Accountability Act
the Iran Freedom Support Act
From 2001 to 2007, he served as Chairman of the Senate Republican Conference, where he directed the communications operations of Senate Republicans and was the third-ranking member of the Republican leadership.
Mr. Santorum is the author of It Takes a Family: Conservatism and the Common Good (ISI 2005).
Mr. Santorum received his undergraduate degree from Penn State University, his M.B.A. from the University of Pittsburgh, and his J.D. from the Dickinson School of Law. He and his wife Karen are the parents of six children.
Events:
The Radicalization of Young Muslims
Articles & Short Publications The Elephant in the Room: Reducing U.S. Oil Appetite
Radical Islamists in Latin America and Chavez's Narcoterrorism

Wild Thing's comment........
I think this is a good endorsement, is it a big time name dropping one like McCain has been racking up, nope. BUT here is the difference, I would rather have the good guys supporting me then a thousand lefties, jerks and people that are set to destroy my country.
Posted by Wild Thing at February 2, 2008 05:40 AM
---
Comments
The more I see McCain, the more I like Romney.
Posted by: BobF at February 2, 2008 09:47 AM
---
Santorum was blindsided by George Bush when Bush supported the liberal Alan Spector instead of the conservative Santorum in the Republican primary. One socialist supporting another socialist.
Check McCain's endorsers and they will read like a list of globalists. That includes my Governor, and Bush crony, Rick Perry of Texas. Perry is doing all he can to rapidly push through the Trans-Texas Corridor, the private highway from Mexico to Canada. Part of the Pan American Union plan.
Sadly, true Conservatives like Rick Santorum are being pushed aside by RINO republicans who are really socialists and globalists.
Posted by: TomR at February 2, 2008 01:01 PM
---
As I told the lady who called from the RNC yesterday begging for money, find a RINO, they're in abundance these days.
If John McCain is hurting for funds, I'm sure George Soros wouldn't mind funding one more Democrat. That Rick Santorum endorsed Romney is a good thing, a bit late to support a true conservative because Romney is another globalist, sure they all say they'll protect our sovereignty then they'll pull a Gordon Brown switch.
Trust once breached is always lost.
Put your trust in God, but keep your powder dry.
--Oliver Cromwell

Posted by: Jack at February 2, 2008 01:25 PM
---
I like Santorum--he's a great guy, but I think had he endorsed Thompson or Hunter and brought his conservative cronies with him, I think both would still be in the race.
Santorum would have been a good running mate for Thompson as well.
I would love to see Santorum in 2012 running.

Posted by: Lynn at February 2, 2008 02:49 PM
---
Posted by: Wild Thing at February 2, 2008 05:25 PM
---
Tom your right, every one of them. And Santorum is such a good man.
Posted by: Wild Thing at February 2, 2008 05:26 PM
---
Jack that is a great answer to the person that called you.
Posted by: Wild Thing at February 2, 2008 05:29 PM
---
Lynn, yes, and I have a feeling it will be a long time before any conservative will win again.I hope and pray I am wrong. But the way it looks with even Republican saying they want freaking Obama..yes Obama, sheesh that isn't a typo waaaaaa, I just sit here shocked every day.
Posted by: Wild Thing at February 2, 2008 05:31 PM
---
Rick Santorum is another casualty of George Bush and a loss for conservative Republicans. I would like to see him as part of a Romney administration.
Posted by: Les at February 2, 2008 07:26 PM
---